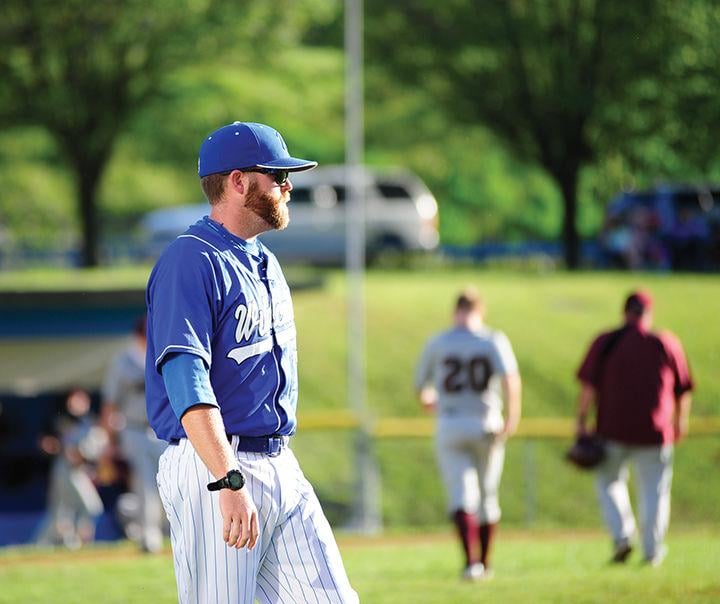 This spring is going to be different for Jordan Compton.
For the first time in 33 years, he won't be in a baseball uniform when Opening Day rolls around.
Compton gave his resignation as Shelby Valley baseball coach Monday.
"Honestly, this was one of the hardest things I had to do," Compton said. "But I got a great job opportunity in Johnson City and I had to take it for me and my family. It's one of those things that isn't easy and the timing wasn't ideal because the season is coming up soon. It's never easy leaving something that you love to do, but the opportunity will better my family, so I had to take it."
Compton has been a mainstay in the region for the past 13 years as either an assistant coach or a head coach.
"Emotionally, like I told my wife and I got choked up, this is the first time since I was three years old that I haven't been in a uniform to open the season," Compton said. "My dad coached for 25 years and I played or coached that whole time. It's the first time that I can remember not putting on a uniform and getting ready for a season. There's a lot going through my mind."
Compton got his first head coaching job at East Ridge in 2013. He coached the Warriors for three seasons before taking the head coaching job at Shelby Valley in 2016.
"I wanted to tell my players first," Compton said. "I wanted to tell them face-to-face and not over social media or anything. I wanted to tell them why I had made the choices I had made and explain how baseball can help them make tough decisions and choices just like life. I wanted them to hear it from me. This was a hard decision and I wanted them to hear why I had to make it. To look those kids in the eyes, it makes things more comfortable knowing that they know why I stepped away. Change is hard. Change hurts. It hurt some of the guys, but it hurt me too.
"Coaching for me was more than wins and losses, it was about the opportunity to teach kids and change their lives through the game I love. I knew it was going to be a hard decision and it wasn't easy, but it was the best decision for me and my family."
Compton has compiled a 99-110 record as head coach.
Compton led East Ridge to a 15th Region semifinal appearance in 2014.
At Shelby Valley, Compton reached the 15th Region semifinals in his first two seasons. In 2017, he led the Wildcats to a 22-9 season. Last season, he led the Wildcats to their first 59th District championship in 20 years.
"I can't take any credit for any of the accomplishments," Compton said. "It was all the kids. They executed and made the plays. I just helped them get there. I showed them the amount of effort that it took to win and the amount of effort I put into them is what I expected back from them and that's what I got. I hope that's what they take away from me. All of the kids I've coached over the years. Just the amount of work I was willing to put in for them to be successful and how that in life, if you put the work in you can accomplish big things."
Compton has been a main stay in the community and has made Pikeville and Pike County home since his playing days at UPike.
"I just want everyone to know that I appreciate this community," Compton said. "I appreciate all of my current and former players. I appreciate all the help that the school and administration has given me over the years. There is no great feeling than someone coming up and calling me 'Coach' and asking me how we're doing or getting graduation invitations, wedding invitations or seeing birth announcements of your former players. It really gave me a sense of touching people's lives. You'd be shocked how great those feelings are as a coach and how you can affect other's lives. It was the greatest feeling in the world."