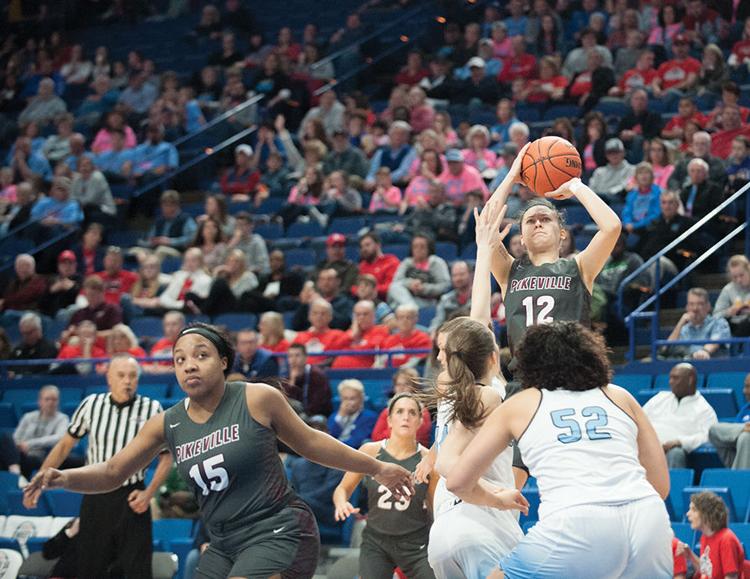 Kelsey Jo Tackett is one of those complete players.
She does everything on the court for her team.
Tackett has been a huge part in the Lady Panthers' success over the last four seasons.
She was one of the leaders who helped Pikeville win back-to-back 15th Region championships the last two seasons.
Tackett recently signed to play college basketball at Alice Lloyd College.
"Alice Lloyd was the right fit for me because when I went on my visit they were so welcoming and it really felt like the school was just one big family," Tackett said. "That's really important to me. I really connected with the coaches as well and they really made me feel as if it was the best fit for me."
"We are so excited for Kelsey to sign with Alice Lloyd," Pikeville coach Kristy Orem said. "I feel like it's a great fit for the team and for Kelsey. Alice Lloyd plays a fast pass with lots of three point shooting and that will allow Kelsey to do what she does best - distribute the ball and shoot the three.  It will also allow Kelsey to stay close to her family and we will all get to watch and support her."
Tackett was a dangerous player on the perimeter for Pikeville. She could shoot from three or break her defender down and get to the basket.
But one thing that really stands out about her game is the way she sees the floor and passes the ball.
Tackett finished her career as the all-time assist leader at Pikeville with 505 assists.
"Setting Pikeville's all-time assist record really meant a lot to me," Tackett said. "Moving to Pikeville my freshman year was one of the best decisions I have ever made. To have my name in the record books at Pikeville is such an honor. Without my teammates, I couldn't have done it. In my opinion, it's their record too, not just mine. We really made history my junior and senior year and every girl on the team from the top of the bench to the bottom was a huge help in the history making."
Pikeville hadn't won a region since 1980 until Tackett's junior season. Tackett and her teammates played in the first two Girls' Sweet 16 Tournament's held in Rupp Arena.  
"Going to Pikeville and having the coaches and teammates I had really has shaped me into who I am," Tackett said. "They taught me so much more than just basketball. It's just one big family. There's nothing else like it. I'm going to miss playing for the best high school in the state. Without all the support from our parents, and Pikeville fans and supporters, none of our success would have been possible. Our team was so special and I'll never forget the memories we made. We left a legacy."
Alice Lloyd is known for playing a lot of local talent in the mountains. Tackett liked the idea of playing with some players that she has went against in her high school career and that was another part of the appeal about the Lady Eagle program.
"One thing that really attracted me to playing at Alice Lloyd was that Tori Hampton from Shelby Valley signed to play there," Tackett said. "We played together in middle school and won the county championship. I'll never forget those times. She's a great teammate and all around player so I was really excited about that. There's also a lot of other girls I've played against through out high school on the team and they're really, really talented girls. I think we're going to have a really awesome team."
Besides players she has played against, her teammate Kirsten Cole-Williamson is also going to play at Alice Lloyd. They'll continue to be teammates for the next four years.
"Kirsten and I went and visited Alice Lloyd together and I think we knew right then that we wanted to go there and continue to play together in college," Tackett said. "Kirsten is the type of player you want as a teammate and the type of player you want to coach. We're actually rooming together and I couldn't be more excited about it. She grows as a player every year and there is no doubt she'll make a name for herself college."
The college game will provide new challenges for Tackett.
But with her multi-faceted game, she will be able to adapt to whatever role the team needs her to play at first. She can do it all and her versatility will definitely be a plus at the next level.
"I've played basketball since I was three years old and every coach I've had from then on has taught me everything that has made me into the player that I am," Tackett said. "Every aspect in basketball is important, passing, shooting, defense, all of it. Whatever role I have to play in college, I'll be ready for it. But I know going into college, I'm a freshman all over again. I'm going to be playing against girls that are sometimes bigger and better than me. I just have to keep working to get better each day and get ready for my freshman season."
Look for Tackett's shooting and passing ability to translate right away at the college ranks.
She is looking to contribute to Alice Lloyd's success the same way she did at Pikeville.
Tackett has the chance to become a dynamic college player.