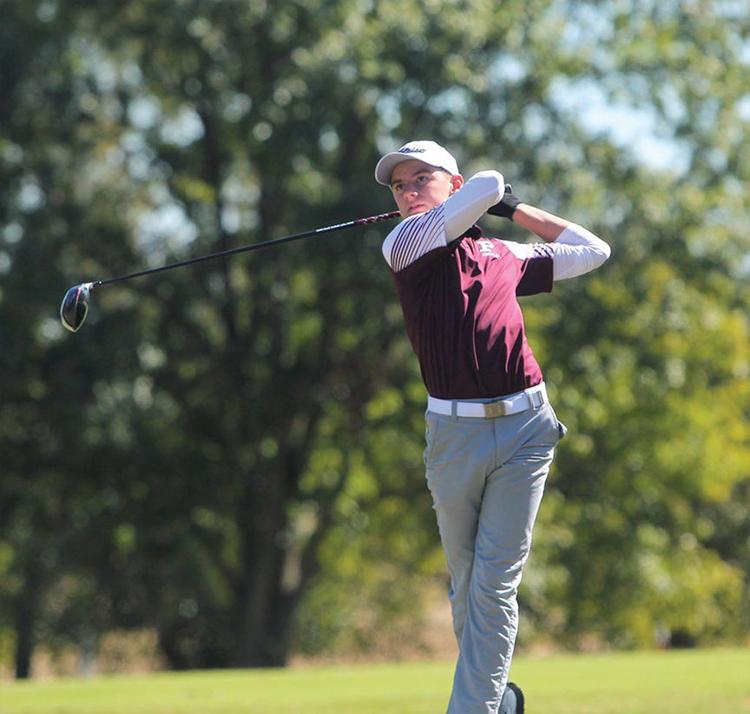 When COVID-19 hit most of the sports world shut down.
But Pikeville's Cameron Roberts saw a silver lining in the COVID-19 outbreak.
He used it as an opportunity to get on the golf course more than usual and work on his game.
While school was in and he was studying from home, he'd get his work done the night before and hit the links the next day.
"It's really helped me," Cameron Roberts said. "It sounds strange to other people, but but it's really helped me a lot to just be on the golf course a lot more.
"I play golf during the day and try and get my work done through the night. It's really helped a lot."
Cameron Roberts emerged as one of the top young players in the state last season.
He was the youngest player to compete at the KHSAA Golf State Tournament and he had an impressive showing for himself.
He's already receiving a lot of attention from DI schools even though he's still a middle schooler.
"He's a seventh-grader still and you got to remember that," Pikeville coach and Cameron's father Mike Roberts said. "He's been getting a lot of correspondence from basically every SEC school, Duke and Clemson, Wake Force, Arizona, Arizona State and so on. He's really getting a lot of correspondence sending him things. The rules changed last year were they are not actually allowed to have direct contact with him, until June 15th of his sophomore year. To still get those emails and as his coach, they are allowed to correspond with me. I think it makes him want to work a little harder. Golf is a hard sport to get your name out there, to get noticed. He's been working hard and doing all of the right things and has been really practicing a lot, especially right now in this pandemic and no school. He's been working hard."
Most kids have been stuck in the house.
Not Cameron Roberts, he's spent most of this pandemic on a course somewhere getting his reps in daily.
"I am proud of the extra work he's putting in," Mike Roberts said. "He's got great work ethic. I always told all of my kids and my oldest son, Conner, it doesn't matter how much talent you have. Talent always helps. Athletically it helps, but if you're not willing to put in the time and have the work ethic and out work people on days when it's raining or out there hitting golf balls or on Christmas getting in the gym and working, if you're not willing to do those things to try and make gains on your competition, then you're not doing what you're out there supposed to be doing. I've been really proud of his work ethic and he has a passion for it. It's like everything else, if you have a passion for it, you're going to want to get out and work and do better. I can't tell you how many thousands of videos he's watched just to work on his swing and this and that. Sometimes it's to the point that it's too much. Sometimes you have to pull him back a little bit and and say alright listen, just play golf and quit worrying about the little bitty things. I understand what he's wanting to get at too and I get that. He's got a lot of time too to get work in."
Cameron Roberts likes to compete in a lot of summer youth golf tournaments.
As things start to open up more and more, Cameron Roberts has some competitions on the horizon.
He is scheduled to compete in the Kentucky Jr. PGA Championship at Gibson Bay June 28 and 29.
Cameron Roberts is also planning on competing in several other Kentucky Jr. PGA Tournaments and a few AJGA events as well.
"Yes I can't wait to get to play in some competitions this summer," Cameron Roberts said. "I've been playing in a lot of matches with other people I know and they're pretty good players. I feel like it's giving me more time to get ready for these tournaments starting later on this summer."
After the summer competion circuit wraps up, the season is set to start.
Golf will likely be able to have a full season.
Golf like other sports started practice June 15th. The KHSAA is scheduled to release more plans around the first of July.
The KHSAA still hasn't released any fall season statuses yet, but golf is expected to go on as usual.
"I've been reading all of the emails from the KHSAA has been putting out from commissioner Julian Tackett," Mike Roberts said. "Golf is in a unique situation, especially this fall, golf probably stands the best chance of having a season. You don't have a lot of fans. It's usually just parents at the tournaments. It's outdoors, so the social distancing aspect of it puts us in pretty good shape. They'll still probably want to make some modifications and things like that with the flag sticks and pre-meetings were you gather everybody around. They may alternate or extend the tee times and spread those out a little more, but golf is in pretty good shape. From what I'm reading, I think we're going to be OK, I'm hoping so anyway."
Cameron Roberts doesn't want to miss a full season of competition.
"It really is huge if we can get the whole season in," Cameron Roberts said.
Cameron Roberts is receiving a lot of attention, but his coach and father knows he has plenty of time to develop.
Mike Roberts doesn't want the attention to overwhelm Cameron and his growth in the sport.
"It's almost like I want him to pace himself," Mike Roberts said. "His desire to get better and his passion for it is so strong that you can't really hold that kid back for wanting to go out and play. We'll go play or he'll go play 18 holes and come home and go out two hours in the yard to work on chipping and putting and all of that. He's in a unique position. He's only in seventh grade, so even in this pandemic, for him were he's so young, it didn't really concern me because even if we aren't able to have competitions, he's able to work and get better. It really concerned me more for my older players on my team. My juniors and my three seniors that I'm going to have this season. I really want them to have a full season and get the full benefits because they deserve it. They put in the time and they deserve it."
Mike Roberts is coming off of his first season as Pikeville head golf coach.
The Panthers had a successful season under Mike Roberts last season and the program is set to have another great season.
Pikeville has always had a strong tradition when it comes to golf and Mike Roberts wants to get the Panthers back on that level.
"Pikeville has always had the tradition in golf," Mike Roberts said. "They've produced a lot of great golfers. For instance, Robert Damron and his brother Patrick were Pikeville natives. Grover Justice played here and just a lot of those kind of guys have come through the program. They've kind of set the foundation for the next generation to come in and give these new players hope that I can really excel and play college and play pros if I want. It's been the one sport were they've produced a lot of college and pro players. My job, I got hired last year, was that I wanted to come in and kind of rebuild the program. The program had been kind of stagnate for a long time and I kind of wanted to rebuild and bring the energy back. We're doing some of those things. We've got a new simulator that our boosters kindly got for us. That's going to be a huge help to get younger kids out and get them interested in golf because there is so much for kids to do now. That's really going to help and we're going in the right direction. I'm really looking forward to this year."
Cameron Roberts is getting a lot of attention already, but that attention is also rubbing off on his teammates and coaches are getting to see them as well.
Cameron just likes being a member of the team and looks up to the upperclassmen in the program.
"It is great helping build something special," Cameron Roberts said. "I think we'll be just as good this year as we were last year."
Cameron Roberts is a student of the game.
He has several favorite players that he looks up to and tries to emulate their game and learn from.
"Rory McIlroy, Tiger Woods, Jordan Spieth, I like all of those guys," Cameron Roberts said.   
"Most of the time kids want to latch on to one player and be like whoever plays the best or hits it the farthest," Mike Roberts said. "As a coach and especially more as a parent, I'm more concerned about who his role models are to me. Guys like Rory McIlroy who represents himself so well off the course as well as on the course. He does like Rory and we watch golf nonstop and videos. We've watched so many videos that I'm about sick of watching videos. We even watch interviews and pay attention to how those guys represent themselves in front of kids. I've got some I like, he has some he likes and we just kind of meet in the middle on it."
Cameron Roberts doesn't just work hard on the course, he also works hard in the classroom.
As a seventh-grader, he realizes that the better he is academically, the more opportunities will open up for him when he reaches the college level.
"I take academics more seriously than I do golf," Cameron Roberts said. "Golf is something that I wanna play in college and maybe play at the next level, but academics is first for me."
"A lot of kids will say it, but don't really mean it," Mike Roberts said. "In our house, it's God, family and school in that order. All of my kids have excelled in their school work. I've been fortunate and they've all worked hard and had that same work ethic when it comes to grades as they did with playing sports or anything else. That comes first and if that not taken care of then they're not going to do good at anything else. The odds of making it in the pros is so small. That's great and that's a plus if that ever happens, but you better be prepared to have a good career and take care of things that way.
Academics is the foundation of getting into college.That's something that we talked about. The better grades you make just opens up more opportunities and options you're going to have as far as where you can go. Regardless of what people say, if you're wanting to go to a school like Duke for example, a school that he's already had correspondence with, well if you don't have the grades I don't care how good you are you're not going to go there and play at a Duke or a Clemson or Vanderbilt or some other high level academic institution, you're not going to get play there. Better academics opens up more opportunities for you."
It's hard to find a silver lining in the middle of a pandemic, but Cameron Roberts did just that.
He's getting ready to enter his eighth grade season and already has a lot interest from DI schools to come and play golf for them.
Cameron Roberts is a hard worker in the classroom and on the golf course.
He has already played with guys like Chip McDaniel in Lexington.
He keeps learning and getting better and better.
He's a quiet kid with a strong passion for golf.
Cameron Roberts is one of the best golfers in the state as a seventh-grader.
Don't be surprised to see him keep growing as a player and student and reach his ultimate goal in the next five years.