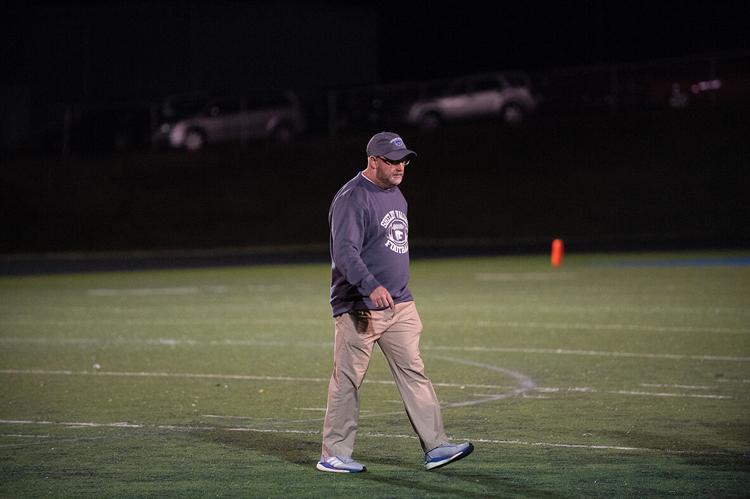 Sometimes coaching is more than X's and O's.
Right now, kids have questions.
But so do the coaches.
So does everyone.
Shelby Valley football coach Anthony Hampton took time at the end of one of his workout sessions with his team to just talk about what's going on the world right now.
One of the things he shared with his team is that he doesn't have all the right answers, but no matter what situation or what's happening in the world, it's important to have a high character.
So the team stood socially distanced in a circle and just talked about what's going on right now and some of their questions and concerns.
"Right now, we're all living in uncertain times," Hampton said. "Whether you're a kid or an adult, I don't think it makes much difference at this point, everyone has questions and needs answers. There is a lot of confusion and concerns and things in society right now with all of the things going on in the world, not just the virus. I think it's important that these kids understand that no matter what's going on, you still have to stand up and be who you are. You got to stand up for what you believe in and at all times, show good character. We, as a the human race, tend to worry about ourselves first. What affects me? How do I get mine? But it's more important moving forward that we move in the right way. How does this affect all of us? From viruses to race relations, how is it affecting all of us? Moving forward what is the best route and best thing to do? I was just honest with the kids, I've done this a long time, but I just told them that I don't have very many answers. My only answers that I've come up with lately is from God and understanding that through Him that's all of the hope we have. That was true before all of this came to be and it'll be true throughout time. I just wanted the kids to understand that at a time like this character is vital. What kind of man you are is important. It's more important than just football and what kind of man you become down the road."
Right now, the outlook of the season is uncertain.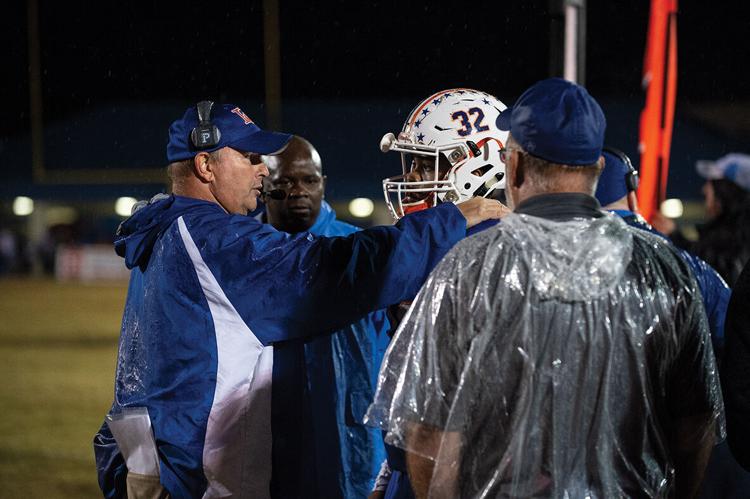 The KHSAA is having a board of control meeting Tuesday and the fall season outlook should clear up some.
The teams can workout, but they are under a lot of restrictions of what they can and can't do.
This time is important, though for both the players and the coaches.
Without football, some kids would be lost.
Pike Central coach Eric Ratliff also talked about what it's like trying to coach right now without knowing what the season will look like.
"We don't exactly what's going to happen," Ratliff said. "We don't even know if we're going to have a season. We hope we have a season, but if we do, we don't know how it's going to turn out. We're still waiting to see if we're going to have eight games or 10 games or what. We don't exactly really know, but what we are trying to do is we're trying to regain some of the strength that we lost in the weight room and we're also doing a lot of speed training, flexibility training. We're just trying to do some things that will get the guys back in shape and prepare for the season, so we won't have to worry about conditioning and things like that. As far as skill work, we're not doing any skill work at all. Our kids are just coming up and we're lifting and trying to keep them in three groups. We're trying to keep in pods of 10 or 12 as much as possible. We're trying to do all the things that the CDC and the governor says."
Right now, football is giving some of kids a real sense of purpose that they desperately need.
"With what we're going through right now, obviously it's a trying time for everyone and there is a lot of uncertainty," Hampton said. "This (football workouts) more than anything gives the kids a sense of stability. It's hard for a teenager to sit around the house all day and have nothing to do. Idle time is tough on everyone. This gives these kids and us coaches something to look forward to;  a sense of purpose. The hardest thing in life is to go throughout life with a sense of purpose. This gives these kids a sense of purpose and gives us coaches a sense of purpose. It helps me just as much as it helps the kids. To be out here coaching and seeing them participating is something that gives me and them a sense of joy and something to look forward to. With things seeming so dark and gloomy right now in the world, having something to look forward to is vital; it's crucial. It helps us all get out and get together. To me, I'm obviously biased, but football is a sport like any other sport. It's truly a family. You go through so many ups and downs and trials throughout a season. The grind of football is so tough that you really become close and it's just like not being able to see your family members. When you're isolated from people that you love and care about, it weighs on you. Just getting to workout right now, we have no clue at this point if we'll have a season or is it going to be reduced or changed or cancelled, we have no idea. We're just waiting for the powers that be to let us know and we'll just follow the restrictions and rules and guidelines and do the best we can, but with all the restrictions that we have right now, just being able to be here and have some time with the kids and some time to be together has been awesome."
As teams across the state wait and see what the fate of their season will be, Shelby Valley, Pike Central and the rest of the coaches in the area and the state have been using this time to teach more than just football.
The life lessons that the players are learning will be something that will stick with them for the rest of their lives.
That character they are developing now will carry over to the field and the rest of their lives.
That can be said for more than Shelby Valley and Pike Central as the same is going on across the region and the state with some great coaches teaching their guys about life and character in trying times.