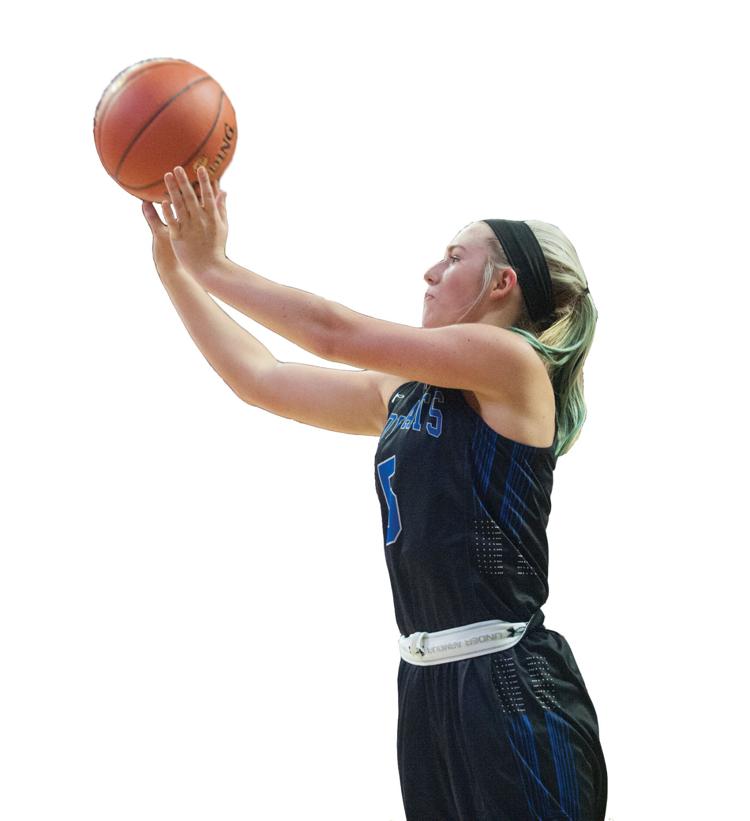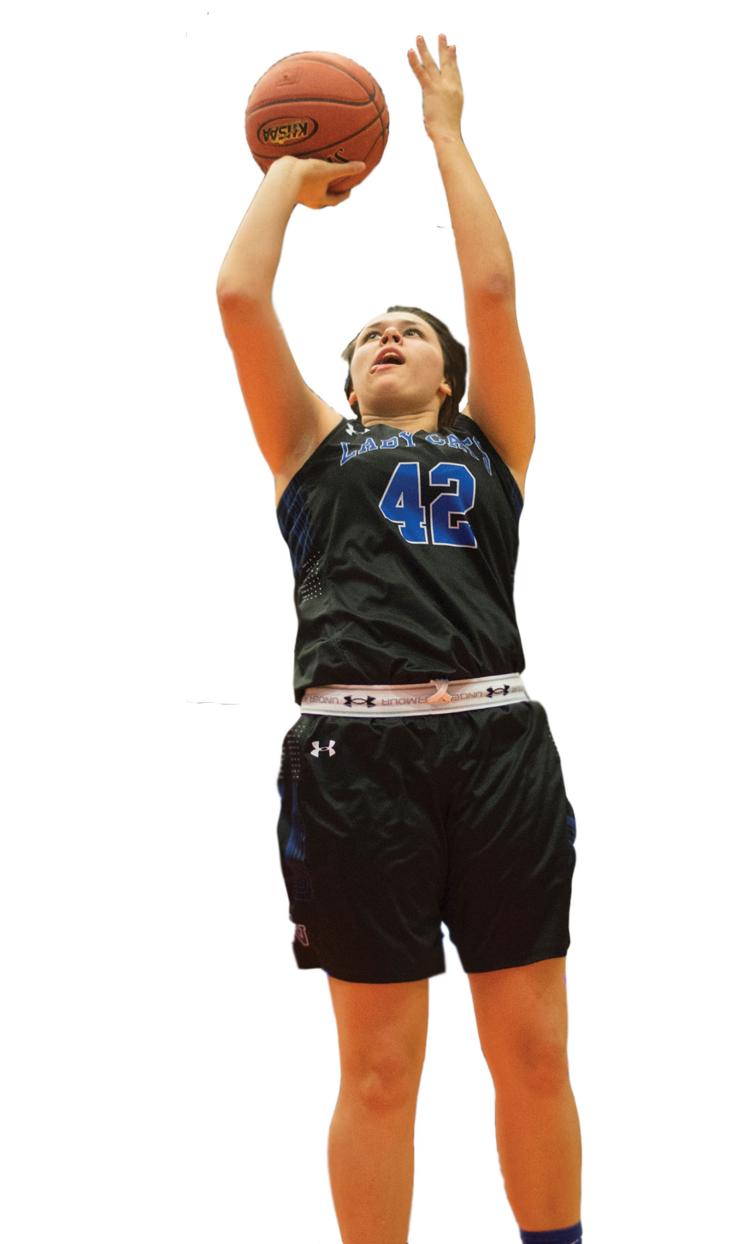 Earlier this spring Rick Bolus a long time scout and respected name in high school basketball player rankings released his Top 50 girls' basketball players in the state.
There were only two names on the list from the 15th Region.
Those two names belong to Shelby Valley in Alyssa Elswick and Cassidy Rowe.
Bolus had Elswick ranked in his Second 12, which means she is one of the Top 25 players in the state according to Bolus. Rowe was ranked in the Next 25 Best list which puts her in the Top 50 overall as well.
"Those two girls have put in quite a bit of time over the years from probably their fifth and sixth grades on," Shelby Valley head coach Lonnie "Doe Doe" Rowe said. "They went out and tested themselves against some of the best players in the nation. With the AAU program they're playing with and it is good to see them get recognized by Rick Boulus."
Both girls have competed on the AAU level for years and that's how they initially got their names out.
"When you talk about AAU, they're are different levels of AAU," Rowe said. "Cass and Alyssa play on as good of an AAU level as you can get. Alyssa is playing for one of the top teams and Cassidy is playing EYBL ball and that's what got their names out. Once you get your name out, we're tickled to death, not for just us and the Shelby Valley community, but also for the 15th Region. We want that name to get out so coaches will start coming and looking at more kids."
Elswick is one of the top post players in the state and Rowe is one of the top point guards in the state.
Elswick hasn't made a college commit yet, but Rowe verbally committed to join the University of Kentucky women's team going into her freshman season.
Rowe has battled injury over the past two seasons as she suffered knee injuries to both her knees.
Her last injury came last summer during summer ball.
She battled back to play a good portion of her sophomore season.
But even with her injuries, college coaches including UK coaches have come and watched Shelby Valley practices.
That helps the rest of the team gain exposure as well.
"You were talking about how coaches come out and see other kids, the past two seasons, the University of Kentucky has sent coaches out to watch us practice," Rowe said. "When they come, they're not just watching Cassidy, they're watching other kids. They're watching how they act and how they practice. They might not end up going to Kentucky, but those coaches at the University of Kentucky have connections with other schools that they can relay the message that you might want to take a look at this kid."
The point guard, post player connection is always important on any level.
Rowe and Elswick have been playing together since the fifth grade and have developed a great bond.
Rowe throws a great entry post pass and Elswick is a prolific scorer on the block.
That makes for a great combination.
And the duo are both entering their junior seasons.
"They've got a great connection," Rowe said. "Early on, Cassidy (Rowe) was more advanced than Alyssa. This is something that people are going to expect next season. Cassidy (Rowe) was more advanced when they were younger, well when Alyssa (Elswick) started becoming really advanced, Cassidy (Rowe) got hurt. Cassidy (Rowe) came back and now you have an advanced and skilled Alyssa (Elswick), but an injured Cass (Rowe). Now next year, if things go well, you're going to have that advanced skilled Alyssa with the regular Cassidy being healthy."
Rowe is still not 100 percent healthy, but is inching closer to it every day.
The duo is looking to play a full season together for the first time on the high school level.
"She (Cassidy Rowe) usually works out two to three hours a day," Rowe said. "Whether it be basketball or whether it be ab workouts or running or riding a bike. She's lost her (knee) braces, so we're keeping an eye on her and she's doing really well without her braces right now. When she gets back with Alyssa (Elswick) next year and with Laci (Johnson) that's three older kids that we have and it is going to be real beneficial for us to have leaders like that."
Shelby Valley has other talented players beside just Rowe and Elswick.
The Lady Wildcats will only have one senior next season.
"Laci (Johnson) is our only senior and Cassidy (Rowe), Alyssa (Elswick) and the addition of Kyra Looney who transferred in from East Ridge after the season, she is a big pickup for us, but we need that leadership because we have some really good young kids," Rowe said. "If we can mix those in together I think we can have a really good team."
Shelby Valley's has a good combination of talented youth and talented upperclassmen as well.
Team chemistry will be the key.
Shelby Valley fell to 59th District rival Pikeville in the 15th Region championship game.
Pikeville pulled out a hard fought 39-38 win that came down to the game's final possession.
Shelby Valley is hoping that experience for both the upper and lower classmen will pay off with a region championship this season.
"Kelsey Owens was starting and playing well until Cassidy (Rowe) came back and then her minutes dropped," Rowe said. "Next year, I expect really big things from Kelsey (Owens.) She's got that first year under her belt were she got to figure out where she stands as far as her role. Zoee Johnson played great for us this year. There isn't a doubt in my mind that she's a Top 5 big in this region. People are going to find out next year when she is going to play bigger minutes. You take Jazzy Meade and in my opinion is a crucial part of our team because she play the one and I can slide Cassidy (Rowe) to the two. I don't mind a bit to slide Cassidy (Rowe)to the two. She can play there because she's offensively gifted enough to play either spot and she can play the three if we need her too. Jazzy (Meade) is going to play a big role next year and moving to the one and giving us that defensive effort. We got some young kids like Gracie Cantrell, Sarah Robinson and you just have to wait and see what kind of summer they have as far as getting stronger and improving their overall game."   
Rowe and Elswick are two of the top players in the state.
Everyone in the 15th Region already knew that.
It's just good to see them getting some recognition.
Maybe some of the other talented players in the region will start to gain more recognition as well.