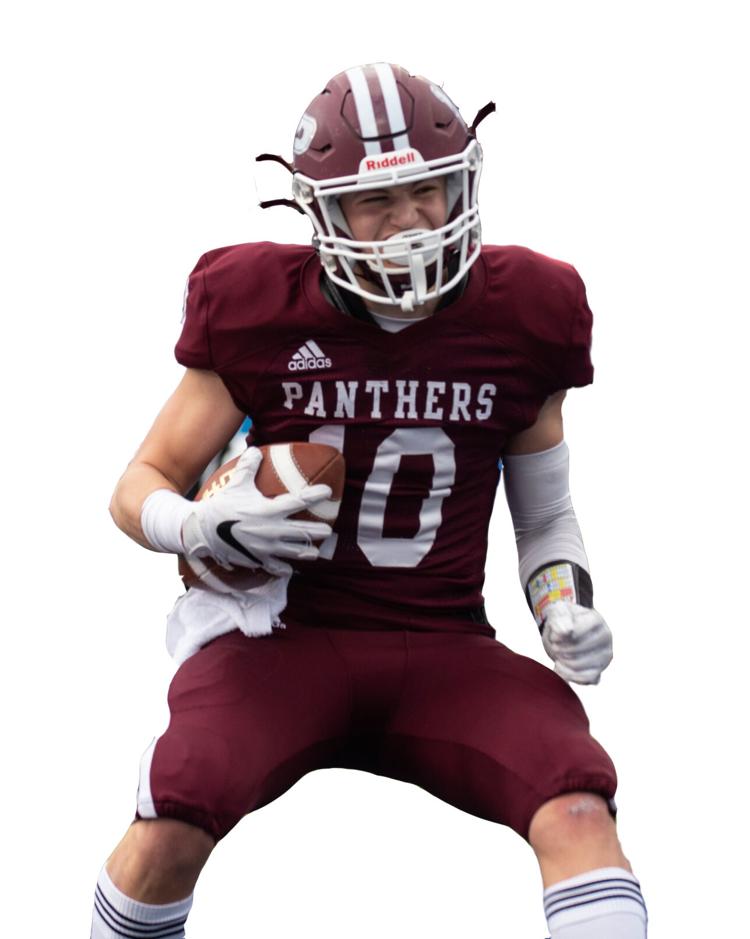 Pikeville had four prime time receivers last year.
Three of those receivers (Jackson Hensley, Seth Pugh and Clay Tinsley) are playing D I football this year.
What is the fourth member of that group doing?
He's back at Pikeville for his junior season.
Zac Lockhart had an incredible sophomore season last year.
He finished the season with 24 catches for 474 yards and eight TDs.
He's back and will be quarterback Isaac McNamee's top target this season.
Lockhart will miss his fellow receivers from last year, but he's ready to step up and take on a bigger role.
"I wouldn't have it any other way honestly," Lockhart said. "They're all three Division I receivers. Being able to play behind them was really good for me. They taught me a bunch of stuff about my routes and some things about speed. That kind of stuff. I'm hoping to make a big impact this year receiving wise. I'm trying to help out the younger kids the way they did with me. I just want to help every body out so we can be as successful as possible."
Pikeville lost a lot of senior leadership from last year. The Panthers lost three starting offensive linemen and will have to replace some guys up front, but it shouldn't slow the offense this season.
"A couple of our linemen returned and a bunch of them had a lot of good practice reps," Lockhart said. "Coach (Brad) Allen always made sure the line worked hard every practice. I think the younger guys on the line will be ready this year and I think they'll step up big on the defensive line. We have two returning on that side. The Sayers boys are monsters, so they'll fill the gaps really well. I think our line will do really well this year."
Quarterback Isaac McNamee returns for his junior season as well.
Lockhart and McNamee have great chemistry on the field and the duo will look to wow fans and opponents once again this season.
"It's just going to be great," Lockhart said. "I've played with him my whole life, so it's just awesome to watch him grow up and throw like that. He's just one heck of a quarterback. I mean there's not much else to it. It's just nice to know that if I run my route, I'll have the ball in a spot where I'll be able to catch it. He's going to put it where it needs to be at and that's just good to know from a wide receiver standpoint."
Pikeville's offense averaged 40.5 points per game last season.
The Panthers went 14-0 and won the Class A state title.
To play in an offense like this, is a receiver's dream.
"It's really fun, especially in seven-on-sevens," Lockhart said. "Coach (Steve) Johnson loves to air it out. He just loves to do it. It's a wide receivers dream, especially in high school to be able to run the deep routes whenever you want to. You know that whenever you run your routes, you're going to have an opportunity to catch the ball. It's just really fun."
Besides the receivers and the line, Pikeville also lost starting running back Cody Raines.
Pikeville does return standout Carson Wright, though.
Wright will enter his sophomore season and be the lead running back and one of the top linebackers on the team.
Wright was injured in the Class A state semifinals against Louisville Holy Cross last season.
"Carson (Wright) getting hurt last year was pretty bad," Lockhart said. "He's been working hard. I think he'll be back for Raceland and I hope he is. I don't know anyone who runs the ball as hard as he does. He fills the gaps really well on defense as a linebacker. He's going to make a huge impact on defense too. I think we're ready."
With the late start to the season, it's been a change in team moral and comradery this season.
"Usually around this time, everyone is starting to form their brotherhood," Lockhart said. "This year, it's been a little more spaced out. It's kind of rough because you know that the freshmen who come in, this is their time to meet everyone and we all become like a family. It's been a little tougher this year because we have three groups here in the morning, but we don't get to talk that much and then you have other groups in the evening, so it's all so spaced out. I still think we'll have a chance to form a brotherhood by the time the season starts."
Lockhart also plays basketball and was injured early last season.
He's back and ready for the football season, though.
"I'm recovered," Lockhart said. "I almost got back for basketball season, but I had my surgery and everything and I'm fully released now. I've been out here running and working on my ankle movement to get it back loose and everything. So yeah, I'm ready for the season."
Lockhart has plenty of talent and will be the leader of the receiving corps this season.
He's set some lofty goals for himself, but he's talented enough to easily achieve them.
"One of my personal goals is that I want to double my receiving yards from last year," Lockhart said. "Easily, I want to do that. I want to get some more touches and I think that will happen this year. Of course, we want to get back to state and hopefully we can do that. Hopefully, just continue to play football at the college level would be really nice."
Pikeville is scheduled to open the season Saturday at Raceland at 7:30 p.m.