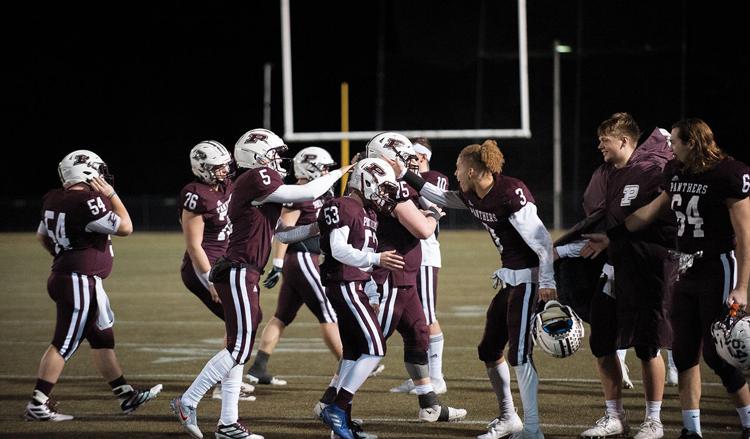 Pikeville was focused and ready to play last Friday night against Nicholas County.
The Panthers picked up a 54-14 win over the Bluejackets in the Class A region championship.
That sets up Friday's showdown with Louisville Holy Cross.
Holy Cross picked up a 21-16 win over Newport Central Catholic last Friday night one of the other Class A region championship games.
Holy Cross enters the game with an 11-2 record.
The Cougars lost to Class 3A Paducah Tilghman 50-21 in the second week of the season and suffered a 31-28 loss to Bethlehem in Week 7.
Last week against Newport Central Catholic Holy Cross gained 266 total yards of offense. Quarterback Chaz Geraghty led the way for Holy Cross. He was six for 14 passing for 78 yards and a TD. Geraghty rushed for 105 yards and a TD on 17 carries.
Running back Luke Davis rushed for 48 yards and a TD on 18 carries.
Graham Carnes led the receivers with four catches for 62 yards. Mason Hirst had two catches for 16 yards and a TD.
On the season, Geraghty is 71 for 166 passing for 1,182 yards and 10 TDs with 13 interceptions. He is second on the team in rushing with 890 yards and 12 TDs on 124 carries.
Davis leads the rushing attack with 1,508 yards and 22 TDs on 214 carries.
Carnes leads the receivers with 30 catches for 586 yards and four TDs. Lex Thomas follows with 13 catches for 251 yards and two TDs. Casey Bronger has 12 catches of 168 yards and a TD.
Kicker Larry Key has made 49 of his 54 extra-point attempts. He is three for three on field goals.
The Cougars have recovered 12 fumbles this season.
JR Perry leads the defense with 107 total tackles. Nolan Siegrist follows with 89 total tackles and 8 and 1/2 sacks. Phillip Matthews has 89 total tackles and three sacks.
Holy Cross has 21 sacks as a team this season.
The Cougars have picked off 10 passes this season. Tate Saw leads the Cougars with four interceptions.
Pikeville is rolling this season.
The Panthers are a perfect 12-0 on the season.
Last week against Nicholas County, the Panthers didn't have any trouble rolling to the 54-14 win.
Pikeville hasn't really had a strong challenge since the Belfry game.
The clock starts early in most games for the Panthers, but the competition will pick up Friday night.
The Panthers are focused on the task at hand.
"I think defensively we came out and played well," McNamee said. "Offensively, I thought we were a little bit sluggish early, but we were able to put some points up. We got some guys who can make some big plays and did in the first half. Region championship games are big regardless of who you're playing when you're playing this time of year. We put a lot of emphasis on that and are really proud of this team for accomplishing this."
The Panthers finished as state runners up last year and will be making their third straight appearance in the Class A semifinals.
Pikeville knows what to expect at this stage of the Class A playoffs.
"One thing that we're tickled with is that we've earned our spot and earned the right to play here," McNamee said. "We're looking forward to that and regardless of who we play, our guys are going to be ready to play. We hope we have a great crowd here next week on Thanksgiving weekend. We invite everybody out. We'll have Thanksgiving practice Thursday morning about 9 o'clock and we invite all of our fans and alumni to come out and watch these boys and be a part of it. Just tickled for our team and our school and our community."
Last week against Nicholas County, the Panthers presented longtime fan and part of the program Ronnie Ford a new letterman's jacket.
"Ronnie (Ford) is a staple of our program," McNamee said. "Not just football, but basketball and everything. We love him to death. He's always here to support us and we want to show that love back. Our guys are really good about making him feel a part of this team because he is a part of the team. Our coaches do the same and our community has rallied around him. He's just one of those guys, who I'm not sure how he gets here all of the time, but he's always here and always a part of it and I'm just proud to call him a friend."
The Panthers have a big challenge ahead Friday night, but they know what to expect.
Pikeville will host Holy Cross at 7:30 p.m. Friday night.