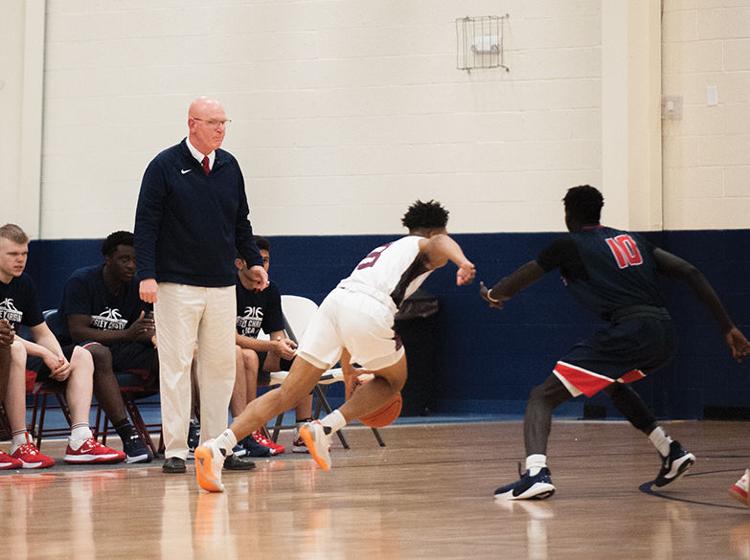 Randy Casey took over the head coaching job at Wesley Christian School last season.
His first season was a success.
Before taking over at Wesley Christian, Casey was a longtime head coach at Belfry. He then became an assistant at UPike before moving to Athens, Tenn. to help start the Believe Academy.
The Red Team won the NACA Division 4 National Championship.
Last season, was the foundation that Casey is looking to build on.
"I'm very pleased overall with the whole program," Casey said. "Our national team suffered a lot of injuries throughout the season. They had three starters out and that was probably 80 percent of our offense gone, but that allowed other guys the chance to step in and play. We were fortunate enough to win a NACA Division 4 National championship with our Red Team. So we have some good young kids back and they'll move up to our national team. Also our guys got it done in the classroom as we had a cumulative 3.0 GPA."
His national team had two Division I players.
"We can build on the momentum that we started this season," Casey said. "We have a couple of guys who signed to play at the DI level. Gabe Wuor signed with Stetson earlier this season and we think Madit Lueeth will sign too. He's got offers from Washington State, Marquette and Maryland. He was going to be one of the players in the Kentucky/Ohio All Star Game, but that's not going to happen now. Gabe and Ricardo Vennittili were McDonald All American selections for this state as well."
Wesley Christian isn't just a basketball school. The basketball program is just an extension of the culture at the school.
"The main thing about Wesley Christian is that we're one big family," Casey said. "From our girls teams to our boys teams to the regular students and faculty, we're just a big family. We have less than 200 kids from K through 12 and all of the kids root each other on. The young kids are the older kids' biggest fans and the guys on the team reach out and mentor the small kids. It's just a great environment to see. The support we get here is tremendous.
"We take the lead from Dr. Kenneth LeMaster, our founder and our superintendent Carolyn Curry. They do an excellent job of setting the tone and everything flows down hill from them. We put the kids first and they have set a culture of putting the kids first and it is established throughout the school that everyone has adopted."
Casey heard about COVID-19 and acted quickly for his players.
Wesley Christian's roster is filled with international players, so he sent those players home early before they were quarantined here in the states.
"When we heard about the coronavirus, we sent our guys home right away," Casey said. "We didn't want them to get stuck here and not have a way home. Most of our players are international guys, so we didn't want them to get stuck here and not have a way home for who knows how long. They are still doing classes online. They see their teachers on a daily basis. Our teachers and staff are providing lessons via video and texts."
The coronavirus has changed Casey and his players' plans for the summer.
Casey had some camps planned and he doesn't know if he'll get to host them or not depending on how long this lasts.
"Obviously this has affected us because we had four guys who were going to stay around this summer and play AAU, but they decided to go home with this outbreak," Casey said. "We like to get out and see kids and and it's forced us to get creative with our recruiting. But other than that, we had some individual and team camps that we had planned, but we don't know what's going to happen so we don't know if they'll still go on."
Whenever this ends, Casey is ready to get back to work and keep putting those building blocks on the foundation he laid this season.
"Im excited to get back to normal whenever that is," Casey said. "We just want to get back to work and keep building on this great momentum. But we still have to wait and see if we are going to get back to normal this year. I think if we can, then we will continue to get better and better here at Wesley Christian."