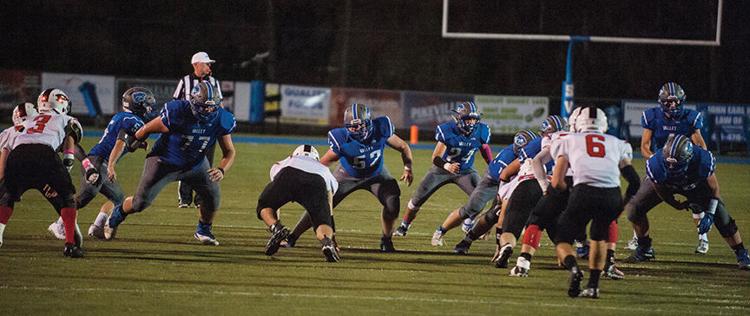 It's not always how you start that matters, but how you finish.
Just ask Shelby Valley's Braxton Damron.
Damron is entering his senior season at Shelby Valley and he's earned a starting spot on the offensive line and will also see playing time on the defensive line as well.
This is a bit different from how he started his career.
Damron came out to play football his freshman year, but quit in the summer practice before the season started.
He came back the next year and has stuck with the game.
He earned playing time last year behind a talented offensive line and now, has earned a starting and leadership role on this team.
"I tried football out my freshman year and I got hit some, so I walked away from the sport," Damron said. "So I came back out my sophomore year and I had no intention to walk away again after the time I missed. I missed it really bad and I earned my spot back. I'm glad I did and I'm glad that I can set an example for the younger kids and show them how important it is to always keep fighting and don't give up on a sport when it gets hard."
He's an example of hard work and effort.
Since the COVID-19 epidemic hit, the question of whether or not there would be a season has been a prevalent question?
But Friday night, that question will be answered as the season is set to kickoff and Shelby Valley is scheduled to host Jackson County. The Wildcats were originally scheduled to take on Knott Central, but the Patriots wanted the game to count as a scrimmage, so the Wildcats rescheduled with Jackson County.
"I'm just really, excited," Damron said. "I'm just really thankful and I think we're really blessed that we get to play Friday. It was uncertain for a while, I'm just glad they finally let us play."
Shelby Valley returns some talent up front on the offensive line. The Wildcats did lose Adam Johnson and Peyton Blackburn to graduation.
"We return three guys who played a lot," Damron said. "We have a center and tackle who are new. We all have a lot of fire and we all want to win and we all want to protect Russ (Osborne). I think we're all pretty good about doing what we need to for the team. I think we can win some games."
This season, Shelby Valley will have a new quarterback in freshman Russ Osborne. The Wildcats have been known as a running team in the past. That could change some with Osborne in the pocket.
"It's definitely different," Damron said. "I get to pass protect a lot more and we're not run blocking as much. It's a whole lot different. The offense is new. I like watching Russ (Osborne) air it out, so it's pretty cool.
"It's definitely going to be different. I don't think people are expecting things to work out for us because that's not what our program is used to. But I think it's going to be a lot different and work out really well."
The Wildcats lost quarterback and safety Dalton Meade. Meade led the team in rushing and was a force at the safety position. He was one of the top all around athletes in the mountains.
Shelby Valley does return three running backs in Jayden Newsome, Ethan Bentley and Jordan Little.
"I love blocking for those guys," Damron said. "Jayden (Newsome) is awesome. He'll run through anybody. He ain't scared of anything. Ethan (Bentley) is quick. Jordan (Little) will run through people too. They're all great guys and I just love playing with them."
Shelby Valley will return several starters on defense, but did lose some talented players on that side of the ball as well.
"Our defense can be really good," Damron said. "We have a lot of potential on the defensive side of the ball. Of course we lost Brayden Keathley and some guys like that up front, but we're still physical. Shelby Valley is always physical, that's just part of it. That's what coach (Anthony) Hampton preaches and that's what we go by. We have potential to be really good."
Being one of the seniors on the team, Damron has embraced his role as a leader.
"I like being in that role," Damron said. "I like having the younger guys look up to me and ask me questions and being able to help them out. I love doing that. It's just a part of it."
Last season, Shelby Valley fell in the district championship to West Carter.
The Wildcats are looking to make a run at the district title once again.
"I mean, we want to get vengeance from last year," Damron said. "That was a tough loss at West Carter. We want to go after district, region and anything beyond."
Damron had some personal goals and talked about the team goals as well.
"My personal goal is that I just want to be a leader to some of those younger guys," Damron said. "I want to show them what it's like to keep fighting and earning a spot. Our team goals are of course, win that district championship. Then go onto region and the ultimate goal is state. Obviously, it is for every team or it should be anyway. That's the ultimate goal."
Shelby Valley is scheduled to kickoff the season tonight as the Wildcats host Jackson County at 7:30 p.m.