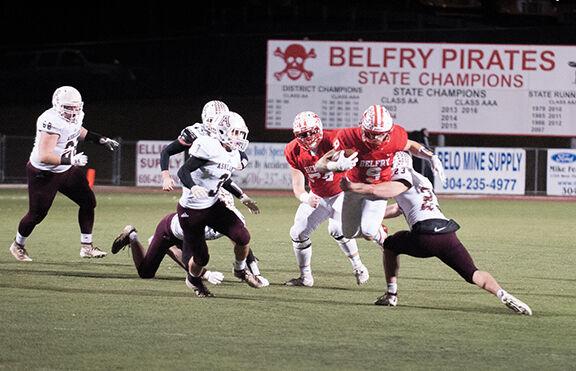 Earlier this spring, Belfry had a private ring ceremony for its players.
The Pirates were rewarded their championship rings for winning the Class 3A state title.
It was Belfry's seventh state championship it school history.
"We did this before school finished up," Haywood said. "We wanted to give our guys their rings before school and everything finished up. We had to get approval from the board and health department and follow CDC and local guidelines first. There were some hoops we had to jump through, but we felt it was important to give our guys their rings before school ended. We followed all the social distancing procedures and made sure the kids could get their rings. We usually have a private ceremony anyway, so it wasn't too different from what we've done in the past. The only thing really different is we couldn't gather as a group."
Haywood and his coaches are still waiting on things to open up.
Starting June 8, coaches around the state can start to plan to have workouts with players starting June 14th. But coaches can start meeting with players face-to-face June 8 as long as they get approval from the school and board of education.
"It's been kind of dead since this started," Haywood said. "We can talk to our kids, but we can't meet with them face-to-face. I just wanted to make sure to communicate with my coaches and have everybody on the same page. Everybody's been meeting with the kids and each other with online meetings. I made my coaches responsible to instruct a group of kids and that has made it more manageable for us as a staff. The players know that they are free to call any of us and I've tried to use video to have motivational speeches for our guys."
Belfry, just like the rest of the schools around the state are preparing to start back working out June 8.