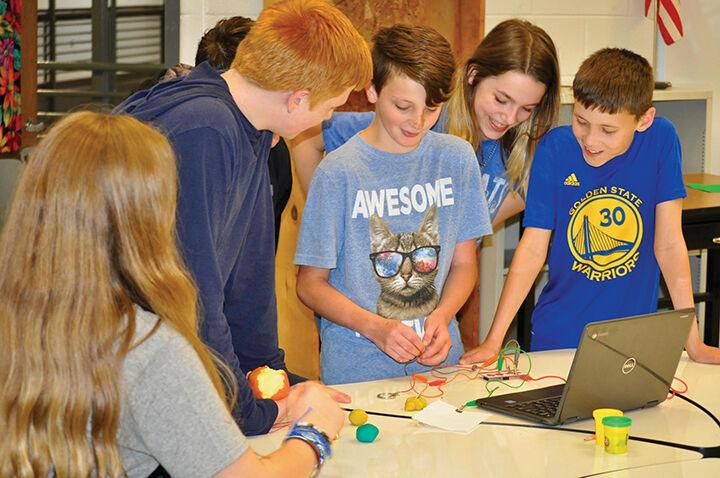 Local businesses, schools and community organizations across Eastern Kentucky are being encouraged to host activities for the annual Remake Learning Days Across America festival that will take place next spring.
Remake Learning Days Across America is an annual festival that began in 2016 by the National Organization of Remake Learning Days Across America — an education cooperative organization — in order to promote innovation, learning and engagement among students and their families.
In 2021, the festival will take place across the Eastern Kentucky region from April 22 to May 2, and organizers are encouraging local schools, businesses and community organizations, including churches, to take part in the festival and help host their own events, programs, classes and activities. Hosts need to register their events online by Feb. 14, and the events should focus on the themes of Maker, Science, Technology, Arts, Outdoor Learning, Youth Voice or Professional Development.
Traci Tackett, director of digital literacy for Bit Source, LLC, works with the Eastern Kentucky Remake Learning chapter. She said that the festival is an opportunity for any schools, businesses and community organizations, especially those who work with children, to create and develop programs or activities for students and their families as a way to provide more learning opportunities.
"We really want this to be a spotlight on the importance of parents getting involved in their children's learning, and by doing that, we see it as a win-win for the families, as well as the community organizations, businesses and schools because it's a time for them to also show off what's happening behind their doors that families may not be aware of," Tackett said.
The region was not able to hold the festival in 2020 due to the COVID-19 pandemic, Tackett said, but when they held it in 2019, they saw a variety of different events being held by local businesses where students and their families were encouraged to learn new skills and connect with one another.
One example she gave was a quilt shop in Prestonsburg where families could attend a free class and learn how to sew a pillowcase. Another example of an activity for families during the 2019 festival was at Bit Source LLC where families could come and learn more about the organization and its developers.
"We try to keep everything free or very low cost," Tackett said. "If it is going to cost the event host some money, we have a limited number of mini-grants that they can apply to kind of offset the cost of what it costs them."
To protect against any potential spread of COVID-19, she said that those who wish to hold events for the festival do not need to hold in-person activities or classes.
Tackett said that anyone who wants to avoid hosting in-person events are being encouraged to hold an event during the festival through a pre-recorded video or through Facebook Live, Zoom or another streaming or videoconference platform. She said that those who wish to create an event or class can pre-record their class and broadcast that recording online during the dates of the festival.
Tackett added that the recordings can be released through the website or social media platforms of the individual businesses and organizations, or through the non-profit organization Shaping Our Appalachian Region (SOAR).
"We're also willing to help the hosts who want that capability and maybe don't have the technology skills to put together something like that," Tackett said.
Anyone who wants to host an event or learn more about hosting an event during the 2021 Remake Learning Days Across America festival in Eastern Kentucky can contact Traci Tackett at, (606)477-4589, or, traci@bitsourceky.com. They can also learn more by visiting, https://remakelearningdays.org/about/what-is-remake-learning-days/.
To learn more about Remake Learning Days Across America, visit, remakelearningdays.org.