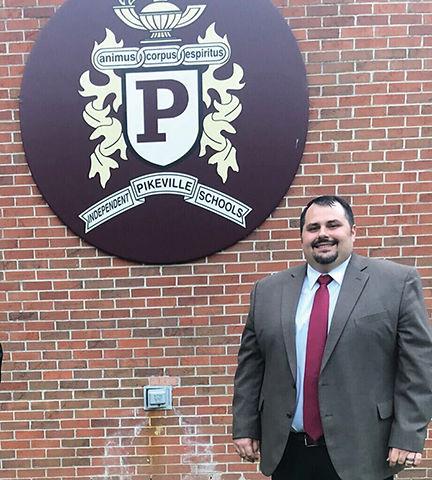 The Pikeville Independent Schools' Board of Education unanimously approved the district's next superintendent during its meeting on May 19, replacing long-serving Superintendent Jerry Green.
After Green announced his plan to resign at the end of the 2019-20 school year, the Pikeville Independent Schools Board of Education announced in January it would work with the Kentucky School Boards Association to start the search for the district's next superintendent.
After altering the course of its superintendent search in early May and extending the search outside of the first round of applicants, the board unanimously approved David Trimble, the current director of pupil personnel for the Russell Independent Schools District, to become the next superintendent of the Pikeville Independent Schools District.
Board Chairman Joe Ray Thornbury thanked the work of the superintendent screening committee, the KSBA and the district's Board of Education in choosing the district's superintendent. He also thanked Green for his 18 years of service to the district.
Thornbury said he and the board have learned a lot about Trimble during the screening process, and he believes Trimble will do well in leading the district.
"Mr. Trimble comes to us with 16 years of experience, spanning from the classroom and assistant principal, athletic director and principal. We appreciate all he's done in his career for the students of the commonwealth," Thornbury said. "The board was looking for a leader who could carry our district onward and upward, while respecting the tradition of excellence that has been built here in Pikeville. We look forward to working with Mr. Trimble in doing just that. He's a man of integrity, faith and high moral character."
Board member Kevin Pugh said that, although the board and committee had a difficult task, he believes they chose the right candidate to move the district forward.
"It was a monumental task trying to replace Mr. Green, and I think we took it very seriously," Pugh said. "Everyone worked together. Hopefully, everyone understands that our hearts and thoughts were in the right place. We made an excellent choice, and I couldn't be happier."
Trimble currently lives in Ashland with his wife and 6-month-old daughter, and he was born and raised in Johnson County. He will serve as superintendent of the Pikeville Independent Schools District for four years starting this fall, and he will begin his position on July 1, 2020. The board said during the meeting that Trimble's salary will be $176,500.
Trimble has served in different positions throughout his education career. For the Russell Independent Schools District, he served as the director of pupil personnel, director of teacher and leader effectiveness and the principal for the Russell Area Technology Center.
In the Boyd County Schools District, he served as director of student services, high school assistant principal and athletic director, and he served as a social studies instructor at Boyd County High School. He also served as a substitute teacher in the Johnson County Schools District during the early years of his career.
Although this is his first superintendent position, Trimble said he believes the experience he has gained through his previous positions will help him as he takes on his new role.
"I'm going to continually learn and grow in the position," Trimble said. "I will be someone who they can always trust and that they know will always support them in doing their job on the front line every day. One thing I know is that Pikeville Independent is a tremendous place with great people, and they deserve out of me somebody that is passionate and somebody who is going to give them absolutely everything he can every single day."
Trimble said he looks forward to working with Pikeville High School Principal Jason Booher, Pikeville Elementary School Robert Jones, the Board of Education and the district's employees in order to better his understanding of the district. He said he also plans to meet with Green in order to gain advice from him on leading the district before he starts in July.
"It's my job to lead that district and to work with the board," Trimble said. "The board has been so supportive. I've had tremendous conversations with them. They love the district, they love education and I can't do my job without a board of education that will support me in doing that and, most importantly, has the same feelings toward education as me."
As superintendent, Trimble said that he believes he needs to be there to support the district's employees, and he wants them to know that he will always support them. He said he thinks it is important to support the staff in order for everyone in the district to effectively support the students.
"There are fantastic people in Pikeville Independent Schools, and my job is going to be to support them, provide them with what they need and to lead the district to ensure that we continue to have the success that we've had and that we're never satisfied, that we're always wanting to do better because we owe that to our kids," Trimble said. "They deserve that, every day we come in, we're at our very best."
Trimble said he doesn't believe that only one single person makes a good school district, and he said he believes that idea especially holds true for Pikeville, which he described as a community that values education.
"Pikeville is a community that values education and so it's all stakeholders. It's not just the team that educates," Trimble said. "We've especially seen this with NTI. It's also families who value education and elected officials who value education and businesses. It's a collection of all those stakeholders, and my way to maintaining that success and to continue forward with greater success is to support those people."