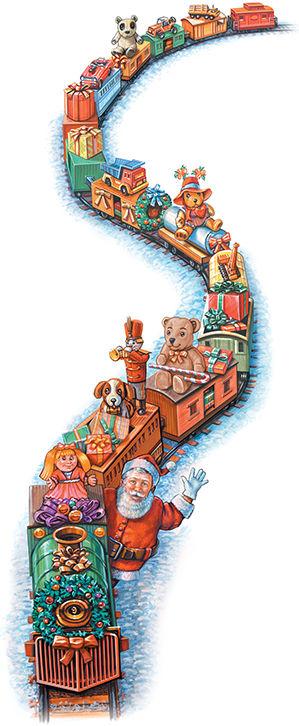 Santa Claus will hit the high iron once again next weekend.
The CSX Santa Train is set to make its 77th run on Nov. 23, and will make 13 stops along a 110-mile trek from Shelby Yard in Shelbiana to Kingsport, Tennessee. The train runs each year the Saturday before Thanksgiving.
The Santa Train is a joint effort of CSX, Food City, the Kingsport Chamber of Commerce, Appalachian Power and charity shoe donation organization Soles4Souls. At Shelby Yard and the following 13 stops, food, toys and other items are distributed from the train by volunteers on the ground, as well as by Santa Claus, who stands of the rear of the train and tosses items to the massive crowds which gather at each location. More than 15 tons of food, toys and other items are distributed from the train each year.
Items are distributed at three locations in Pike County, including Shelby Yard, Marrowbone and Elkhorn City, before the train travels south into Virginia and on to Tennessee along CSX's former Clinchfield Railroad mainline.
Country music legend Marty Stuart is the celebrity guest on this year's Santa Train.
The arrival schedule for the Santa Train is as follows:
• Shelby Yard, 5:45 a.m., though it is best spectators to arrive at the railyard by 5:30 a.m.
• Marrowbone, 6:20 a.m.
• Elkhorn City, 7:05 a.m.
• Toms Bottom, Virginia, 7:45 a.m.
• Haysi, Virginia, 8:07 a.m.
• Clinchco, Virginia, 8:40 a.m.
• Fremont, Virginia, 9:08 a.m.
• Dante, Virginia, 10:08 a.m.
• St. Paul, Virginia, 10:53 a.m.
• Dungannon, Virginia, 12:03 p.m.
• Fort Blackmore, Virginia, 12:48 p.m.
• Kermit, Virginia, 1:48 p.m.
• Waycross, Virginia, 2:20 p.m.
• Kingsport, Tennessee, 3 p.m.
For more information, visit, Facebook.com/SantaTrain.