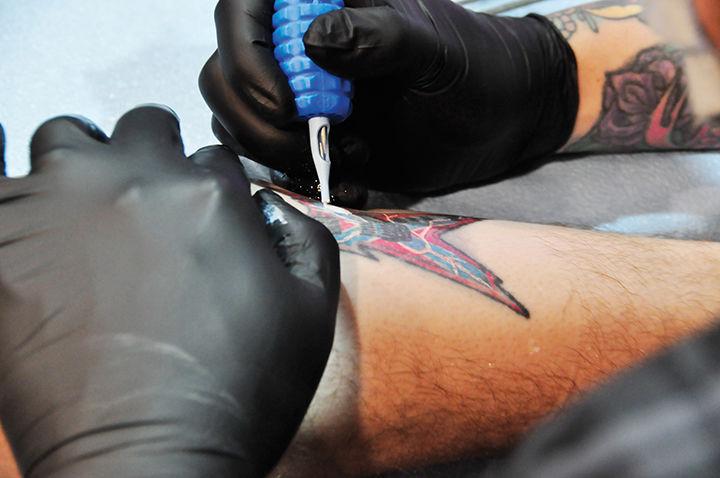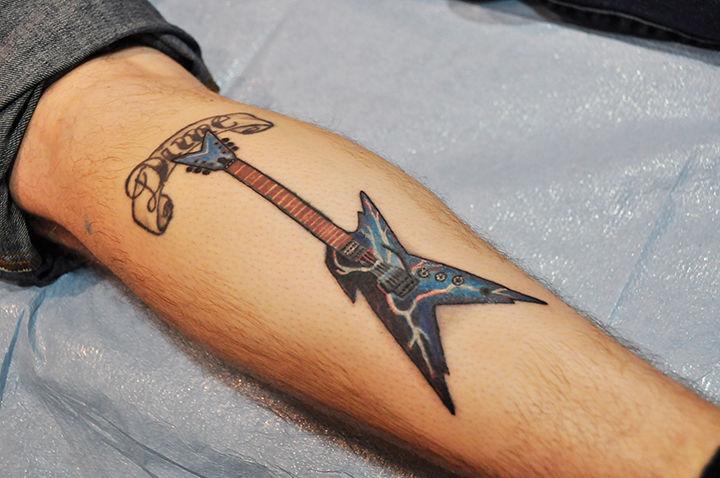 During a time of national racial unrest, a local tattoo artist is using his talents to help people and combat racism in small, yet meaningful ways.
During the week of June 8, Matt Bartley, a tattoo artist at Pikeville's Sacred Mountain Tattoo, put out an open invitation on Facebook to do free cover-up tattoos for people who have racist tattoos — or tattoos that many may view as racist — that they no longer want.
Within 24 hours, he said, he received about 10-11 requests from people to have the work done, and the number of people seeking his help in having a racist tattoo covered up continues to increase.
"It spread like wildfire," Bartley said. "People were really into the idea of it. I just wanted to do something. I think within 24 hours, I already had maybe 10-11 people asking me to have their tattoos covered up."
Bartley said he has helped people cover up their racist tattoos throughout the past several years in order to help people move on from old ideologies of racism and hatred. Bartley said he decided to recently open up the offer to do it for free following recent national events and a period of racial unrest that historians have compared to that of the Civil Rights era during the 1960s.
About three weeks ago, protests started taking place across the country where people called for an end to police brutality and systemic racism after Minneapolis man George Floyd and Louisville woman Breonna Taylor were both killed by police while unarmed. In Eastern Kentucky, protests have taken place in Prestonsburg, Pikeville, Paintsville, Hazard and Whitesburg, among other cities.
"With everything going on, there's a big push for social change," Bartley said. "People are having important conversations, and this is just one little thing I can do to help."
Some of the tattoos he has covered up so far include swastikas, SS lightning bolts and the words "white power." According to the Anti-Defamation League's database of hate symbols, those symbols and logos are directly connected to neo-Nazi ideologies and practices, which were adopted from the Ku Klux Klan (KKK), an American white supremacist hate group.
Bartley has also covered up tattoos of the Confederate flag, a controversial symbol that many view as racist for its reminder of white supremacy and slavery under the former Confederacy.
"That's a controversial subject right now," Bartley said. "But if they wanna get them gone, I'm more than willing to cover them."
Though he has never gotten a racist tattoo and could not speak from personal experience, Bartley said, he believes that covering up that kind of symbol and transforming it into a new design would make him feel like a brand new person.
"You've got something so hateful and divisive out for the world to see. You're obviously gonna have to live your life a little differently, especially if you don't feel that way anymore," Bartley said. "If you're still in the mindset of having that kind of hate, you're probably in the mode of wearing it like a badge of honor, but if you no longer want that to be part of your life, I would think that you would almost feel like a new person."
Bartley said some of the people with racist tattoos that he has helped to cover up have not been able to take their shirt off in public for fear of showing their racist tattoo to other people, since they do not believe that way anymore.
"I've had people who can't take their shirt off in public," Bartley said. "If they're gonna go to a waterpark or something like that, they can't engage in that activity with their family on a vacation. They don't wanna bum anybody out. People are gonna see it and go, 'Oh my God.' It's hurtful to see that kind of thing, especially if you're one of the marginalized people that it's up against."
Bartley said he tries to use existing shapes within the design itself in order to mask the racist symbols, though the cover ups vary on each tattoo he works on. For example, on one client, he used the existing shapes of a person's SS lightning bolt and "white power" tattoos, which were placed above one another, and transformed them into a single sword design surrounded by petals — a design unrecognizable from the tattoos that preceded it.
"It's so specific to each tattoo that it's kind of difficult to explain it," Bartley said, describing how he covers up the tattoos. "It's just something I've learned from my 12 years of tattooing, how to cover things up effectively."
Kyle Kessler, 29, originally from Ohio, got a tattoo along the back of his leg when he was 18 years old of a guitar with a face that was designed with the symbol of the Confederate flag. The tattoo was a tribute, he said, to one of the guitars used by one of his favorite musicians, Darrell Lance Abbott, also known as "Dimebag" Darrell. Dimebag Darrell was the guitarist of the heavy metal bands Pantera and Damageplan, and he was shot and killed during a 2004 Damageplan concert in Ohio.
"He was one of my heroes growing up, and he got murdered pretty much in my hometown," Kessler said. "I just got one of his guitars tattooed and never really thought about the meaning."
Kessler said that in light of recent national events, he began seeing the symbol of the Confederate flag on his guitar tattoo as being more racist and hurtful than he originally thought.
"With everything going on, I never really looked at it like that until here recently, and now I've got a 3 month-old son," Kessler said. "I know it's racist now, but I don't want him growing up thinking I'm racist because I'm not."
During his appointment on June 17, Bartley filled in Kessler's former Confederate flag guitar and redesigned it into another guitar that Dimebag Darrell used to play, one with a black and blue face accented by white lightning bolts — a design unrecognizable from its predecessor.
Kessler said he was excited about having the tattoo redesigned into one that he's much happier with. "I'm gonna love it," Kessler said. "I won't have to worry about wearing shorts much in public anymore and stuff like that because I hate being looked at and perceived as racist."
Bartley said he has received "nothing but love and appreciation" from people who have learned about what he's doing and from people who have wanted to cover up their tattoos.
"I'm blown away by it," Bartley said. "I can't believe the amount of support and words of encouragement I've gotten from the community. When the people that are actually getting it done are talking to you and showing their gratitude, man, it's powerful."
For more information about Bartley's work, call Sacred Mountain Tattoo at, (606) 637-2222, or visit Matt Bartley's Facebook page.