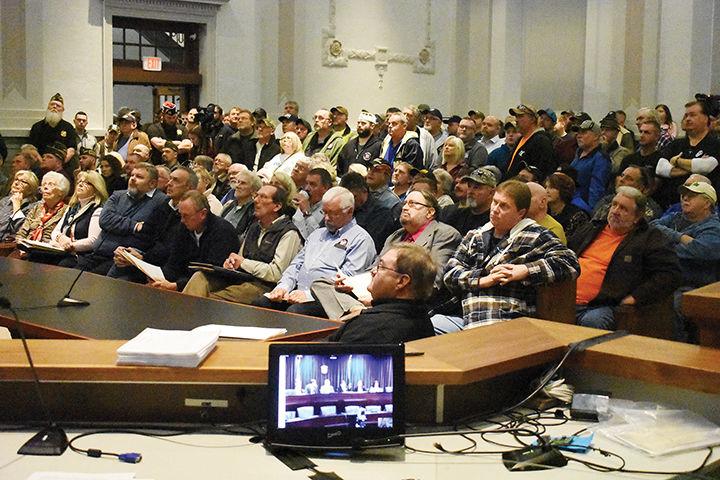 During its first regular meeting of the new year and in front of what Pike County Judge-Executive Ray Jones said was "the biggest crowd that's ever been in this courtroom," the Pike County Fiscal Court unanimously voted to adopt a resolution which declares Pike County a "Second Amendment Sanctuary."
The resolution comes on the heels of several other counties recently declaring themselves as "Second Amendment Sanctuaries."
The court was joined via videoconference by several members of Pike County's legislative delegation, 93rd Dist. state Rep. Chris Harris, 92nd Dist. state Rep. John Blanton, 31st Dist. state Sen. Phillip Wheeler, 95th Dist. state Rep. Ashley Tackett-Lafferty and 94th Dist. state Rep. Angie Hatton, who could not attend the meeting in person due to being in Frankfort for the on-going legislative session.
Before allowing the legislative delegation to address the crowd in attendance, Jones took the opportunity to discuss some recent criticism he and other members of the court have recently faced for allegedly not being in favor of the declaration, due to "not addressing this issue" publicly before the meeting.   
"You're not going to have anybody stronger for the Second Amendment," Jones said. "And we've got the same resolution and it's got the same sanctuary language."
According to Jones, that is important due to the rising concerns over the possible implementation of "red flag laws" which are gun control laws that permit police or family members to petition a state or court to order temporary removal of firearms from a person who may present a danger to others or themselves.
"We have evil people in our society and you do have people that are mentally ill that need help, but taking rights away from law-abiding citizens is not the right approach," Jones said. "The Second Amendment is very plain, and some of you may no know that section one of the Kentucky Constitution guarantees the same right as the Second Amendment at the federal level. Those rights are protected under both the federal and state constitution.
" If you're against guns, if you believe we should ban assault rifles or semi-automatics, or you should tell me that I can only have a 10-round magazine to defend my family with, I'm not going to support you. That's my right, that's your right and nobody should be able to tell me that," he added.
Jones said he believes a lot of people have concerns over saying "someone has taking an affidavit out, so we're going to go take their firearms." Jones added it is his belief, that if someone is "mentally ill" enough to result having their firearms taken away, that not the answer, according to him.
"They need to be evaluated by professionals and need to be institutionalized until they get the help they deserve," Jones said.
Wheeler said he commended the court for taking up this issue in its first meeting of the new year and added he doesn't believe "red flag" legislation has "any legs," but he added he would not support it and even went as far to call the possible legislation "completely unnecessary."
"This is merely a tool to further infringe upon the rights of law-abiding citizens and I am adamantly opposed to it," Wheeler said. "And I think this resolution by the court sends a clear message where rural America stands."
Each state reprensenative was given their opportunity to address the the court and those members of the public in attendance on their appreciation for the chance to be able to participate in the meeting for such an important issue, while also being able to discuss their beliefs.
"I'm thrilled with the attention and the participation of the community members with regard to these issues and I'm so happy to see our constituents out voicing their opinion," Tackett-Lafferty said.
Hatton echoed Tackett-Lafferty's sentiments and added that gathering such as the one present during the meeting and the rally, regarding the Second Amendment which took place in Frankfort during Tuesday's session, was what having the right to gather was all about. Hatton also addressed her concerns regarding "red flag laws" and due process."
"The concern that I've been hearing from law enforcement is that, what sets this bill a part from other bills, like emergency protective orders and things like that, is that the 'red flag law' would actually cause the police officer to have to go out and take weapons," Hatton said. "And I know that the law enforcement community is uncomfortable with that.
"I won't be in support of the 'red flag law' and I'm not sure that we are going to see that bill even get a vote," she added.
Blanton said "red flag laws" are unnecessary he referred back to Hatton's comments regarding police officers being "uncomfortable" going out and confiscating someone's firearms.
"You want to get a trooper, or a Pike County Deputy, or a Pikeville City Police officer killed, you send them to someone's house to take their guns away and we're going to have to start carrying police officers out in body bags. We don't want that and we don't need that," Blanton said. "Our Second Amendment right is just that, a right, it's not a privilege. It's guaranteed to us by the constitution of the United States and our forefathers, not to be infringed upon by someone who thinks they know more than we do about protecting our homes and our families."
Harris said he, along with the other members of the delegation, were happy to have the opportunity to address the crowd in attendance while discussing things that are important, particularly the support for the Second Amendment. Harris added that as "a gun owner" it is very important that "we" stay focused on "supporting and protecting" the Second Amendment, but noted there are also issues "that come up that need to be addressed occasionally" and that focus also needed to towards safety, particularly school safety.
"As a gun owner, of course I am very supportive of the Second Amendment," Harris said. "However, as a parent, I also want to make sure that we have safe schools, safe communities and safe places to worship and I am open to meeting with anyone in attendance there today who wants to talk about those issues.
"Again, I am a proud gun owner and I don't plan on letting anybody take my guns, but I also recognize that we as legislators have a responsibility to the next generation of people that we leave society a little better than the way we found it," he added.
However, Harris took some heat for his comments from several members of the public who signed up for public comment, due to what one resident said was "a whole lot of lawyer talk," while avoiding discussing whether he was for or against "red flag laws."
"I wanted to hear a clearer message on what he believes and doesn't believe and we need to remember this come election time," said Pike County native Mike Rutherford.
Others who signed up for public comment stated their support for what the court was doing, while also discussing their concerns regarding possible "red flag laws." Two individuals even approached the podium just to inform the court they had "pages upon pages" of thing to discuss due to not knowing how Tuesday's meeting was going to go. However, upon hearing from the court and other officials, those concerns were dissolved.
Several other local officials also addressed the public and commended the court for adopting the resolution. Several of those included Pike County Clerk Rhonda Taylor, Pikeville City Commissioner Steve Hartstock and Pike Commonwealth's Attorney Bill Slone.
Dist. 1 Ronnie Robertson, Dist. 2 Commissioner Jason Tackett and Dist. 3 Commissioner Brian Booth each got the chance to individually address those in attendance, with all three echoing their support towards the Second Amendment, while also thanking the people for coming out to show their support.
"I never would have dreamed that one post about your second amendment  would have brought this many people out," Booth said. "It tickles me to death and thrills me to see all of you out."
Since declaring Pike County as a "Second Amendment Sanctuary" is only a resolution and not an ordinance, it lacks the power of law. However, officials said it is a symbolic gesture which  expresses the will of the people of Pike County to keep and bear their arms, and to protect their constitutional rights. It further expresses, that the citizenry of Pike County will engage in political process and organize to protect their rights, as guaranteed in the United States Constitution and also the Constitution of the Commonwealth of Kentucky.