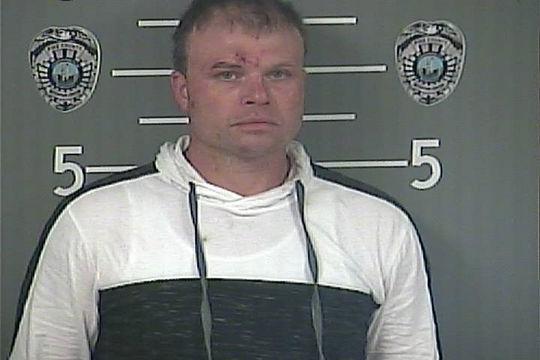 A Belcher man was arrested on several charges, including assaulting an officer and fleeing police after a domestic incident which allegedly happened Sunday.
According to the arrest citation by Kentucky State Police Trooper B. Ball, he was dispatched to the Ferrells Creek Road area in response to a call from the father of Joshua Meade, 39, of Old Ferrells Creek Road, Belcher, reporting that Meade had assaulted him.
While en route, Ball wrote, he observed a male subject walking on U.S. 460 near the complaint area, but went on to the scene, where he was informed by another trooper that Meade had left the residence on foot, possibly armed with a handgun.
Ball wrote in the citation that he left the residence and located Meade walking on U.S. 460. Before Ball could exit his patrol car, the citation said, Meade turned in an "aggressive manner" toward the trooper with his hands in his jacket pockets.
Meade, the citation said, began yelling, "Shoot me, shoot me (expletive deleted)." The trooper gave commands for Meade to show his hands and told Meade he was under arrest, the citation said. Court documents said a second trooper arrived and approached Meade with a Taser, at which time Meade began running away.
The Lifeguard Ambulance unit responding, the citation said, observed the foot pursuit and pulled in front of Meade, at which time Mead ran into the roadway, nearly causing a traffic collision.
The foot pursuit continued, the citation said, and Ball wrote that he observed Meade toss what appeared to be a large knife in the grass. Shortly after that, the citation said, Meade laid down on his belly with his hands under his chest. When the second trooper, J. Scott, made contact with Meade and attempted to place Meade under arrest, the citation said, Meade began to resist arrest and began banging his head off the asphalt, causing cuts to his face.
The citation said the troopers were able to subdue Meade, at which time Ball asked Meade what he was "on," and he replied that he had taken the drug Subutex. The citation said Meade admitted he threw a knife during the foot pursuit.
Meade was lodged in the Pike County Detention Center on charges of fourth-degree assault, public intoxication, third-degree assault, menacing, resisting arrest and first-degree fleeing or evading police.
Court documents show he pleaded not guilty to the charges Monday before Pike District Judge Tommy May, who ordered him held on a $2,000 cash bond.