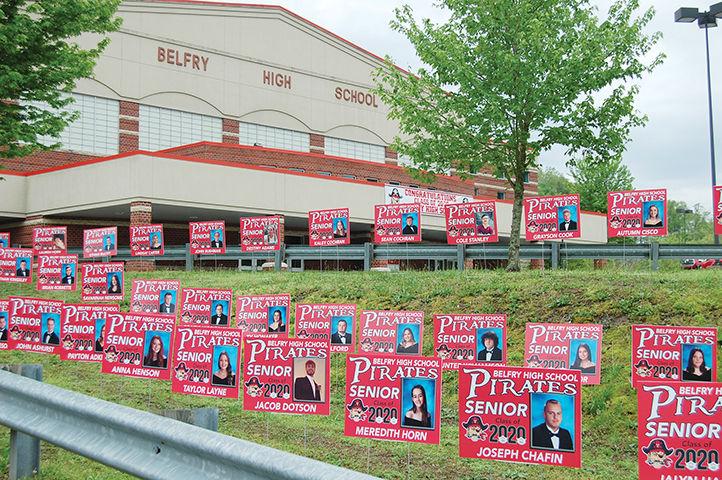 The COVID-19 pandemic has left high schools across the country scrambling to put together and get into place some semblance of year-end events — particularly a stand-in graduation ceremony — for their graduating seniors.
Belfry High School is not an exception.
With a traditional commencement and related events not possible now nor likely going to be possible later on in the summer, like all the other high schools facing the same dilemma, BHS officials were forced to seek ways to make the best out of a worst situation for both their school for their 2020 graduating class.
School officials chose to hold a scaled down but very much appropriate graduation ceremony, which is scheduled for Saturday, May 16, that would both afford both recognition and appreciation for the school's graduates while still maintaining public safety per all the precautionary measures set forth by Gov. Andy Beshear and which, for the most part, remain in effect.
"We just felt it was very important to do this for our graduates so they could have their own memories of this very special time in their lives, as well as for their families," said BHS Principal Mark Gannon. "It's not the kind of memories that we hoped to provide them and of course we planned to do, but hopefully for our seniors our their families it will still be special."
Gannon said each graduate, accompanied by a limited six family members/friends, will be allowed in the auditorium at one time with the graduate being given the opportunity to walk across the stage in cap and gown.
As with typical graduating ceremonies, Gannon said, each graduate will additionally receive his/or diploma during the ceremony and that each will be video-recorded.
He said the individual video recordings ultimately will be arranged in a video montage that will be put up on both the school's webpage and Facebook page.
"Right now we're planning to have the video put up on our website and our Facebook page either on May 22nd or 23rd for everybody to watch," he said. "Again, it's not what we planned but we believe it will still be very special for our graduates and their families."
Gannon said delaying until later this summer and attempting hold a more traditional graduation ceremony at that time was seriously considered.
But due to the real possibility that there might still remain major restrictions, the decision was made to choose this option.
"From a district standpoint, our superintendent said if there is any way that we can have a more traditional graduation later in the summer we could, but he wanted something in place now," he said. "And I think what we are doing is accomplishing what he had in mind, and we can certainly do a more formal graduation later on if that's possible, but my personal opinion is we're probably not going to be able to do that."
Gannon said he understands the disappointment of both the graduating class and their families but he also believes they grasp and have even come to accept the situation.
"I really hate it for our kids and their families, but I feel for our part in what we're doing to allow our seniors to walk across that stage with some family members in there is making a bad situation a little better for everyone," he said.
For complete details on the procedures and protocols for graduates and their families regarding the commencement ceremony, visit the BHS website or the school's Facebook page.