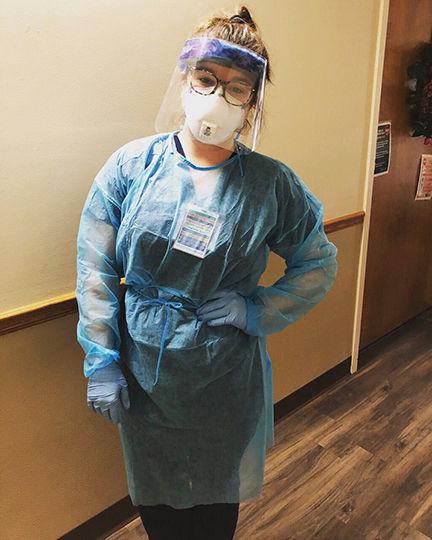 When the Kentucky Department of Public Health requested volunteers from across Kentucky to aid in COVID-19 relief efforts, three students from Pikeville's Kentucky College of Osteopathic Medicine were among the first to answer the call.
Heather McGuire, 34, of Louisville, Amanda Meier, 27, of Henderson, and Meredith Doughty, 25, of Bowling Green, are third-year osteopathic medical students and among 10 students from KYCOM who have volunteered so far to help relief efforts in the state's fight against novel coronavirus (COVID-19). The 10 students from KYCOM have served in counties across western and northern Kentucky.
As third-year medical students, Heather, Amanda and Meredith started their clinical rotations, where students shadow physicians and residents in hospitals and apply knowledge from their classes to real-life medical situations.
However, when Kentucky closed many public facilities due to COVID-19 concerns, University of Pikeville announced that all classes would continue online. Clinical rotations were put on hold, and the students continued completing their course work online.
Kentucky Public Health Commissioner Steven Stack and the Kentucky Department of Public Health coordinated a volunteer opportunity in which they asked for medical and nursing students across the state to offer their time to help patients being treated for the virus. Though the state did not know where the students would be sent, Heather said, they offered the students a chance to sign up, contacting them if they needed them.
Heather and Amanda were roommates and stationed in Henderson for their clinical rotations at the time, and they both decided to sign up to volunteer because they wanted to continue serving their community.
"After talking to Amanda, we both came to the conclusion that it was definitely something that we wanted to do to be able to give back to our community, and especially since we were kind of taken out of the clinical aspect," Heather said.
Meredith was stationed in Bowling Green for her clinical rotations at the time and said she decided to sign up because she wanted to put her skills as a medical student to use while helping her community, since she could no longer apply them in-person during her clinical rotations.
"I felt like the skills I did have could have been put to good use because I heard lots of facilities across the state and across the country were losing staff, due to having to quarantine themselves from COVID-19," Meredith said. "I just felt like I could help in any way. Plus, I was pulled off rotation so we were basically sitting at home doing our coursework. I kind of felt like I was being useless in a sense."
Heather, Amanda and Meredith received phone calls from the Kentucky Department of Public Health about one week after they signed up. State health officials with the department asked them if they wanted to volunteer at an assisted living facility in Lyon County called River's Bend Retirement Community.
KYCOM Dean Dana Shaffer referred to Heather, Amanda and Meredith as "trailblazers" for the state's medical student volunteer program, and he said many students from KYCOM signed up to help once Stack and the department offered the opportunity. He said that at least 40 medical and nursing students have volunteered through the program statewide.
"We were definitely honored that the majority of the first group (of volunteers) came from KYCOM and were KYCOM students, but it's not really surprising because we had a large number of our students sign up to want to volunteer when Dr. Stack first talked about the potential for medical students volunteering," Shaffer said. "It makes us proud that our students really have that desire to serve and that they were willing to step up and volunteer to take time from their clinical activities in order to go help in the western part of the state."
Shaffer said the opportunity helped to provide real-life experience for the students by allowing them to work on the front lines of a health pandemic.
"It's definitely going to help them because they are on the front lines of a pandemic that, hopefully, they'll never see again in their professional career," Shaffer said. "This is a huge opportunity for these students to obtain that first-hand experience with patients that are suffering from this disease."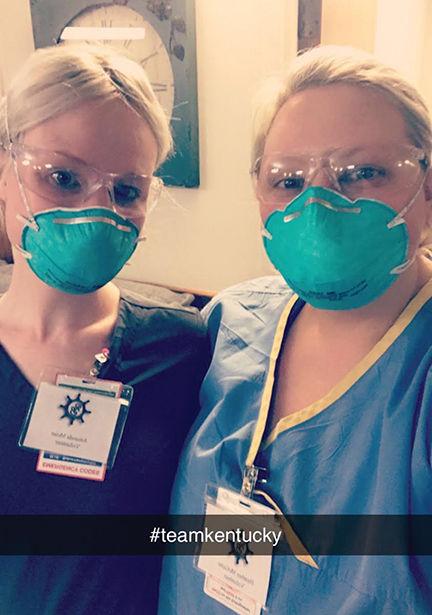 At River's Bend Retirement Community, many staff members left the facility, Heather said, because there were residents at the facility who tested positive for the virus, and they did not want to come into close contact with those residents.
According to the Centers for Disease Control and Prevention, the virus is thought to be spread mainly from person-to-person and between people who are in close contact with one another, within about 6 feet. The virus is spread through respiratory droplets produced when an infected person coughs, sneezes or talks, and recent studies have also suggested that it may be spread by people who are "asymptomatic," or do not show symptoms of the virus.
Two registered nurses worked at the facility, Heather said, but due to the staff shortages from the virus outbreak, they needed to live and work at the facility nearly all day. Three or four basic nursing assistants (BNAs) also worked at the facility, but Heather said they, too, were also on the "edge of burnout."
"They were having to do 12-to-16-hour shifts pretty much back-to-back to maintain the fact that they needed to adequately care for their patients," Heather said. "They really needed our help."
Amanda said she and Heather were happy to help where there was a need.
"I think, a lot of times as medical students, you can feel like you're not contributing or that you're in the way," Amanda said. "It was really nice to be able to do something that Heather and I both hold very highly, and that is volunteer, especially to a fragile community because as future family physicians, we have this medical care team kind of aspect, and we're willing to give back wherever we can."
Heather, Amanda and Meredith were three of four medical students who initially volunteered at the facility starting on April 9. The fourth medical student was from the University of Kentucky. After eight days, other students from across the state came to relieve the four of them and take their places as volunteers for the following week.
The students provided care to residents at the facility who tested positive for the virus. In order to contain the virus, the residents who tested positive were kept on a separate floor in the facility from the residents who did not test positive.
Meredith said she was initially nervous about caring for patients who tested positive for the contagious virus.
"My family was worried about me," she said. "Of course, my fiancé was worried about me. Going in there was nerve-wracking and a little terrifying, but once we got to the facility and saw all of the precautions that they were going through and how protected we were going to be, I wasn't as worried."
For the COVID-positive patients, Meredith helped from 6 a.m. to 6 p.m., and Heather and Amanda helped from 6 p.m. to 6 a.m. every day. They wore full personal protective equipment whenever they entered a resident's room, and they replaced the gear and followed protocol before entering each resident's room.
The students helped where they could during their shifts, and some of their duties included administering medications, changing the patients, tidying up, checking temperatures and oxygen saturation, doing laundry and helping the patients into bed.
"That may not sound like a lot of things that medical students are necessarily trained to do, but it's awesome to be able to get that skill set, to see how grateful these people are and to give back," Amanda said.
Heather and Amanda plan to become family physicians in the future. While volunteering at the facility, though, Heather said that she gained a deeper appreciation for healthcare because she received the opportunity to gain more knowledge and experience in areas of the healthcare field that she may not have gotten to experience otherwise.
"It gave us a deeper appreciation for what the whole team of healthcare provides because outside of what we normally see in the clinics or at the hospital, we don't really get to see exactly the job details of what other members of the healthcare team really have to do on a daily basis," Heather said. "I feel like that was an experience that this pandemic really gave us."
Meredith plans to go into pediatrics in the future, and she said the experience of volunteering at the facility also helped her see a different side to the medical field than she would usually see.
"It was a good experience just to see a different side of medicine," Meredith said. "I got to learn what an RN (registered nurse) and LPN (licensed practical nurse) do in that setting so I'll be more equipped in the future."
All of the residents at the assisted living facility needed to stay inside their rooms in order to help contain the virus, and Heather said she noticed how it deeply affected the residents they treated.
"It definitely brought the spirit of the residents down because they're having to stay in their rooms, and that's just very difficult for them," Heather said. "They also had a strong sense of community with each other and would constantly ask about their friends. There were some residents who knew they were COVID-positive, and it scared them."
Heather said they believed they needed to be there to listen and provide emotional support to those residents, as well as provide physical care for them.
"Part of our job was to make sure that they knew that we were there for them and that we were doing our best to make sure that everyone was taken care of," Heather said. "It was definitely scary for the residents, but we did our best to make sure they knew that spirits are high and everything that we're doing will hopefully improve the situation."
Meredith said that the registered nurses at the facility would need to spend at least 30 minutes in between each resident's room because of protocol that they needed to follow. Therefore, she said, they were extremely appreciative for the students' help, adding that they often called the students "angels."
"They were so appreciative," Meredith said. "They would burst out in tears from time to time, saying, 'We don't know what we would do without you guys here.' It was very humbling."
Although their time of volunteering at the facility has ended, the students said they were happy to learn that, recently, all patients at River's Bend Retirement Community tested negative for the virus, which showed them that their efforts to contain the virus paid off.
"We did a great job, and that makes my heart smile to know that what we did worked," Heather said. "I'm really grateful for the staff, and I hope it helps to boost the morale, not only in the facility but in the community as a whole."
Although no one is ever really prepared to provide care during a pandemic, Heather said, she referred to it as a unique opportunity where she got to provide care to people in need during a time when they needed it most.
"I think Amanda and I have very similar core values and that is when people need help, you don't just run away," Heather said. "We're not the type of people to go headfirst into a dangerous situation, but we have the ability to take it all in and see where the need is if there actually is a need and do what we can do and help the situation out. There was a community that really needed our help, and for us, that was more important than doing other things and looking out for our own benefit."
Amanda encouraged the public to be kind to one another and help out during the pandemic if they have an opportunity, whether that be sewing masks, dropping off water bottles for neighbors in need or anything else.
"Be kind, be patient and know that people are giving 110 percent to care for loved ones," Amanda said. "This is very real and this is very scary, but we're going to get through this together. If you have the opportunity to help out, do it because the more humane we are toward each other and the more we stick together, the faster this is going to get over."