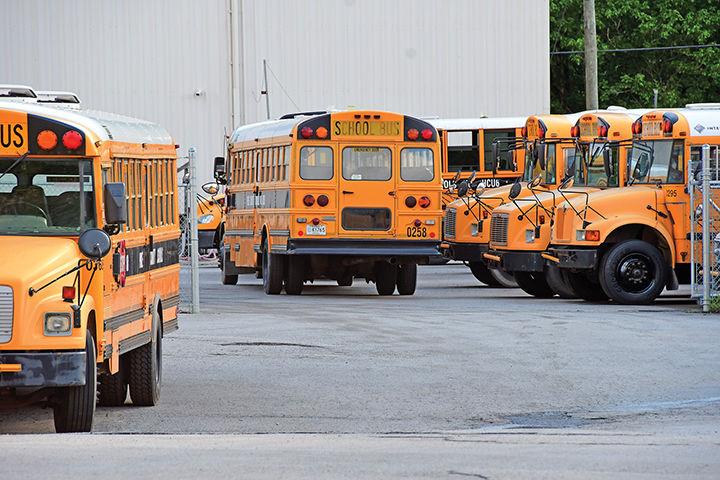 As November comes to a close next week, the chances of winter weather and school closures become greater for Pike County. Over the past several years, officials at the Pike County Schools District have created a task force, known as the district's "snow team," to call snow days faster and more efficiently.
The "snow team" consists of about 22 district employees, including Superintendent Reed Adkins, Assistant Superintendent Freddie Bowling, Director of Pupil Transportation Ancie Casey, several Pike County Schools Board of Education members, maintenance workers and bus drivers.
By around 4:30 a.m., the eight bus drivers in the team disperse across the county, stopping to take photos of the road conditions, sending those photos to district officials in the team's text message group and helping inform them before making the call on a possible snow day. After receiving the pictures, Adkins and the other district officials in the team make the call.
"If we already have 2 inches of snow at 9 o'clock at night, it's pretty easy to make that call," Adkins said. "But recently, it seems like we've had to make a lot of tough calls at 4 or 5 o'clock in the morning. With this team, the information is almost instantaneous."
For six years, the district has used non-traditional instruction (NTI) days in place of snow days. NTI days allow students to complete assignments online while at home, and students who do not have access to the Internet or a computer can complete assignments in provided homework packets.
On NTI days, Adkins said, teachers still report to school and are available for students to contact in case they do not understand their assignments. Last week, the district called NTI days on Nov. 12 and 13. The district has 10 scheduled NTI days in case of winter weather.
"They are used on days that are a close call," Adkins said. "It allows students to begin the kind of work that they would be doing in online classes in college. It's a differential type of learning, and some students do better with that kind of learning. It also allows students to continue their schooling without a break. When we return from winter break or summer break, it often takes a day or two to get the students back into the swing of things, so it keeps the lessons fresh."
Adkins said that the size of Pike County is one of the main concerns which drives officials to call snow days. Pike County reaches a total area of 789 square miles, making it the largest of Kentucky's 120 counties by area. With the Appalachian Mountains, elevation varies throughout the county, with Phelps reaching 837 feet, Elkhorn City reaching 791 feet, Belfry reaching 712 feet and Pikeville reaching 679 feet. Changes in elevation can cause the effects of wintry weather to vary.
"Pike County is the largest county east of the Mississippi River," Adkins said. "It's truly a huge district, and there can sometimes be a 2 to 3-inch difference between two areas. Weather can be different, and elevation can be different. We're going to unify as a county. We're not going to only close half the district."
Although the district sometimes receives complaints from parents or families for their disagreement in calling a snow day or NTI day, Adkins said that the main concern for district officials is the students' safety.
"We'll always err on the side of caution when it comes to the safety of our students," Adkins said. "We do a tremendous amount of homework before we make a call. We appreciate their (parents') patience and their understanding, and we will continue to do what's best for the safety of the students."
Amanda Hamilton, of Virgie, has a son who is a junior at Shelby Valley High School. She said that she was grateful that the district is cautious when deciding to call off school.
"Now that my son is driving to school, I'm glad they are cautious in the decision to call school off so he's off the roads," Hamilton said. "I used to think that they could go a lot of days, but Pike County is so big that I realize the weather could be so different in other places."
Ashley Fuller, of Elkhorn City, has a daughter who attends East Ridge High School. Although she disagrees with the number of NTI days announced by the school district, she said that she likes how NTI days allow school to continue in order to keep the school year from continuing longer in the summer.
"I feel they are helpful keeping our kids and bus drivers off the roads when they are bad," Fuller said, regarding NTI days. "I do feel like they abuse it at times, and parents that don't have resources, such as family or daycare, have to struggle with having to stay home from work or taking their children with them when school is called off. Luckily, I have family that (my daughter) can stay with or bring her to work with me so I don't worry as much, but I have friends that don't have the same resources."
Wendy Lowe works in the exceptional student program at Johns Creek Elementary School and is one of the eight bus drivers in the district's "snow team." She has worked as a bus driver for the Pike County Schools District for 18 years, and she said that using the team has helped the district call snow days faster than before.
"I definitely think that it helps us notify in a more timely manner so that people can make arrangements for their children and bus drivers don't need to go out and start their routes," Lowe said. "Going out in snowy weather, it's just absolutely dangerous. If we have an accident and a child gets hurt, we can't take that back. We want to be as safe as possible."