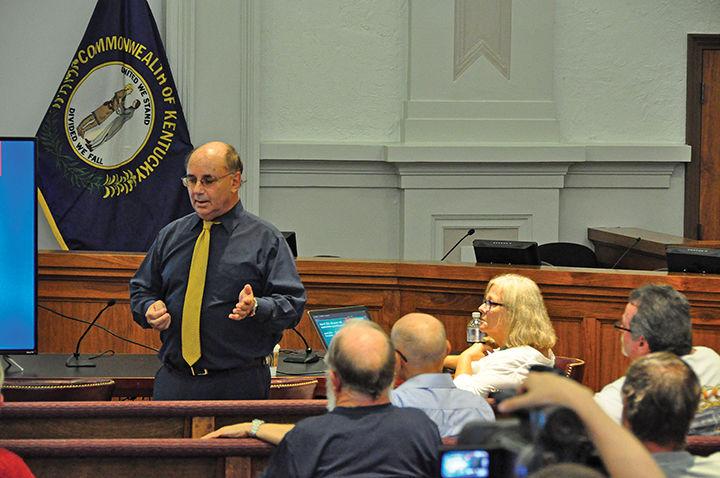 Hundreds of clients of disgraced former attorney Eric C. Conn are likely to have their Social Security benefits reinstated, which they learned during a meeting on Tuesday.
After the Social Security Administration suspended the benefits for 1,550 of Conn's former clients, all of the cases were brought before the SSA for redetermination hearings. From those hearings, about 800 of the 1,550 people lost their benefits between Nov. 2015 and Jan. 2018.
Attorney Ned Pillersdorf filed a class-action lawsuit in federal court in Sept. 2016 against the SSA, alleging that the hearings were "unconstitutionally rigged against them." In July of this year, seven Kentucky federal judges decided in favor of reinstating benefits to about 200 of Conn's former clients, Pillersdorf said while giving a timeline of the case during Tuesday's meeting.
However, Evan Barrett Smith, director of advocacy with AppalRed Legal Aid, who spoke after Pillersdorf, announced that the number of former clients who will have their benefits reinstated is now closer to 500. Smith said that shortly before Tuesday's meeting began, he received an email from one of the SSA's attorneys in the case. The SSA attorney, he said, told him the SSA will comply with a ruling by Judge Amul Thapar in 2016, which ruled the hearings as unconstitutional, as well as the federal judges' decisions in July.
In addition, Smith said that about 200 other cases will be brought before an appeals council for review.
During the meeting, Smith thanked all of Conn's former clients who were in attendance for being patient during the legal process, which he described as being very complicated. Smith said he did not know of the SSA ever handling a situation like that before.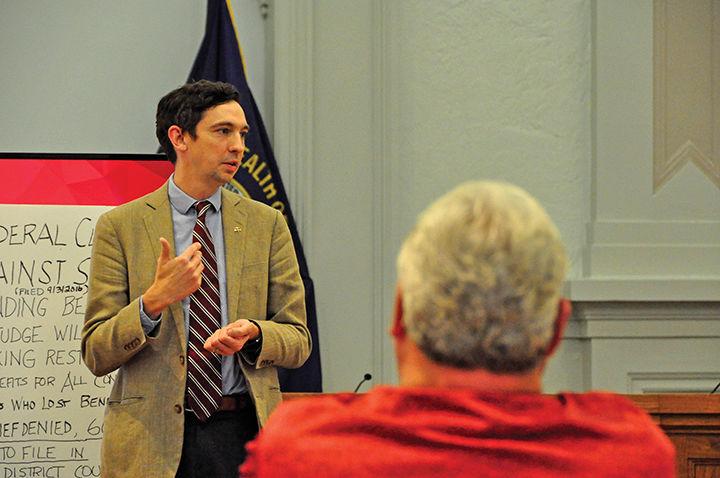 "As Ned has said, we had a very good past month," Smith said. "I will feel even better when I actually see checks in the mail. I've had conversations with Social Security's lawyers and what they've told me is that those checks are being processed. I don't know when those will actually go out in the mail, but they tell me that they are."
Smith said former clients who will have their benefits reinstated will receive two checks in the mail. They include a monthly benefit check and a check of benefits that the clients have missed since being suspended, which Smith said were court-ordered to be paid by the SSA and will take up to a year to be paid in full for many of the former clients.
Smith recommended that those waiting on their reinstated benefits make sure that they have provided the SSA with a correct mailing address.
However, Smith said the former clients may not be in the clear yet, as the SSA could start the redetermination hearings again. Although the start date of the new hearings is unknown, he said the earliest date is near the end of this year or the beginning of next year.
"The other thing, though, that I don't want to lose sight of is that all these benefits, whether you went through federal court or whether it comes from an appeals council, these are not permanent," Smith said. "If you get your benefits back and you go through another hearing, you can still lose. That could result in another overpayment. Don't be frivolous with this money."
Smith said that the start date for the new hearings is unknown because the SSA is currently looking over new rules for its hearings. However, he said the SSA is required to provide former clients with at least a 75-day notice before their hearings.
"There are not a lot of people on this Earth that have decisions from federal judges ordering Social Security to give you back your benefits," Smith said. "That's a powerful thing."
Pillersdorf said that he did not know that the number of reinstated cases had increased to 500 until Smith told the attendees during the meeting. He said that he doesn't know if the SSA will bring the reinstated cases under new redetermination hearings, but he said "it would be absurd" if they did. He described the hearings as being "travel-back-in-time hearings" because, he said, the SSA will be determining if the former clients would have been considered disabled in 2005, with any evidence from the four doctors who had worked with Conn as being inadmissible in the cases.
"The SSA, for four years, has fought us brutally every inch of the way, but surprisingly, they didn't go to the U.S. Supreme Court, and they dropped their opposition to reinstating benefits," Pillersdorf said. "Yes, they can do that (the hearings). We'll fight them every inch of the way."
For more information on AppalRed Legal Aid, call, (866)-277-5733, or visit, www.ardfky.org. AppalRed's Pikeville office is located at 146 Main Street.