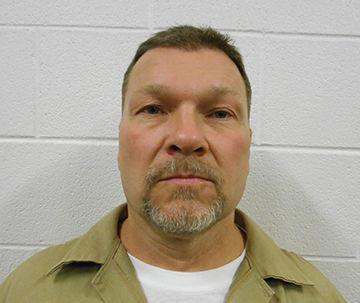 Records show a Pike man convicted in connection with the 2012 death of a Pike County Sheriff's deputy could be paroled as early as next month.
According to Kentucky Department of Corrections records, as a result of a hearing held Nov. 27, the Kentucky Parole Board recommended that David W. Childers, 55, be paroled, with a proposed release date of Jan. 1, 2020, more than two years before his expected release date of Aug. 25, 2022.
Childers was convicted in 2012 on an amended charge of second-degree manslaughter and being a persistent felony offender in the second degree in connection with the Jan. 23, 2012, death of Deputy James I. Thacker.
Thacker was killed when his Ford Crown Victoria police cruiser was struck nearly head-on by Childers' SUV on U.S. 460 at Road Creek. Thacker was pronounced dead at the scene of the wreck.
According to the News-Express coverage from that year, Childers was alleged to have been driving his vehicle "in such a manner with reckless disregard to the safety of others" ... "while under the                  influence of cocaine, (benzodiazepines) and opiates."
Childers was initially charged with murder and being a persistent felony offender in the first degree — charges which could have resulted in Childers being imprisoned for the rest of his life.
The Nov. 27 hearing, DOC records show, was the fourth time the parole board had heard Childers' case, with the most recent deferral, a nine-month deferral, coming in February. Records show Childers began serving his sentence on Nov. 9, 2012.
At the time of the conviction, then-Pike Commonwealth's Attorney Rick Bartley told the News-Express that the persistent felony offender charge against Childers stems from his arrests and convictions in Clark County, and also in Florida.
Childers was also convicted of DUI in Nevada in 2008, but that conviction was not considered as an aggravator in regard to the persistent felony offender charge as it was a misdemeanor conviction, Bartley said at the time of conviction.
Childers was sentenced to 20 years in prison by Pike Circuit Judge Steve Combs in November 2012.