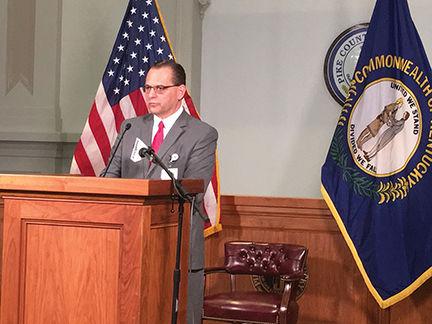 Pike County officials announced April 9 that there have two more confirmed positive cases of the COVID-19 virus here in Pike County as they encourage everyone to continue adhering to the guidelines laid out by local, state and federal leaders
During the press conference which was held inside the Pike County Fiscal Courtroom, Pike County Judge-Executive Ray Jones was joined by county health officials as they announced that there were two newly-confirmed positive cases of the COVID-19 virus in Pike County residents.
Officials asked members of the public to "dig in" and continue practicing social distancing while remaining "healthy at home," as Jones said despite Pike County only currently have confirmed cases, individuals should not take this low number of case and interpret it as this community being immune to the virus.
"We know definitely we are lagging behind the rest of the state," Jones said. "If you think it's not going to happen to Eastern Kentucky, you are wrong. This is only just the beginning."
According to Pikeville Medical Center Director of infectious diseases and infection control Dr. Fadi Al Akhrass, the second patient which was tested at PMC and later confirmed to test positive, was a 69-year-old male. Al Akhrass said the patient is not a hospital employee and has been sent home and is not showing critical signs.
Al Akhrass also gave an update on the 28-year-old male, who was the first confirmed county case and according to him the patient is convalescing well.
Jones announced that a third case of a county resident testing positive for the COVID-19 virus was diagnosed at Tug Valley ARH Medical Center.
According to Tim Hatfield, community CEO at Highlands ARH Medical Center, the positive case is a 78-year-old female who came to the hospital as an emergency room patient and was tested on Monday. Hatfield said employees abided by all CDC guidelines when performing the test and that the patient is currently placed in a negative pressure room while she is recovering.
Currently, according to Al Akhrass, PMC has had 82 negative tests so far, with only 4 confirmed cases here in the county. He added that the hospital was waiting on "six to eight" tests, which are currently pending. He added that PMC is continuing to work toward in-house testing.
According to Hatfield, thanks to an agreement in place with Gravity Labs, a private testing company located in Covington, ARH is receiving a 24-hour turnaround time in its testing and adds that it continues to improve
Al Akhrass said that the "rural surge" has not come yet and is lagging about three to five weeks behind areas such as New York and California.
Pike County Public Health Director Tammy Riley, who was also present, said that at the state level, mid to late April is when the "greatest burden" is projected to hit.
Riley said that given the county's bad health outcomes and rankings from state data, COVID-19 could have devastating impacts here in Eastern Kentucky. Riley proceeded to share information regarding where Pike County stands in terms of overall health outcomes, as opposed to the rest of the state. According to her, Pike County ranks 97th out of 120 counties. Riley said there are several criteria that goes into the rankings, such as length and quality of life, as well as health factors, most of which she said, are "controllable behaviors."
Those include adult smoking and obesity, physical inactivity and excessive drinking, among others, she said.
Riley also shared a graph depicting states which are the most prevalent to COPD (Chronic obstructive pulmonary disease) occurring in that area. According to her, Eastern Kentucky has one of the highest rates of COPD in America.
"Dig in, listen, be willing to endure … so our community has the best outcomes," Riley said.
Officials again reiterated to residents the importance of social distancing and adhering to the guidelines and restrictions laid down by the local, state and federal leaders.
However, Jones said a number of individuals have continued to not follow the recent executive orders which were announced in the county.
"It's inconceivable to me that people wouldn't want to minimize the death toll, especially in a region that is heavily considered to be pro-life," Jones said.
He added that those that continue breaking the rules could cause for more restrictions being added and even alluded to the possibility of implementing a curfew. When asked about a possible date regarding when the restrictions could be lifted, Jones said that there's no true way to predict that, but that the quicker more people comply to the guidelines, the quicker that date will approach.
Jones, along with the other officials, asked individuals, as well as churches in the area, to deter from having large gatherings or Easter egg hunts, despite the holiday being this weekend and even mentioned that the court had received word of a possible egg hunt set to take place this weekend at Fishtrap. Jones said that he would "more than likely" be passing another executive order to try and deter that from happening.
Jones also reminded individuals that if they are caught not adhering to the guidelines, it can result in the county having to involve law enforcement. According to Riley, two individuals, who have been operating their respective businesses out of their residence, will be receiving cease and desist orders today after both individuals have continued operating despite the current restrictions.
Jones also encouraged Pike County residents to continue to safely support local businesses, including restaurants, many of which are still providing takeout and delivery services.