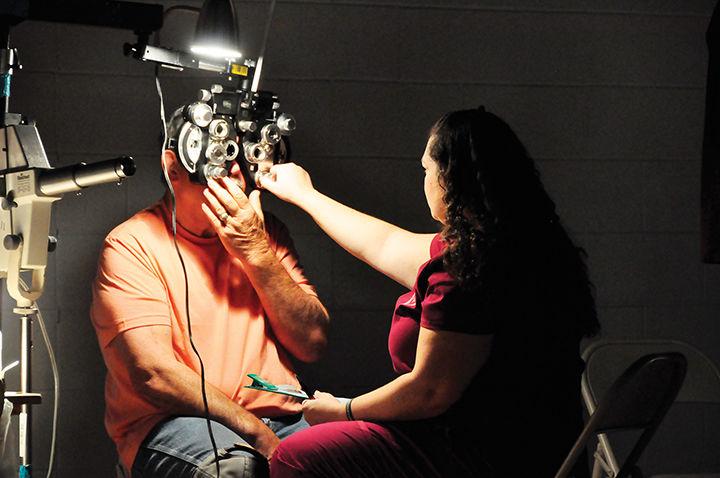 The Remote Area Medical Clinic made its first visit to the Elkhorn City area over the weekend to help hundreds of patients receive free medical, dental and vision care.
The clinic opened at East Ridge High School, with hopeful patients lining up starting earlier than 3 a.m. on Saturday morning. Volunteers, medical professionals, clinic staff and several University of Pikeville employees provided the services to people of all ages, who received them with no identification required.
The RAM Clinic provides free dental, vision and medical services to underserved communities. In 2018, the clinic served more than 45,000 people nationwide and provided more than $15 million in healthcare services, according to RAM. Angie John, RAM media services coordinator, said the average cost of care per person is about $95.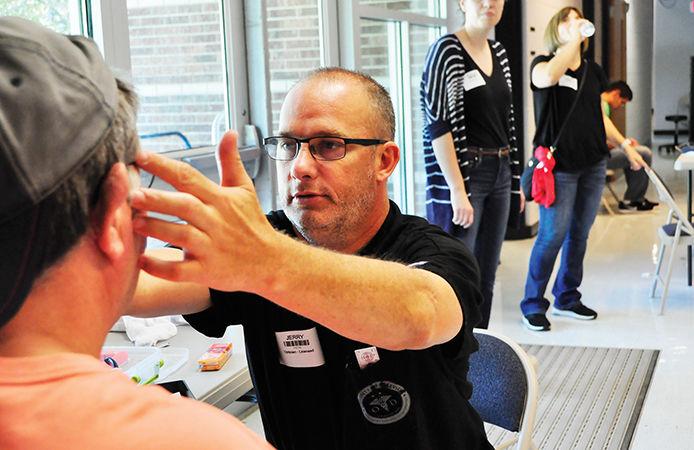 By 9 a.m. Saturday morning, about 200 people had registered at the clinic at East Ridge to receive services. John said the first people in line had driven about 355 miles from Rome, Georgia, to Elkhorn City in order to receive care.
The clinic, John said, provides care for people who may not have health insurance or for those whose health insurance does not cover dental or vision care. About 6 percent of Kentucky's population were uninsured in 2017, according to the Henry J. Kaiser Family Foundation.
"It's very important because many people don't have access to these services," John said. "It's unfortunate that in this great nation of ours, people have to make a decision about whether to afford medical services that they need or afford food for their families."
The clinic's provided dental services included fillings, cleanings and extractions, and vision services included eye exams, glaucoma testing and prescription glasses made on-site. Provided medical services included general medical services, physicals and women's health.
John said there have been many rural hospitals that have closed, causing a lack of accessible healthcare in many rural areas across the country.
According to the North Carolina Rural Health Research Program, 102 rural hospitals closed between Jan. 1, 2010, and March 19, 2019. Of the 27 states that saw at least one rural hospital close since 2010, those with the most closures were located in the south. There were four rural hospital closures in Kentucky during that time.
Those who volunteered at the clinic transformed the auditorium stage at East Ridge High School into a vision care center, with about seven eye-exam stations. One hallway at the school became a medical care center, where patients received the provided medical care services from about 10 different stations, and the high school's gymnasium became a dental care center with about 30 available stations.
Jerry O'Neill, clinic coordinator at UPike's Kentucky College of Optometry, tested pairs of prescription glasses on patients outside of the school's auditorium. This was his fifth time volunteering at a RAM clinic.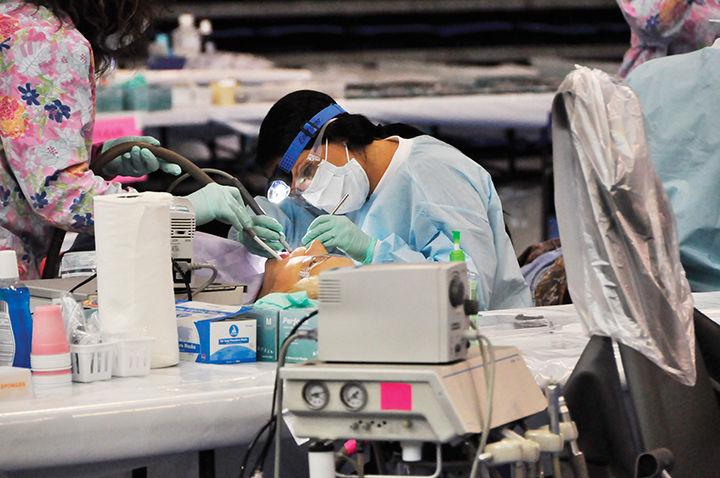 "The patients like it and they're very appreciative," O'Neill said. "It gives them the greatest gift, which, in my opinion, is the gift of sight. To me, that's very important."
Andrew "Si" Taylor, 54, of Knoxville, Tennessee, volunteered and received medical care at the clinic. He said that he has visited RAM clinics in the past, and he has received dental care for his "40 years of bad teeth," an EKG scan, prescription glasses and dentures. For each visit, though, he said it is not easy to drive the distance to come to the clinic, which was almost 189 miles to Elkhorn City.
"It took me about three months of planning for me to be able to come to this," Taylor said. "I know what it takes for a lot of them to make it here."
For Taylor, having a lack of accessible and affordable healthcare is personal. Because he is uninsured, he said it cost him greatly after his wife was diagnosed with cancer and when she later passed away.
"When she died, I had $30 in the bank and no insurance," Taylor said. "I feel for every one of them out there."
Taylor said he was grateful for the clinic's work on his teeth and the care he has been able to receive because it has helped him gain "trust and faith" in doctors.
"For years, I've just kept my mouth shut because I can't smile in pictures," Taylor said. "It helps with your self-confidence and your health because you can get a lot of problems, like severe pain and infection, when you got bad teeth. Everyone here at the clinic is really nice. I couldn't ask for a better organization."
Amiee Gibson, 33, of Grundy, Virginia, and her two children visited RAM during the weekend to receive dental and vision care. Gibson said she receives her health insurance through her employer, but the insurance she has does not cover dental or vision care very well. In 2017, 54 percent of people in Virginia received their health insurance through an employer, according to the Henry J. Kaiser Family Foundation.
She said she has received care at the clinic during its visits to Grundy, Virginia, over the past six years. She came this year to Elkhorn City to help her 6-year-old daughter get prescription glasses because she could not afford them otherwise.
"I really appreciate the stuff they do," Gibson said. "They're really nice people."