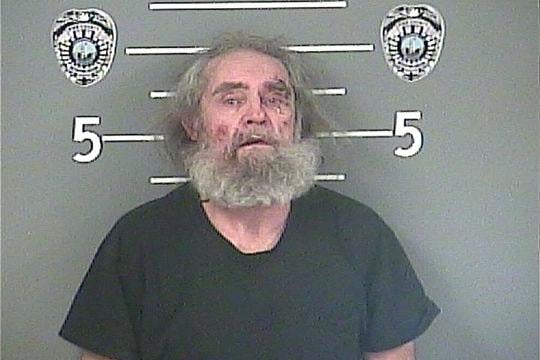 A Pikeville man was arrested Sunday night after, Pikeville Police said, he fled from police, endangering the lives of drivers in the course of the chase.
According to an arrest citation by PPD Officer Austin Kranzman, just before 10 p.m. Sunday, Kranzman observed John Paul Charles, 57, of Williams Hollow driving a Dodge Caravan in the parking lot of the Double Kwik on Bypass Road in Pikeville.
Upon a search, the citation said, Kranzman found that Charles' license was suspended on Nov. 3 and the vehicle had an illegible temporary tag, which was found to belong to a Toyota passenger car. Kranzman wrote that he attempted to do a traffic stop on the vehicle, but Charles' vehicle began accelerating and the vehicle showed no signs of stopping.
Kranzman wrote that, during the pursuit, Charles' vehicle reached speeds exceeding 90 mph and he drove into the oncoming lane of traffic on "numerous occasions, at times driving exclusively in the oncoming lane for extended periods of time."
Charles, the citation said, nearly impacted vehicles in the oncoming lane several times, and Kranzman broke off pursuit due to, "severe risk of injury or death" Charles' actions were posing to the public.
Kranzman wrote that he received information that Charles had fled to a family member's residence on Ky. 194 East. The officer, the citation said, drove to the residence and noted the vehicle Charles had been driving was parked beside the residence.
A family member, the citation said, told the officer Charles was inside and told the officer to "come get him." Upon entering the residence, the citation said, Kranzman saw Charles, who appeared intoxicated, walk out of a back room with his hands in his pockets, prompting the officer to order Charles to take his hands out of his pockets.
Charles refused, the citation said, and Kranzman used force to eventually place Charles under arrest, despite his resistance. Charles, the citation said, was transported to the emergency room of Pikeville Medical Center, where he refused to speak with an attorney and refused to submit to a blood test.
Charles, the citation said, also threatened Kranzman while at the hospital.
"Charles stated that the next time I see him that he will 'have a gun and this will go down differently,' stating that he will attempt to kill me," Kranzman wrote.
Charles was lodged in the Pike County Detention Center on charges of third-offense DUI, first-degree fleeing or evading police, first-degree wanton endangerment, reckless driving, driving on a suspended license, resisting arrest, third-degree terroristic threatening and traffic charges.
Court documents said Charles pleaded not guilty to the charges Monday before Pike District Judge Robert Wright, who ordered him held on a $2,000 cash bond.