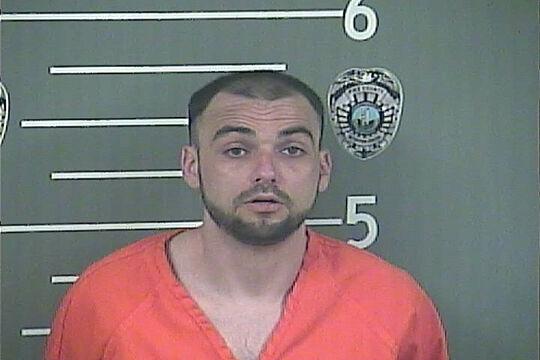 A Pikeville man is facing felony charges after he allegedly attempted to sneak drugs into the Pike County Detention Center after his arrest on public intoxication and other charges.
According to an arrest citation, Pikeville Police Officer Austin Kranzman responded on May 30 to a call from Myers Towers on Hambley Boulevard that a man was in one of the bathrooms "passed out."
Upon arrival, the citation said, Kranzman made contact with a man who identified himself as Steve Gooslin, who did not have any identification, but provided an accurate birthday and Social Security number. Kranzman wrote that he asked the individual to exit the bathroom stall, but the man kept stalling, at which time Kranzman looked over the stall door and saw the man holding a syringe filled with clear liquid.
Kranzman wrote that the man flushed the syringe down the toilet and exited the stall. Upon contact, Kranzman wrote, he noticed the man appeared nervous. The citation said Kranzman searched the stall and found a 9 mm handgun next to the toilet.
Kranzman placed the man under arrest, the citation said, and placed him in his cruiser, at which time the man began screaming, yelling and cursing, causing a disturbance. Kranzman wrote that he transported the man to the Pike County Detention Center, which refused to accept him without medical clearance due to the man having a high temperature.
The citation said medical clearance was given at Pikeville Medical Center, and, during the drive back to the jail, the man informed the officer his name was actually Matthew Ryan Gooslin, 38, of CSX Road, Pikeville. According to the citation, Gooslin also informed Kranzman he was wanted felon in South Carolina and that he had given the officer his brother's identification in hopes to avoid being charged with being a convicted felon in possession of a firearm.
Throughout the course of the arrest, Kranzman wrote, he asked Gooslin repeatedly if he had any drugs or weapons on his person, to which Gooslin responded he did not.
During the booking process, the citation said, jail staff conducted a strip search, at which time they located a baggie containing a brown powder substance Gooslin admitted was heroin, as well as a bag containing a green leafy substance Gooslin admitted was marijuana.
Gooslin was lodged in the jail on charges of public intoxication, tampering with evidence, possession of a firearm by a convicted felon, identity theft, second-degree disorderly conduct, first-degree promoting contraband, first-degree possession of a controlled substance (heroin) and possession of marijuana.
Gooslin remained lodged in the jail as of presstime June 4.