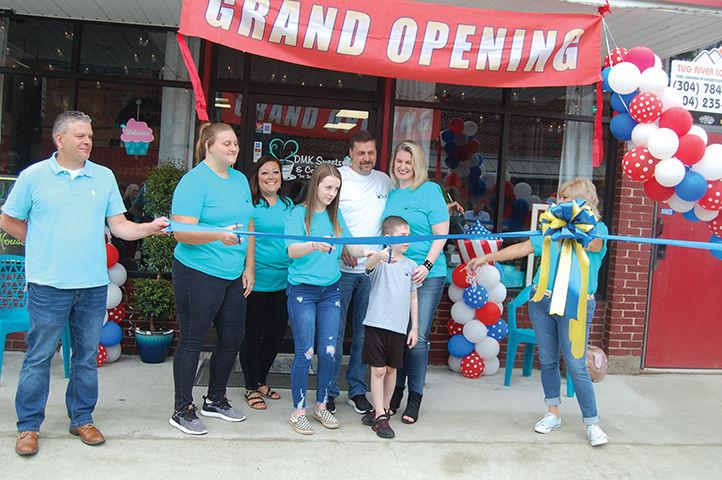 WILLIAMSON, W.Va. — When the COVID-19 pandemic forced the closure of both large and small businesses across the nation and state in mid-March, for many the economic impact was so detrimental their very future survival was left hanging precariously in the balance.
Many businesses, particularly small businesses in small southern West Virginia towns like Williamson that were already struggling financially due to the economic decline of the coal industry, were unable to reopen once the restrictions were loosened in May.
Smokin' Pit BBQ, a restaurant which was opened in early 2018 on Pike St. by Justin and Jerome Marcum, was one of the casualties of the mid-March, 2020 closures and consequently did not reopen — and didn't in spite of having developed a substantially large customer base prior to COVID-19.
However, on June 22, an all-new business — DMK Sweets and Coffee House — defied the odds and open for its first official day of business in that same location. And, according to co-owner and the business's principle baker Donnie Kennedy, the chances of success look pretty good despite of what future consequences may arise from the pandemic.
"Of course, like everyone else, we're hoping that things will get back to normal and all small businesses will get the chance to recover and increase the chances of ours being successful," Donnie said just prior to an official ribbon-cutting ceremony that marked the opening of the store. "But even though things are not back to normal yet we have all the confidence in the world that we're going to make a successful business here because we've had so many people to get behind us in this venture who, like us, want to see Williamson get beyond this pandemic and continue its revitalization."
Marina Kennedy said the pastry and coffee house's downtown store location not only defied the odds and opened during the ongoing pandemic, but it actually began in their South Williamson home near the beginning of the health crisis in March at a time when it especially didn't bode well for any prospective startup business to get supportive feet under it, much less succeed.
Marina said she and Donnie began making pastries like creme horns, a variety of candies and cakes for special occasions that at the time weren't being offered and catered by anyone else.
"We saw a need and an opportunity to fill that need, and because this is something Donnie has dreamed about doing for a long time, we began right out of our home," Marina said. "But because we started at the beginning of the pandemic, it wasn't easy for us because like everyone else we had some trouble getting the supplies we needed,"
As problems were overcome and the home business grew, Marina explained, more and more people began reaching out to the couple so they decided the time was ripe to heed Tug Valley Chamber of Commerce Executive Director Randall Sanger's recommendation and transition their home business to an actual storefront in downtown Williamson.
By the time the store opened on Monday, Marina added, the business had already received more than 150 cake orders.
"When the governor began loosening the restrictions on businesses we decided it was a good time for us to take Randall up on his suggestion and move our business to Williamson," she said. "We began doing special orders out of the new location about the second week of June, so we're expecting an increase in business now that we have officially open the store."
Sanger also expressed his confidence in the success of the pastry/coffee house.
"I think they'll do really well once the city goes back to normal, mainly because our tourism here in Williamson continues to grow along with the trail system," Sanger said. "And they'll definitely have the all the support and help that the Chamber and the city can give them. I just think it's awesome that they had the confidence in themselves and their product to do this at this time.'
Mayor Charlie Hatfield expressed similar thoughts just prior to the ribbon-cutting ceremony.
"Mom and pop businesses like yours are the backbone of small town economies, and I'm just so grateful that you guys made the decision to open yours here in Williamson, especially during these uncertain times," Hatfield said. "The City of Williamson is behind you and is here to support and help you in any way we can to ensure you are successful in this venture."
Besides creme horns and a variety of candies, birthday and wedding cakes and specialty coffees, DMK Sweets and Coffee House also offers an array of pies and cupcakes.
Business hours are 9 a.m. to 5:30 p.m. Monday through Friday and 9 a.m. to 2 p.m. on Saturday. The phone number is, (304) 236-3008.