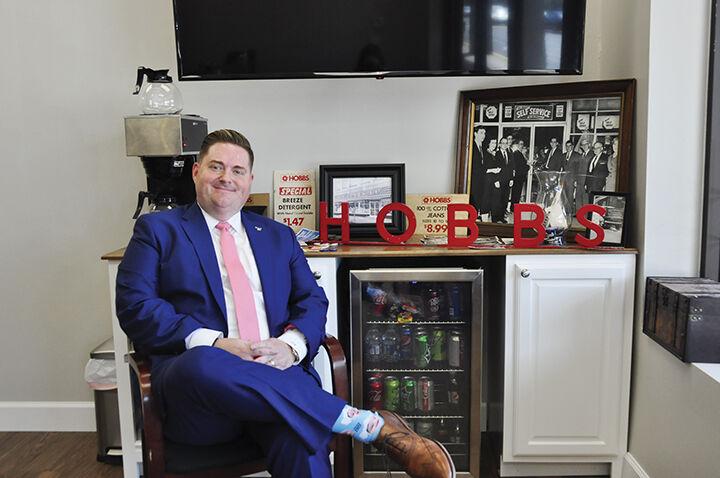 A local businessman is paying homage to his family roots and his community in a simple, yet meaningful, way.
JC Hensley has worked for Edward Jones Investments as a financial adviser and partner for more than 16 years. In June, the company relocated to a new building at 4525 North Mayo Trail in Weddington Square, and they have recently reopened to the public.
In the lobby of his company's new building, Hensley created a special nook dedicated to his community and his roots, and he is offering members of the Pike County and Eastern Kentucky community to come in and reminisce with him.
JC Hensley is the grandson of Jim G. Hobbs, a famous Pike County businessman and political adviser who created a legacy for many Eastern Kentucky locals through his family's R.H. Hobbs Store Company. The nickel-and-dime store chain lasted from the 1940s-1990s, with 13 store locations across Eastern Kentucky and one location in West Virginia.
"It was almost like the dollar store of today. This was before the 'Mart' era, so before K-Mart, Walmart or those larger corporations," Hensley said. "It was just a place where people went during the day. They came to the store, they drank their coffee and talked. People reminisce about the smell of 'Hobbs' — the nuts, the candy and the popcorn, the feeling of going when they opened up the second floor and it was just a toy section. People have different memories of certain things because it was just where you went."
In Hensley's nook, he has several displays that he hopes will create nostalgia for Eastern Kentuckians who had previously frequently visited the old Hobbs stores. The display features free coffee, snacks and drinks for anyone who comes in, black-and-white photographs from the stores and from some of the stores' openings, campaign memorabilia from the 1970s and 1980s that were passed down to him from his grandfather and authentic merchandise signs and other items from the old Hobbs stores.
Although Hensley provides the free coffee for his clients anyway, he said, he wanted to offer everyone the chance to come inside, grab a free treat from the display and reminisce about a happier time for many people.
"I wanted to make something cool and unique for my clients and for people that venture in and come into my office, and I thought, 'What better way to pay tribute to him and just the community in general?' Hobbs store was a staple for this area for such a long time, and many people have a lot of memories. People love looking at old photos, thinking about those good memories."
The display is also a chance, Hensley said, to pay tribute to his grandfather, who helped shape Pike County as both a businessman and a politician. Hensley said his grandfather helped shape him into the businessman that he is today, while giving him the opportunity to learn about finance at a young age.
"At a young age, my grandfather actually gave me some money that I could use to invest, and so that's what I did," Hensley said. "In high school, I was actually investing and learning at that age about investing and so forth. … It was so cool for me to start investing at such a young age and for them to encourage me to learn about it and experience the joy of making money and the pain of losing money."
As a financial adviser, Hensley said, he gets to be a part of significant moments in people's lives, and he sees that as being similar to his grandfather being a part of significant moments in people's lives through his former work at the Hobbs stores.
"For me, at this point in my life and my career, you learn what's valuable and you learn what's important, especially with our area and everything going on in the world today," Hensley said. "It's important to know where we come from, remember our past and respect our community and those that have tried to make a difference."
Hensley encourages anyone to come in and enjoy the display. It is located at the Edward Jones Investments building at 4525 North Mayo Trail. For more information, call Hensley at, (606) 433-9175.