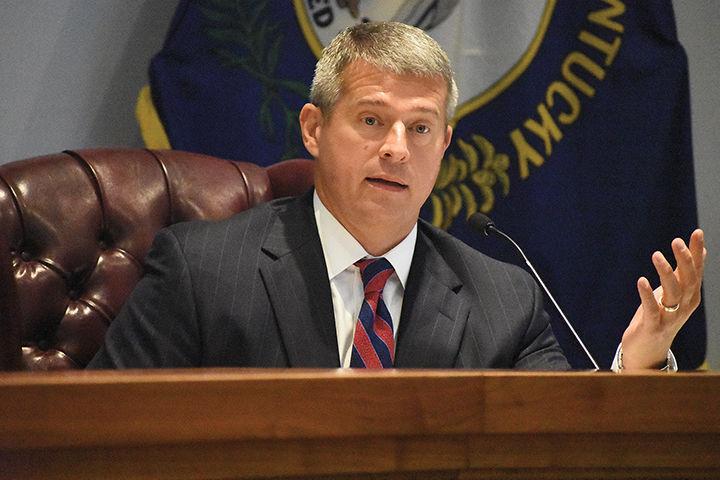 The legal representation for a company accused of not repaying hundreds of thousands of dollars given to it by the Pike County Fiscal Court attempted this week during a special meeting of the fiscal court to force the current administration to drop its lawsuit against the company.
However, the attempt, which included a threat from attorney Larry Webster that, if the lawsuit isn't dropped, the county may never be paid back, was rejected by the court.
After the meeting held Tuesday, county officials said the rejection came partially because the county doesn't want the company — RCC Big Shoal — to repeat its actions against the county or another entity.
After the meeting adjourned, Pike County Judge-Executive Ray Jones and Assistant Pike County Attorney Kevin Keene told the News-Express that the company was "attempting to rob Peter to pay Paul."
"We had talked to them about paying the money and it's a vacant promise," Keene said. "Larry was quite frank about the fact that they would pay the initial payment of $100,000 in December, if they could raise the money.
"Their intention is for us to dismiss the lawsuit to enable them to go out and get money from other folks, such as us, not to do a project, but to pay us," he added.
Jones said the fiscal court is not going to be complicit in letting the company "do to someone else what has been done to us."
Jones asked the members of the court during Tuesday's meeting how they felt about the proposal. Dist. 2 Commissioner Jason Tackett said that he believes the court should continue to attempt to recoup the money, but if RCC Big Shoal could possibly bring money up-front, the court would re-evaluate the proposal, something with which Dist. 1 Commissioner Ronnie Robertson agreed.
"Larry, I would just say if they could bring us some money a little quicker than December, then we would probably re-evaluate it," Robertson said.
Webster said the company can't get the money without an agreement in place and that the lawsuit would only be dropped temporarily in order to see if the company pays as proposed. If not, the lawsuit would be reinstated.
"It's just that simple," he said. "What you're doing by this vote is kissing that money goodbye forever because there's nothing there to give.
"This is a defunct, penniless organization that can raise the money if the lawsuit is taken off the record," he added.
According to Webster, RCC Big Shoal is unable to raise the money with the lawsuit pending.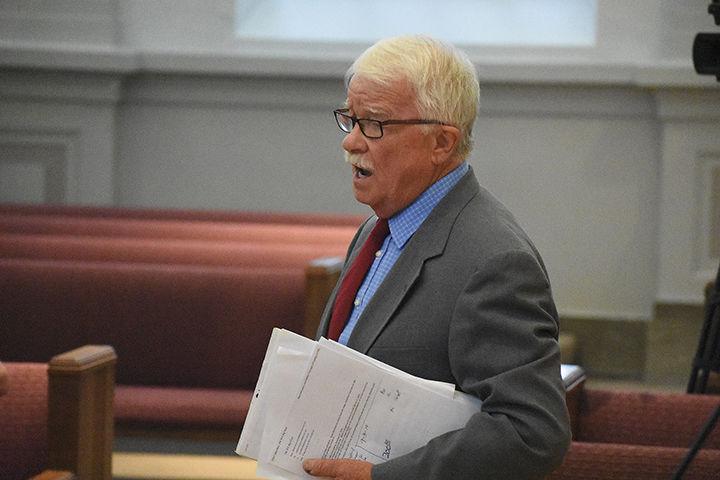 "Say what you may, but the last administration got $100,000 out of them by doing the same thing," he said. "You may not get another penny, but if you reject any settlement at this time, you've destroyed any chance of the county getting its money back.
"And you have also taken away Floyd County's chance of getting a plant put down there that would employ a number of people from Pike County that could get jobs down there," he added.
Webster said he doesn't understand, if a bankrupt organization is trying to come up with the funds and that's the only way the court is going to receive any compensation, why the proposal would not be accepted by the court.
Jones said he believes the Floyd County project has no shot of happening.
"In reality, this project has no chance of getting off the ground," Jones said. "I've had discussions with the Floyd County attorney (Keith Bartley) and I've discussed this matter with a representative from organized labor that thinks they're going to get to build it."
Jones said the court has a duty to seek repayment on the loan made to RCC Big Shoal.
"I've never been asked to dismiss a lawsuit on a promise in 25 years and I understand the position you're in representing this client, but being the county judge and representing the taxpayers, we're not going to make that deal unless they bring something to the table," he added.
In response to the Jones' comments, Webster asked the court how much money would need to be brought to the table. Jones said he "wasn't going to bid against himself" as the company owes county taxpayers a lot of money.
"If they bring some money to the table, we'll re-evaluate it because we're reasonable people," Jones said.
Webster said he hopes the court is willing to accept responsibility when no further payments are made. Jones quickly responded.
"Hold on one second, Larry, this court didn't give these people $400,000 on a wink and nod," Jones said. "And if it means they file bankruptcy, then so be it, but at least we'll have an opportunity to file a proof of claim for it."
According to Jones, he is going to amend the complaint and is going to sue the company's principals individually, due to breaching fiduciary duty to Pike County.
"They admitted to the members of this court that they took $200,000 each," Jones said. "I believe that's the representation they made, and that's in violation of the agreement."
Webster said he didn't want to "argue law," but when someone breaches a contract, that is not a breach in fiduciary duty and that is not something over which someone can sue. Jones said Webster will have an opportunity to respond.
"Well, you can file your motion to dismiss when we amend a complaint," Jones said.
That prompted Webster to state the court would have to file such a motion in Chicago where the principals live. Jones said the court would not have to do that since they transacted business in Pike County.
"If you read the long arm statute, we're going to sue them right here in Pike County," Jones said. "We're not going to argue a matter of law anymore, we'll argue that in front of Judge (Eddy) Coleman."
On Wednesday, Floyd County Judge-Executive Robbie Williams told the News-Express that he has spoken to the company regarding its ongoing situation involving Pike County and has informed them "they have some loose ends to tie up" before the Floyd Fiscal Court backs the proposed project there.
"I spoke with the folks from RCC Big Shoal a couple times, approximately six weeks ago, in which they expressed interest to us in moving forward," Williams said. "But, I told them that we (Floyd County) would not be supporting the project in any way until this issue with Pike County was cleared up."
According to Williams, the Floyd Fiscal Court believes there are some "credibility issues" and didn't like the optics of an open lawsuit and an open loan in a neighboring county.
"I told them once this is settled in Pike County, we'd be more than happy to sit down and discuss moving forward," he said. "We certainly want to look at any and all businesses that want to locate in Floyd County, but we certainly think they have some loose ends to tie up."
Williams added that he has not spoken to any representatives from RCC Big Shoal since that conversation.