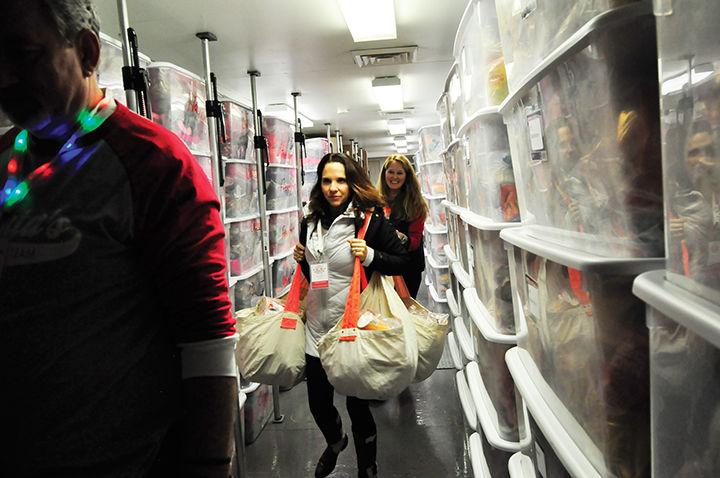 Santa Claus hit the high iron early Saturday morning on the CSX Santa Train as it made its 77th run through the Appalachian Mountains, kicking off the holiday season for hundreds of children across Eastern Kentucky, Virginia and Tennessee.
At 5:45 a.m., Santa and his helpers boarded the train at Shelby Yard in Shelbiana. The train comprised of 10 cars and carried more than 15 tons of toys, food and clothing, which were distributed to hundreds of families along its 13 stops over 110 miles. The train runs every year the Saturday before Thanksgiving.
The CSX Santa Train is a joint effort of CSX Transportation, Food City, the Kingsport Chamber of Commerce, Appalachian Power and Soles4Souls, a charity shoe donation organization. This year, country music artist Marty Stuart was the train's featured musical guest, and he performed for hundreds of people in a concert at Kingsport upon the train's return.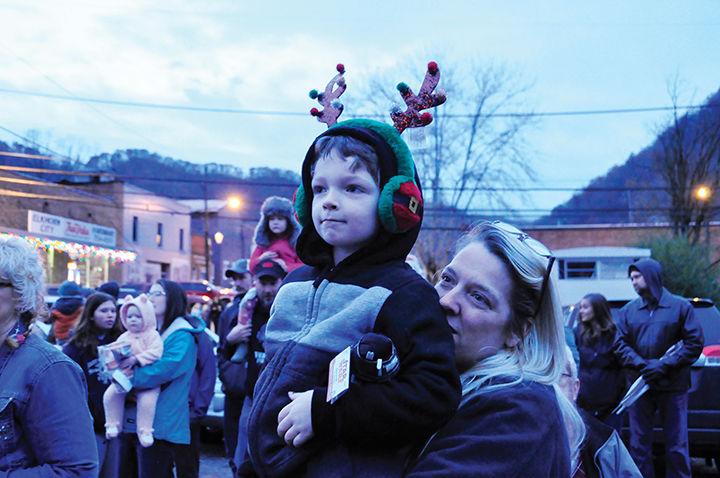 Bryan Tucker, CSX's vice president of corporate communications, said the day-long activity takes an entire year to plan and coordinate. In CSX's Jacksonville, Florida, headquarters, Tucker said, hundreds of CSX volunteers packed the cars with the gifts, food and clothing in preparation for the event.
"I think the tradition makes it special," Tucker said. "The other thing that makes it special are the people that take their time to work on the train handing out gifts and food to the folks in the community along the route."
Jamie Horton, Food City assistant store manager, helped prepare donated food and organize them into food bags, consisting of chips, candy, crackers and other items, to distribute during the Santa Train event.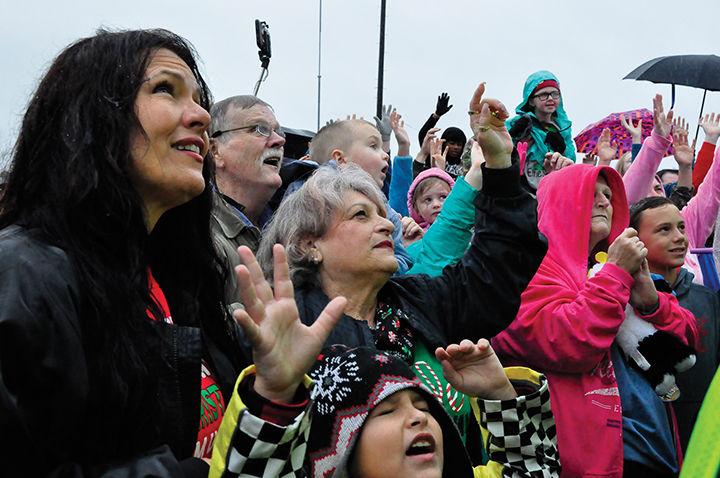 "We like the variety, the different things we're able to give out," Horton said. "Everyone likes to eat those Moon Pies and the salty snacks. Our vendors are the ones who are donating this, and we work really close with them. They want to participate, too, and give back. The kids love the stuffed animals, but they're going to love the Moon Pies just as much."
Horton has helped with the Santa Train for 22 years. She said that the kids keep her coming back to participate in the tradition.
"It just makes my heart smile so big when I see those kids," Horton said. "Even today, you'll try to throw something to one of them and you'll miss, and the kid right in front of them will turn around and give it to them. It just makes my day. They're here to see Santa and they're here to get toys, but it's sharing, too."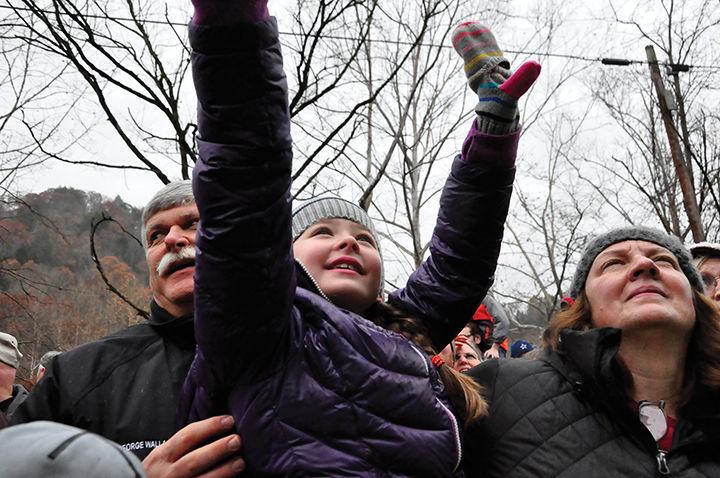 The Santa Train is staffed with about 120 volunteers from CSX, and every volunteer reported to an area of the train before certain stops in order to prepare for distributing gifts. Their jobs consisted of clipping together several of more than 350 backpacks to be distributed at the stops and bagging up wrapping paper, toys, stuffed animals and food bags in order to carry them outside and distribute them, among other tasks.
At every stop, several of the volunteers received the opportunity to throw toys off the back of the train with Santa Claus and the event's featured guest, Marty Stuart.
Zoe Persico and Diana Sorfleet, both of Jacksonville, Florida, work with CSX and rode the Santa Train for the first time this year. Before distributing their first bags of toys, Persico said that she was most excited about seeing the smiles on the children's faces, and Sorfleet said she was excited to hear the children greet Santa Claus.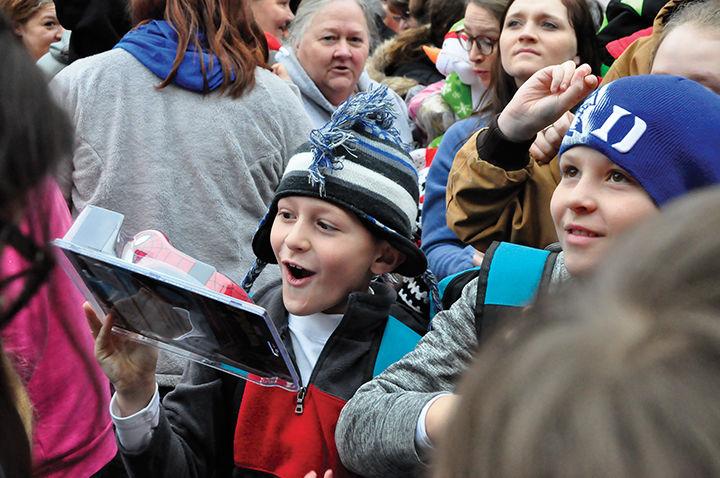 "Any opportunity to give back is a good enough reason to participate in an event like this," Persico said.
"I think it is about giving back to people who are really in need, and we have that opportunity as a company to help them," Sorfleet said. "This is a long tradition of the Santa Train, and we're excited to be a part of it."
Although at least half of the stops experienced heavy rainfall, hundreds of families still attended the event, surrounding the back of the train and calling out for Santa Claus to throw them toys.
Ashley Chappelle, of St. Paul, Virginia, visits the Santa Train every year with her four children. She said she continues the tradition with her family to give her children an opportunity to see Santa Claus.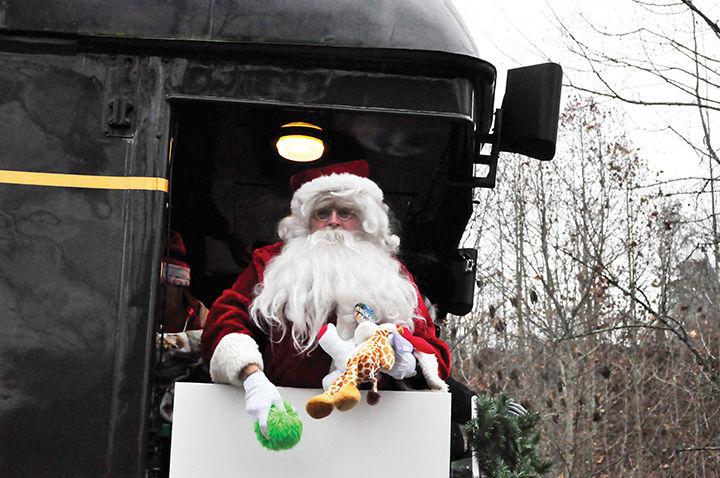 "We try to come every year," Chappelle said. "There's not a lot of malls and stuff around here, so it's a good way for them to see it. I love being here with tons of people."
At the stop in Elkhorn City, Martin Tiller, of Conway, Virginia, brought his children to see the Santa Train. He said one of the best parts for him is seeing his children enjoy the event.
"I just brought my little girls to let them enjoy the festivities," Tiller said.
Bessie Fuller, of Richlands, Virginia, drove about an hour with her 6-year-old son, Preston, to visit the Santa Train during its stop in Haysi, Virginia. She said she brings her son every year to let him experience it.
"He loves it," Fuller said, smiling. "He loves trains and Santa, so it's always fun."
Although Santa Claus said that the rain may have brought smaller crowd sizes this year, it did not dampen the spirit of sharing that was evident at every stop.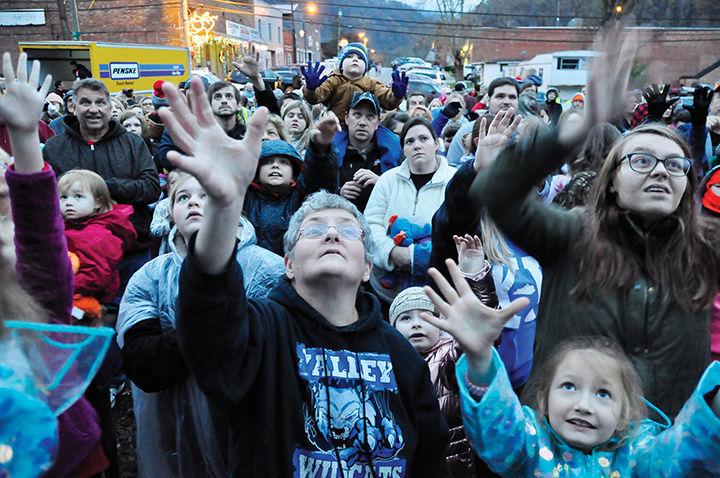 "If you're trying to target a child with a toy, they catch it and they turn to the child next to them and realize that maybe that child was trying to get it, they'll hand it to them," Santa said. "That is just so heartwarming, to see people sharing that are of no relation. This is a pure family event, and if we can keep that up, we can turn America back around."