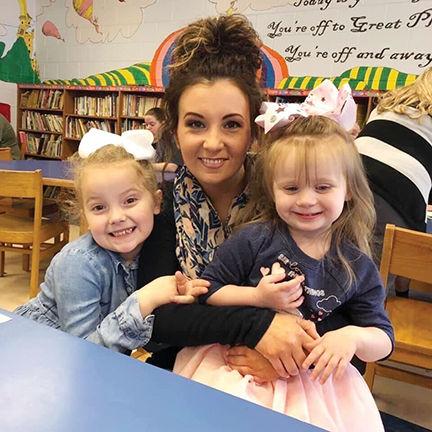 A local Floyd County woman was invited to be a guest on NBC's The Kelly Clarkson Show on June 16, where she received a special surprise from the show's host to help make ends meet during the COVID-19 pandemic.
Ariel Johnson, 34, of Grethel, works at Bank 253 in downtown Pikeville, but she said she has been unable to work since March 14 due to economic effects from the COVID-19 pandemic. Like millions of Americans, Johnson has needed to file for unemployment, and she said it has been difficult to make ends meet.
Johnson is a single mother raising two young daughters — 7 year-old Aubrey and 3 year-old Allie — and she also takes care of her grandmother, who stays with her at home. She described being at home during the pandemic as being bittersweet because while she has become closer with her daughters, she said she feels worried about having to rely on unemployment while she is unable to return to work.
"We've always been so busy with everything, and this is the first time that any of us have gotten to slow down and really be together, so that part has been wonderful," Johnson said. "The bad part is, depending on unemployment is not reliable. You can never talk to anybody, you never know what's going on, you never know if you're going to get your payment the next week or anything like that. It's scary, too, because I'm still not sure if I have a job to go back to."
Johnson said she was in an article for the Lexington Herald-Leader, where she shared her story about how she has been impacted by the shutdowns during the pandemic. After reading her story online, an executive producer for The Kelly Clarkson Show contacted Johnson about potentially being on the show. A few days later, the producers told her they wanted her and her daughters to call into the show through Skype, a virtual chat platform, to be a special guest on an episode that would air on June 16.
"For two days straight, I didn't sleep, I didn't eat, I didn't have time to do anything, just get everything prepared for the show," Johnson said.
During Johnson's appearance on the show, host Kelly Clarkson asked Johnson about how she managed before the shutdowns took place in March this year, and she asked her about the cutbacks she has had to make in order to make ends meet. Johnson told Clarkson that she has to continue paying off her credit card debt, which she said totaled around $8,000, and she told Clarkson that she has needed to use her savings in order to pay her bills.
Clarkson said during the interview that she has heard of many cases where people have needed to use their savings in order to pay their bills. She then surprised Johnson by announcing that she will cover her mortgage payments for the rest of the year, a total cost of around $3500. Clarkson said the gift was in honor of National Homeowners' Month, which is recognized during the month of June.
"I was not expecting that," Johnson said, referring to the payments being covered. "It literally brought tears to my eyes. I was so excited. It's crazy enough to be on a national talk show, but the fact that she's so kind and generous and she wanted to give me and my girls a gift like this, that's unbelievable."
Johnson said that Clarkson and her team covering the payments for the rest of the year will allow her to free up about $550 each month, which will help her and her children throughout the year.
"That frees up money for everything in our lives," Johnson said.
While being appreciative for The Kelly Clarkson Show, Johnson said she also wanted to thank the local community for being supportive of her and her family as she has shared the news about being on the episode.
"I just want to say thank you to our community, our friends and our family," Johnson said. "I was so scared that people would be mean about it, but everyone has been so incredible to me and my girls and my family. I literally cannot express enough gratitude for everyone and how awesome everybody's been to us with all of this."
For more information on watching the June 16 episode of NBC's The Kelly Clarkson Show, which features Ariel Johnson and her children, visit, www.kellyclarksonshow.com.