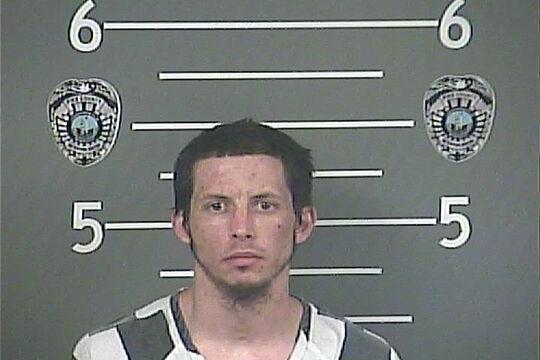 An Elkhorn City man was arrested on numerous charges last week after he allegedly attempted to escape from a Kentucky State Police trooper's custody and assaulted the officer by spitting at him.
According to an arrest citation, on Sept. 10, KSP Trooper Sheldon Thomas wrote in court documents he was dispatched to a possible assault at Abner Fork Road, in which Shawn Swiney, 29, had kicked his father's bedroom door in and demanded his father give him two cell phones. Swiney, the citation said, restrained his father in an attempt to prevent him from calling police.
Thomas wrote that, upon arrival, he located Swiney in a shed-style building directly behind the residence. Swiney, the citation said, would not provide any details of the incident, but kept repeating that he and his father had a disagreement. Thomas wrote that he placed Swiney under arrest and handcuffed Swiney behind his back.
Thomas, the citation said, obtained permission to search the building and found a bag with suspected methamphetamine residue inside.
Thomas wrote that Swiney began yelling at him, then took an aggressive stance and began acting as though he was spitting on the trooper. The citation said Thomas was unsure if Swiney actually projected any saliva but appeared as though he was attempting to.
Thomas wrote that he placed Swiney into the back of his cruiser and continued searching the building when he was notified that Swiney had exited the vehicle. Thomas wrote that he chased Swiney on foot and located him laying behind a garage on a different property. Swiney, the trooper wrote, had slipped out of one of the handcuffs.
Swiney was placed back under arrest and Thomas continued the search of the building, during which he found multiple bags with suspected methamphetamine as well as multiple needles and glass pipes used to smoke methamphetamine.
Swiney was lodged in the Pike County Detention Center on charges of harassment, third-degree criminal mischief, third-degree assault of a peace officer, second-degree escape, first-degree possession of a controlled substance, possession of drug paraphernalia, second-degree fleeing or evading police, resisting arrest, third-degree possession of a controlled substance and contempt of court.