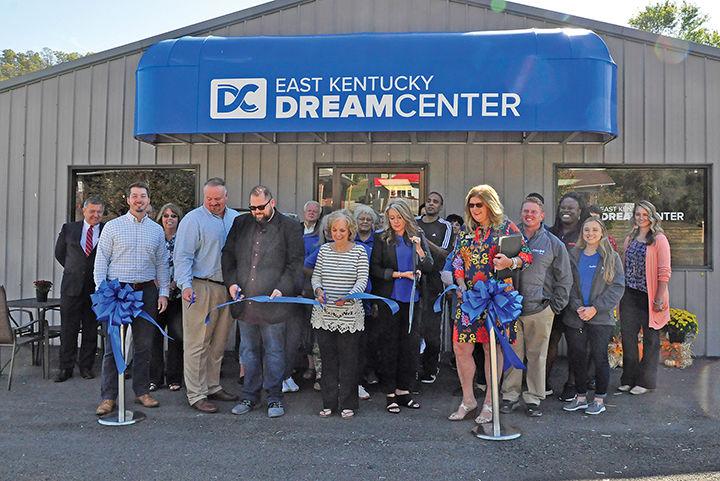 Upon entering the East Kentucky Dream Center dining hall on 127 Hibbard Street, rows of long tables and chairs lead up to an open kitchen, with an overhead sign saying, "'Let all that you do be done in love.' 1 Corinthians 16:34."
Inside this kitchen, about eight volunteers for the faith-based non-profit organization prepare and serve free meals and donate food boxes to people in need every Wednesday and Friday. On average, about 310 people now visit the center's Hibbard Street location to receive a meal. During those weekly meal events, the hall is open from 11 a.m. to 1 p.m.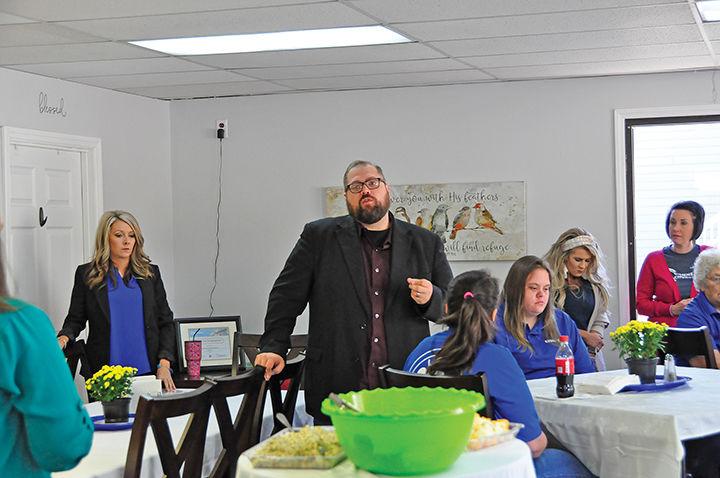 "The Dream Center isn't something that just happened," said Judy Casalino, one of the East Kentucky Dream Center's board members. "It was the heart's desire of a lot of people that are still involved. Our whole concept of being a Christian and doing what we do is serving people, doing things for people and serving their needs, and we call that showing them Jesus."
East Kentucky Dream Center (EKDC) officially celebrated its one-year anniversary on Tuesday, with a ribbon cutting ceremony to commemorate the opening of its dining hall. During the ceremony, Richard Holmes, EKDC founder and board member, thanked those who have contributed to the center's opening and dedication.
"It's been an incredible year that we've had," said Holmes, who is also the pastor of Pikeville's Connection Church. "I'm just so grateful for our team of volunteers that give up themselves every week, some every single day. All of our partners, sponsors and donors, individuals of businesses and business leaders, and nonprofit agencies, thank you all so much for making just a really wonderful partnership for the Dream Center."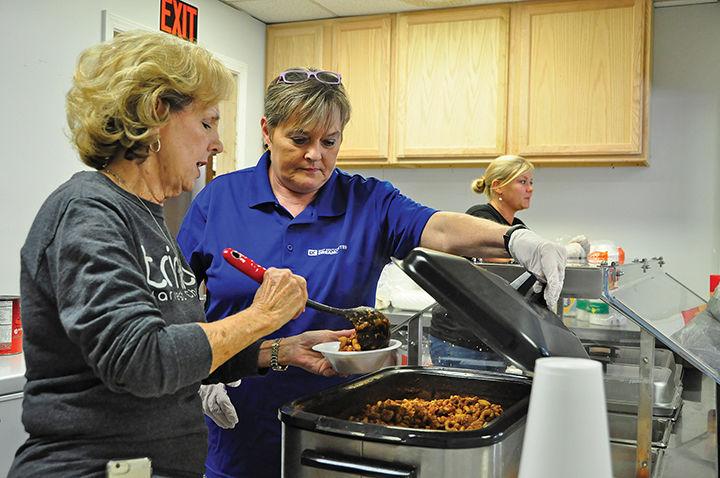 EKDC opened on Aug. 29, 2018, with a primary location at 220 South Mayo Trail. It later opened a dining hall at its Hibbard Street location and the East Kentucky Dream Center Thrift Store, located at 616 Bypass Road near Double Kwik in downtown. With the addition of its dining hall and thrift store, EKDC began food and clothing programs to further help those in need in its service region, which includes Floyd, Johnson, Letcher, Martin and Pike counties.
EKDC is one of three Dream Centers in Kentucky, the other two being the Louisville Metro Dream Center and the River City Dream Center. They are all affiliated with the Los Angeles Dream Center, which founded the organization network.
At its thrift store, EKDC provides clothing vouchers to people in need and sells clothes to raise money to continue serving meals. The center also networks with organizations like Judi's Place for Kids and the Appalachian Pregnancy Care Center to provide household items and support services to people in need, like pregnancy care, networking tools and housing.
The center also provides hygiene bags to people who may be in need of hygiene products, like shampoo and soap. The information of everyone who receives support from the center is kept confidential.
In one year, according to EKDC's statistics, more than 16,000 meals have been served, nearly 2,000 food boxes have been donated, nearly 900 hygiene bags have been donated and more than 41,000 articles of clothing have been provided to people.
Additionally, EKDC assisted six families with finding housing, gave away 44 mattresses and fully furnished 11 homes with the help of furniture donations. EKDC helped five women enter a women's domestic violence shelter and helped four people enter a drug rehabilitation program.
Casalino, who volunteers for EKDC, said the nonprofit organization aims at finding and fulfilling the needs of struggling people around its service region, like those struggling or recovering from addiction and those struggling with homelessness.
"Our goal is to heal whatever needs there are in the community," Casalino said. "That's what makes it worthwhile that gives you all this joy to know that you've got that kind of need in the community, and everybody is so thankful."
Rachel Campbell-Dotson, EKDC executive director, said the center also makes deliveries at 11 a.m. on Wednesdays and Fridays to Myers Towers, Housing Authority of Pikeville, to senior citizens, to widows and to veterans. She said that a community starts to form between the visitors and the volunteers at the dining hall during its weekly meal events. She said that many people come every week in order to receive a meal and spend time with one another.
"I feel like once they get to know us, they build friendships with us," Campbell-Dotson said. "Seeing that kind of allows us to open the door to the spiritual talk, to offer to pray for them, that kind of thing. One of the things we try to tell people is, don't push religion on anybody who comes in here, but you want them to feel the warmth when they walk in the door."
Although EKDC has received support from Connection Church, previously known as Trinity Harvest Church, Rachel Campbell-Dotson, EKDC executive director, said that EKDC is its own nonprofit organization and serves people of all religious backgrounds. EKDC is also the recipient of the City of Pikeville's food security grant, which is a $300 monthly grant used to purchase necessary food supplies and prepare the weekly meals.
"I think it's important for people to know that it's not a handout," Casalino said. "It's a hand up, trying to get them to a better place."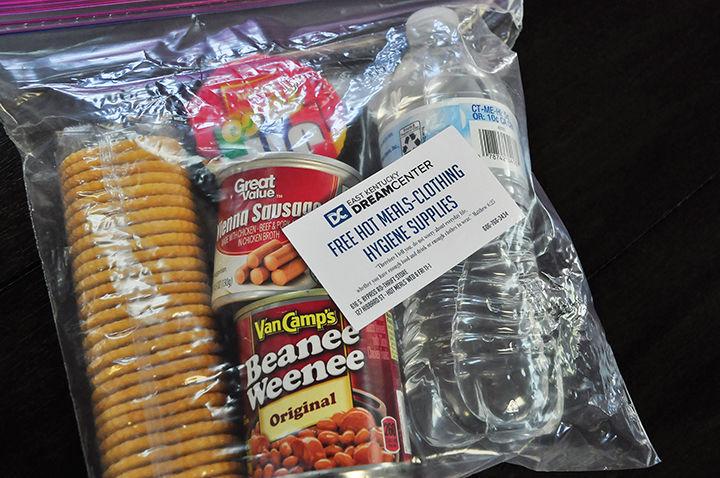 Paula Lowe, EKDC dining hall co-manager, helps prepare meals at the dining hall every Wednesday and Friday, as well as help at the thrift store, and she started volunteering out of a desire to help in the community.
"It's my heart," Lowe said, describing the atmosphere as upbeat and positive. "I love it. Everybody seems happy. They get used to you. As time went on, they got used to us, the regular people. They open up about their family, and it just makes your heart happy when you see them actually look at you and smile."
Lowe said that taking care of the kitchen and preparing meals every Wednesday and Friday is a team effort between her and other volunteers. Although it can be a struggle to be prepared for the number of people who need a meal every week, she said, the experience of volunteering at EKDC is rewarding for her.
"We always seem to have what we need," Lowe said. "I think it's awesome for the community. There's so much need out there, and it just makes my heart happy to help somebody."
The East Kentucky Dream Center is in need of volunteers and donations, like canned goods, hygiene items, clothing, shoes, towels, coats, furniture and other household items. To donate, volunteer or for more information, call, (606)-766-3434, or visit "East Kentucky Dream Center" on Facebook. EKDC's facility on South Mayo Trail is open every week from Monday to Thursday, 9 a.m. to 4 p.m.