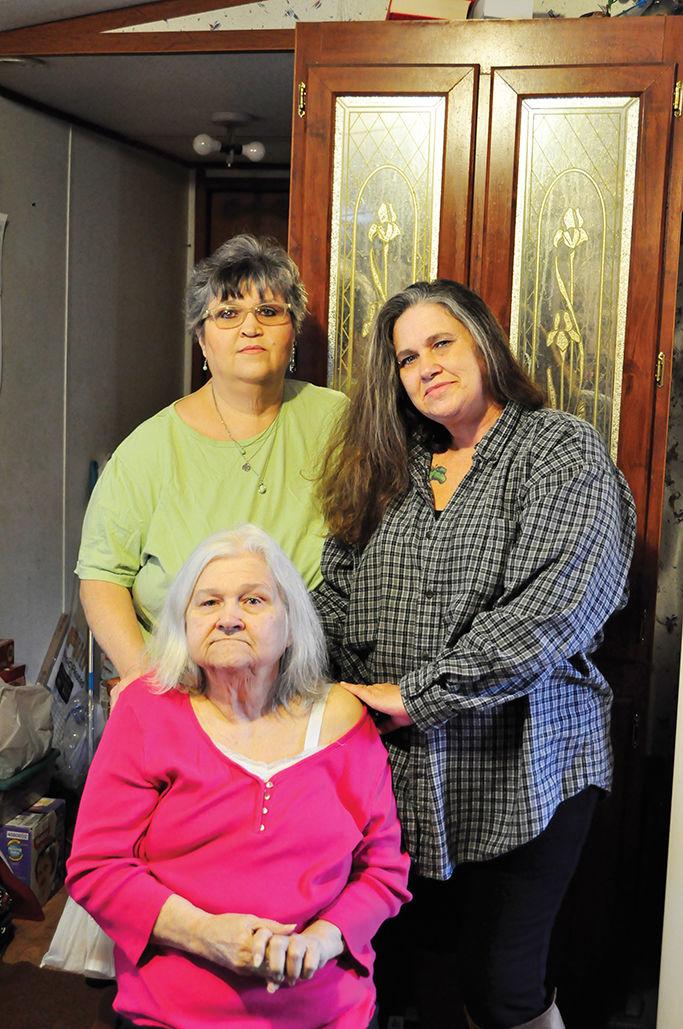 A reunion took place this past holiday season that was more than 60 years in the making.
Vivian Leslie, 78, of Cowpen Road, Pikeville, reunited with her lost daughter Deborah Lee, 61, of Melrose, Florida, after being separated for 61 years, finding each other online through a popular genealogy website.
Vivian lived in Baltimore, Maryland, in 1958, when she gave birth to her second daughter, Deborah Anne. Being 17 years old and unmarried at the time, Vivian said her mother gave her an unthinkable choice.
"You see, I had another girl, her name was Betty, and she (my mother) said I had to make my choice and give one up," Vivian said. "I didn't want to, but back then, you did what your parents wanted you to."
Vivian reached out to one of her friends in Maryland, arranging for her to take the baby so Vivian could visit her. As Vivian and the baby's father, James Sauers, sat outside, Vivian recalled, her mother spoke with the adopters inside her house. Vivian said, though, she never signed formal documents to relinquish the child, whose name was changed to Deborah Jean.
"I looked for her so many times," Vivian said. "I called everyone there was, trying to find her. No one knew what happened to her because they kept moving. They moved all over Maryland."
In that same year, Vivian met and married her husband, Martin Leslie, and his work led them to Pike County, where they've lived for more than 60 years. Together, they had six other children, three daughters and three sons.
However, Vivian never gave up hope in reuniting with her lost daughter.
"I like to travel to Maryland every year," Vivian said. "Every time I've gone up there, I've looked for her, hoping that I might see her somewhere."
Meanwhile, Deborah lived with her stepfather, Eugene Harris, and it wasn't until she was 11 years old that, she said, he told her she was adopted.
"I was not happy," Deborah said. "I ran away twice trying to find my birth parents. I didn't get very far. He (Eugene) told me that the lady who gave birth to me couldn't afford to keep me so they (Eugene and his first wife) took me in as an infant. They then told me that when the woman came to take me back, they were too attached and didn't want to give me up."
After attempting to run away the summer before she started high school, Deborah went into foster care. While dating her high school boyfriend, she said, she became pregnant at 15 years old with her first daughter, Daphney, and her foster parents told her to enter a home for unwed mothers in Baltimore, Maryland. She stayed at the home and finished school.
She and her boyfriend were married for 20 years, they moved to Florida and she had three more children, Damon, Dana and Danielle. Throughout her life, though, Deborah said she never stopped wondering about the identity of her birth parents.
"The problem for me was that I didn't know what anyone looked like," Deborah said. "I didn't know who I was looking for, but I was always wondering and always imagining a scenario where I would see them again."
Their searches for one another took a hopeful turn last May. Deborah received a Mother's Day present from her daughter Danielle that was a DNA kit from Ancestry, a popular website used for discovering genealogy and family heritage.
"She knew that I wanted to find my mom," Deborah said. "I figured I'd give it a shot."
After completing the kit, Deborah received her results, and Carol Bryant, one of Vivian's daughters, appeared on her results as a family relation. On Nov. 18, Deborah messaged Carol to connect with her.
Carol said she and her sisters knew that they had a long-lost sister, and she believed that they would, one day, meet her. Carol also received an Ancestry DNA kit as a Mother's Day present from her daughter, and after completing it, she was cautiously optimistic about the Deborah Lee in her results being her missing sister.
Carol said that she decided to "take a shot in the dark" and tell Deborah about Vivian's daughter who was given away.
"It was kind of disbelief at first," Carol said. "It was shocking. I was worried about someone faking that kind of stuff, but then I thought, 'Well, it's on Ancestry. You can't fake your DNA, no matter how hard you try.' It was a shot in the face."
When Carol told her sister, Linda Leslie, Linda said she "broke down and cried."
"I knew immediately that it was her," Linda said. "I've always felt like a part of me was missing. I kept saying, 'We've got to find her.'"
Deborah said she cried when she realized that she was Carol's missing sister. Deborah sent Carol a picture of her birth certificate, which listed Vivian Leslie as her birth mother, confirming her identity. Deborah spoke to Vivian and her sisters over the phone soon after.
"I was crying and emotional," Deborah said. "Mom told me that she never stopped looking for me. I didn't know anybody was looking for me. It was very strange, though, not seeing each other but talking over the phone while calling her mom, but it was also really neat. For the first few minutes, it was really overwhelming."
Deborah said she has shared the news with her family and several friends, and she now hopes to, one day, reunite with her father if she can. She said that she looks forward to reuniting with her long-lost family in person in the future.
She described the long-awaited reunion like retrieving puzzle pieces to her own identity.
"It was a missing part of me," Deborah said. "I didn't really know who I was. Don't give up. You never give up when you want to find your family. I came to so many dead ends for a long time. All I can say is don't give up."
Vivian said that she has difficulty with walking, which makes traveling more difficult for her. However, she hopes to hold a family reunion one day to meet Deborah, her grandchildren and great-grandchildren in person.
"I want to tell everyone out there who is looking for someone: keep your faith," Vivian said. "You should never, ever give up."