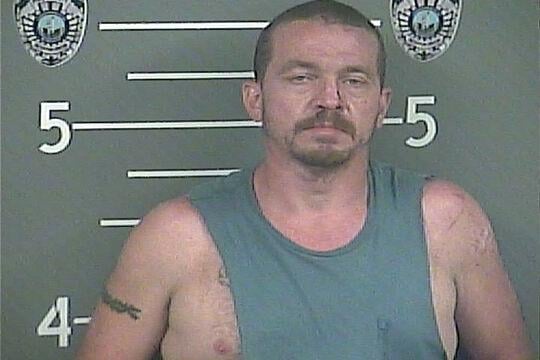 A Pikeville man was arrested on felony charges on Sept. 9 after, police said, he fled from them at a high rate of speed while driving intoxicated.
According to court documents, Kentucky State Police troopers Timothy Ritchie and Sheldon Thomas were stationary at the Walgreens at Collins Highway when a 2010 Chevrolet HHR passed by them at a high rate of speed.
Ritchie wrote he also noted the driver, later found to be William Cody West, 39, of Right Elkins Road, was not wearing a seat belt. Ritchie wrote in the citation that he attempted to stop the vehicle, but West refused to stop, driving at speeds as high as 97 mph before he turned onto Bear Fork Road then onto a gravel road.
The citation said Ritchie watched as West opened his door and left the vehicle.
Ritchie wrote that he lost sight of the vehicle, but then found the vehicle empty of occupants, then went over the hillside near the vehicle. The citation said Ritchie located West crouched behind a tree, until Ritchie told him to stop where he was, at which time West ran down the mountainside.
Ritchie wrote that he eventually detained West, who appeared to be under the influence of methamphetamine, and a search of his vehicle revealed several hypodermic needles and a pipe used for smoking drugs, as well as a fully-loaded 9mm handgun. West, Ritchie wrote, is a convicted felon, and so forbidden from possessing firearms.
The citation said officers also found a white powdery substance in West's shorts pocket believed to be methamphetamine.
West was booked into the Pike County Detention Center on charges including first-degree fleeing or evading police (vehicle), first-degree fleeing or evading police (on foot), possession of a handgun by a convicted felon, fourth or greater offense DUI, possession of drug paraphernalia, driving on a suspended license, traffic charges and failure to appear in court.