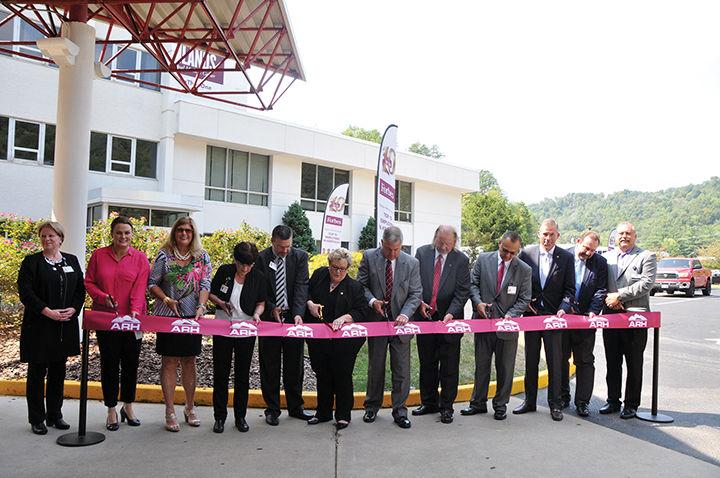 PRESTONSBURG— Appalachian Regional Healthcare marked a milestone in Prestonsburg Wednesday, hosting a ribbon-cutting celebration for its newest hospital, Highlands ARH Regional Medical Center.
"I can only say to you that being a part of the ARH family is something that each of you that are new to the family will come to cherish," said Tena Hall, interim CEO of Highlands ARH. "There's a history and there's a bond that's just hard to break over the years."
ARH President/CEO Joe Grossman shared some of the organization's history, telling the crowd that ARH opened 64 years ago as a "dream" of Miners Memorial Hospitals Association, which opened facilities throughout Eastern Kentucky to serve coal miners and their families. The organization has since grown to the largest healthcare provider in Eastern Kentucky, Grossman said.
The Highlands addition expands the company's reach to 13 hospitals that collectively employ more than 6,000 people in Kentucky and West Virginia. Highlands ARH is the third ARH hospital in Floyd County.
"Today, we are proud to officially cut the ribbon to show that ARH is now firmly planted here in Prestonsburg," Grossman said. "And we are committed to making Highlands ARH Regional Medical Center grow, and our employees and the medical staff in this community, prosper."
Grossman emphasized the company's community involvement and its desire to "improve the health" of communities it serves by providing healthcare services, promoting economic development and improving education.
Tim Hatfield, the community CEO of Tug Valley ARH in South Williamson, will become the Highlands ARH community CEO in October. He said Highlands ARH is organization's second-largest hospital, and he has plans for its future growth.
"It's a great opportunity to build, and again, and being from Eastern Kentucky and knowing what Highlands is all about and the big footprint it has in Floyd County, it's very exciting to come in," he said. "And there's a lot of opportunities for improvement right away that we can, I think, make a big difference in the way healthcare is delivered and not just Floyd County, but in neighboring counties in Magoffin, Johnson and Pike."
Dr. Anthony Stumbo, who will serve as the regional medical director for the ARH system, talked about how "rural hospitals are suffering crisis in a lot of different ways," and how hospitals have closed throughout the nation because of economic strain.
"But I'm thankful with ARH's track record that we're in good hands and we'll go ahead in the right direction," he said. "Again, after being here 28 years, we've seen some good stuff. We've made some improvements. The last few years, of course, because of the pressures, we've not performed as well as we'd like — again, a symptom of things going on in the nation. But despite that, it seems like ARH is not only survived, but they thrived. They've acquired and started running several other hospitals. They've expanded their services throughout the area, and that's to be commended."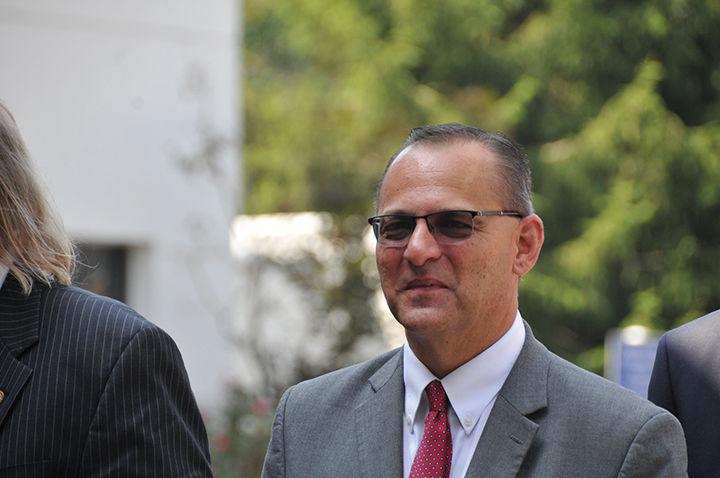 The merger between Highlands and ARH was announced with a letter of intent in 2017, and it was finalized in August — an achievement that local politicians said will benefit the region.
"This merger is going to be great for this community, and it's going to be a fantastic deal for everyone here in this whole Eastern Kentucky because ARH has such a big presence in Eastern Kentucky," said Sen. Johnny Ray Turner.
Rep. Ashley Tackett-Laferty also praised the effort.
"As good as our hospital's history is, I'm confident even better days are ahead," Tackett-Laferty said. "Many, many others and I look forward to seeing what this new partnership will bring."
U.S. Sen. Harold "Hal" Rogers also congratulated ARH prior to attending a golf tournament with Turner and others at Stonecrest Golf Course on Wednesday.
"As you know, in Eastern Kentucky, we battle some of the worst diseases in the country. We have a very high rate of obesity and diabetes and lung cancer and brain cancer and, you name it, we've got it here in Eastern Kentucky," Rogers said. "And I'm so pleased to see this very successful health institution, ARH, come in and help us to fight that battle. We could not have a better partner in that fight, and so I congratulate ARH and Highlands for this great merger, which I think will benefit our region in a mighty way."
The event featured music by Nicholas Jamerson and the Kentucky Opry Jr. Pros, as well as lunch provided by the Big Blue Smokehouse.