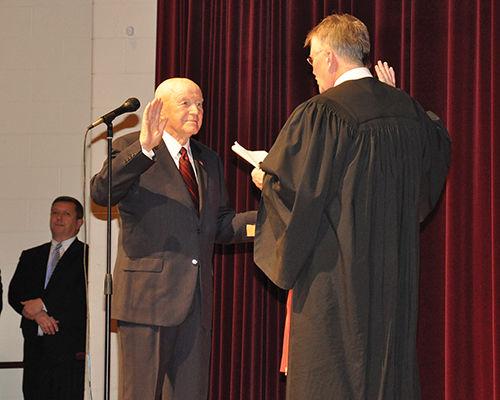 A longtime community and political figure in Pike County died May 20, leaving behind a legacy of public involvement and dedicated, hard work.
Bill Deskins, who died May 20 at the age of 90, served two terms as Pike County sheriff and two terms as Pike County judge-executive during his political career. Deskins maintained political involvement throughout, even when not serving in elected positions, including entertaining figures such as former President Bill Clinton, who held an event at Deskins' Pikeville residence during a visit to Pikeville in 2008.
After serving two terms as sheriff, Deskins re-entered elected office, serving as judge-executive from 2003 to 2006 and then again from 2014 to 2018, when he decided to not run for re-election.
In addition to his political service, Deskins was a member of the Kentucky Sheriff's Association and the Thomas C. Cecil Masonic Lodge.
Many who worked alongside Deskins say that both within and outside politics, he was a hard worker.
Pike County Judge-Executive Ray Jones said May 21 that Pike County had lost a "dedicated public servant" with Deskins' passing.
"I have known Judge Deskins since I was a young boy," Jones said. "I first met Bill when he was in his first term as Pike County Sheriff. I always respected and admired Bill for his success in business and his desire to make Pike County a better place. What I learned about Bill was that no one would work harder to accomplish a goal. That hard work is what led to his success in business, politics, and in life."
Pike County Attorney Howard Keith Hall, who not only worked alongside Deskins but also lived alongside Deskins as his next-door neighbor, also pointed out Deskins' willingness to work hard.
"Bill looked good in a uniform and a shirt and tie, but he preferred to be in jeans and on a piece of heavy equipment," Hall said. "He liked working hard and being productive his entire life and often referenced the oath of office he took at the start of each term of office. I'll miss watching him work around his properties and raise his huge American flag and will always remember him entertaining President Clinton at his house.
93rd Dist. state Rep. Chris Harris, who served alongside Deskins as Dist. 6 Pike County magistrate also pointed out Deskins' willingness to work.
"Bill Deskins worked hard at everything he did. He was blessed with a number of successful business ventures throughout his life as a result of that strong work ethic," Harris said. "Bill wasn't one to sit around and complain and expect others to solve our problems. He put his name on the ballot and was doing all he could for Pike County until he retired as county judge-executive."
However, Harris also said Deskins was generous.
"Bill was one of the most giving people I've ever known," Harris said. "His generosity wasn't simply financial, he also gave his time and energy to people and issues he believed in."
Jones also said he hopes people remember Deskins for his willingness to give to others.
"The one thing that I hope people remember about Bill was his generosity and willingness to help others," Jones said. "Bill was always helping people who were in need. Bill was instrumental in helping me win my first race for state Senate, and I will never forget the friendship that we shared. We didn't always agree on politics, but at the end of the day we were still friends. Paula and I would like to extend our condolences to Rose and the rest of the Deskins family."