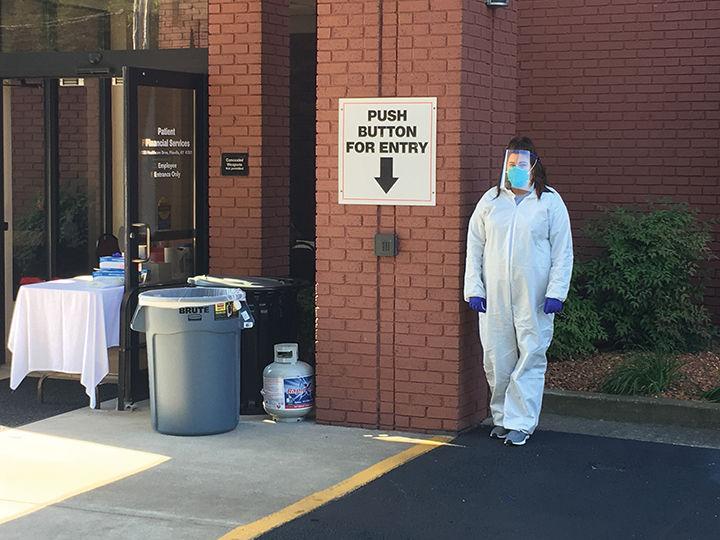 One week after launching its collaborative drive-through testing program with the Pike County Health Department and Gravity Labs, Pikeville Medical Center is set to expand the number of allotted tests so it can continue serving individuals during the Covid-19 pandemic.
Recently Pikeville Medical Center began its collaborative drive-through COVID-19 testing program, according to PMC CEO Donovan Blackburn. However, after hitting its testing allotment rather early on its first two days, thanks to help from Gov. Andy Beshear's office, beginning next week, PMC will be able to almost double its testing.
According to Blackburn, starting next week, the hospital will be able to go from only testing 70 per day to being able to administer 125 tests per day, which he said will bring PMC's total allotment per week to 500 tests.
"We had the capability of testing 70 per day and the intent was to start at 8 a.m. with that allotment and, once those 70 are gone, then we would have to stop testing for that day, if not, then we would go to 4 p.m. or so," Blackburn said. "Well, on the first day we had tested and hit our allotment by around 1 p.m. on Tuesday. Then, on Wednesday, we hit our allotment by 11:30 a.m. This became concerning to me, so I reached out to Dr. Stack yesterday and he spoke to the governor. So what we'll be able to do starting next week, we'll be able to increase our allotment."
Testing began late last week for first responders, because, according to Blackburn, the hospital wanted to ensure those individuals working on the front lines to protect the community were tested first to make sure they were safe. Blackburn said it also gave officials an idea on how the process was going to work, because when testing opened to the public, volumes would increase.
Testing opened up to the public Tuesday. Through April 30, Blackburn said, the hospital has tested 277. Because of the mass drive-through testing, as of May 7, the hospital had tested 726. He added there have only been seven positive tests and the hospital currently has 180 tests pending as of May 7.
According to Blackburn, after the tests are administered, they are then driven to Gravity Labs in Northern Kentucky. He said it typically takes anywhere from two or three days to receive the results. If an individual tests positive, they will be notified via a phone call from the health department. If negative, Blackburn said, those individuals would receive a letter in the mail informing them that.
Thus far, testing has gone very well, according to Blackburn and the community feedback regarding the testing program has been "positive."
"That's the beauty of living in our community," Blackburn said. "Everybody understands what's going on and everyone is very compassionate and very concerned, but also realizes the magnitude of what these healthcare workers go through everyday."
Blackburn said that, although testing is going well, the hospital still hopes that, at some point, PMC will be able to do the testing in-house. He also encourages anyone within the community who may want to be tested or feels as though they have some type of symptoms, to "please come down" to the hospital's location to allow medical professionals will administer the test to ensure the most accurate results. He added that there is no requirement to be tested and that it is also free of charge.
Testing is currently going on at 172 South Mayo Trail in Pikeville, beginning at 8 a.m. Tuesday through Friday.