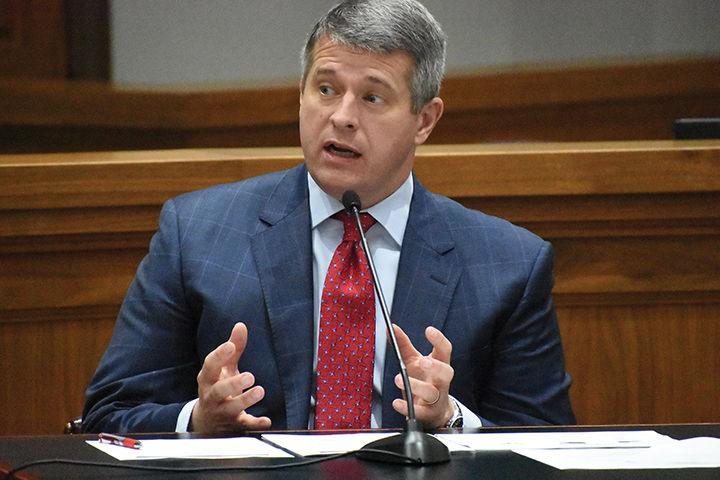 On Tuesday, Pike County leaders held a forum in the Pike County Fiscal Courtroom to provide an update on the ongoing COVID-19 pandemic and how the county response is going.
During the forum, which was moderated by Appalachian Newspapers Publisher Jeff Vanderbeck, Pike County Judge-Executive Ray Jones was joined by Pike County Public Health Director Tammy Riley and Pikeville Medical Center's Director of Infectious disease and infection control Dr. Fadi Al Akhrass as they provided an update on the COVID-19 pandemic.
Officials discussed several topics including the reopening of county businesses and what that is going to look like moving forward under Gov. Andy Beshear's tentative reopening plan. The officials offered tips on what residents can do or continue doing to help ensure that once "we ease back into our lives" that everyone is also being cautious and still adhering to to the guidelines set forth by local, state and federal officials.
Al Akhrass said the hospital has been seeing more cases now that the testing capacity in the area has increased. However, he said testing is vital because each result helps healthcare officials to better understand the virus.
"Each test result is a piece of a puzzle," Al Akhrass said. "You need to collect all the pieces together to have the full picture. Without having all these pieces, we have no idea exactly what the activity is in this area."
Another aspect Al Akhrass said, is empowering public health by increasing testing.
"I need to have more positive results," Al Akrass said. "If we have more positive results then we can ask them to isolate the patient and then subsequently they're going to do a lot work tracing all the contacts and quarantining these contacts. Without doing all these corners of what we call the 'safety box,' we can't resume and this is going to be the foundation for resuming safely."
According to Riley, the information the health department has found suggests that individuals ranging from 20 years old to 70 years old, specifically in Pike County, are the ones who have been most affected by the virus. She added that, given the research, there is a "slight prevalence" towards females regarding contracting the virus. She added that, as testing has picked up in the area and more cases are being discovered, more asymptomatic individuals are being found, which aren't just "young 20-something individuals."
"It can attack any age, any person," Al Akhrass said.
According to Al Akhrass, as of Tuesday's update, more than 50 percent of Kentucky's mortalities are coming from coming nursing home facilities, which he said should continue to emphasize the importance of the disease attacking the most vulnerable.
However, Al Akhrass said what concerns him about the virus is that it has shown that it can attack any age, before then discussing a report regarding a 10-year-old patient who was on a ventilator due to the virus.
Al Akrass said that one thing he hopes individuals take away from this current pandemic and should be an "eye opener" moving forward, is the importance of having a better lifestyle.
"We need to have a better lifestyle to have to work on ourselves and to have better medical conditions. This is how you fight against the infection," Al Akhrass said. "All these can lead to some sort of immune weakness. Although you're young, but your immunity is not strong and robust enough to fight the virus.
"There is definitely something going on that we don't fully understand at this point and it's going to be a subject for further studies," he added.
Riley said globally, the mortality rate is almost 7 percent, while here in Kentucky, we've been able to maintain around a 5 percent rate. However, in Pike County, she said, that rate is approximately 8 percent, which is very concerning she added.
According Riley, 12 of the 23 cases which has been announced have recovered. Vanderbeck proceeded to ask what the chances are of becoming reinfected, to which Al Akhrass answered that those who have been affected and survived the encounter with the virus develop a sort of antibodies.  
 "This is a novel virus, which is something new," Al Akhrass said. " Our body and our immune system has never been exposed to that, so for the first time when you get exposed to the virus, your body is going to generate what's called immune activity."
According to Al Akhrass, there are two forms of immune activity — innate and mediated. He added that it's still not clear on how long that immunity will last. He added that the area has yet to develop what is called "herd immunity," something he said should disprove the idea that this virus has been in the area for some time.
Regarding possible treatment for the virus, Al Akhrass said you need to put them in "two different buckets." Those include the "antiviral buckets" and the "anti-inflammatory buckets." The one mainly discussed, according to him, is the antiviral.
"Remdesivir has been shown recently that it has activity against the virus and this was the first randomized control trial," Al Akhrass said. "When you study in medication, it's better to pick two different groups of patients and you follow these tow groups based on the treatment regimen."
According to Al Akhrass, that means no treatment is given to the first group but instead the second group in order to follow the outcome. Al Akhrass said there has been sort of activity with Remdesivir and that the treatment has shortened the average hospital stay by four days. Unfortunately the treatment has yet to show significant impact on mortality rates. Hydroxchlorquine has been used in non-randomized studies, he said. This is showing that the treatment will help decrease the shedding of the virus, which is s good thing, he said. He added that one study in Europe showed that it helps reduce the mortality rate, especially when combined with azithromycin. However, Al Akhrass said, each patient is treated differently, considering their health and situations.
According to Jones, when the county acted in response to the COVID-19 virus, it acted in a way that he said was "the least restrictive, but yet would protect public safety."
"If we'd have had the outbreak here that we could have had with the social distancing and the restrictions, it could have been horrific," Jone said. "We have an aging population and even family has a family member that has some underlying health condition or an aging person in their family."
With testing increasing and thus more positive cases being discovered, Vanderbeck asked if "it's too soon" to reopen many of the county businesses which were forced to shut their doors following the outbreak of the virus.
Jones said that the sooner individuals can get back to work, the better shape the county — as a whole — will be in. However, Jones said that because some of the restrictions are "loosening up," that doesn't mean that individuals should commence day-to-day operations without caution.
"I believe that the social distancing restrictions that were in place are one of the reasons we only have 23 cases currently," Jones said. "But here's what concerns me — every business has been affected, even my business has been affected. We're going to be recovering from this for years.
"This is a disease that nobody can predict how its going to affect the person who catches it," Jones added.
Jones said the economy "has to open back up" and he believes the "phased approach" with which Beshear elected to go is a logical way to do that. But, as the economy opens back up, an increase in cases could lead to an increase in restrictions. According to Jones, individuals and business owners need to be smart and diligent in reopening to ensure more restrictions do not follow and Pike County can reach Beshear's final phase which would see nearly all businesses reopen around the first of July.
According to Jones, if we can't put people back to work, we could be looking at the "second great depression" and the only way this reopening plan works is if people comply with those guidelines. Jones said that individuals need to be prepared for the reopening guidelines being changed if the economy and businesses begin opening back up and a resurgence of the virus follows.
He added that he sympathizes with those individuals who have been laid off or have lost their job recently because of the pandemic. Kentucky, he said, has the highest percentage of unemployment claims per capita in the country and there are individuals in the area who have yet to receive those benefits, despite applying in early March and April. Jones said that, during this reopening phase, as he has said previously, the county has taken the position that it can't police every business or individual not adhering to guidelines, thus the importance of individuals "doing their civic duty."
One thing Jones said really concerned him was regarding the school systems opening back up in the fall.
"I'm concerned about whether I would even send my children into a public school when you pick up the newspaper and you see a 10-year-old on a ventilator," Jones said. "I have an 11-year old daughter and nobody can predict this."
Jones added that he would be sitting down with Pike County Schools Superintendent Reed Adkins and Pikeville Independent Superintendent Jerry Green in the future to talk about those concerns and what can be done.
Jones also touched on the fact that Pike County Emergency Management Director Doug Tackett has been in weekly contact with stores around the area on the issue of shortages of certain items, and although Jones said there have been some "sporadic issues," but there has been nothing that has been deemed "alarming at this point."
To conclude, officials discussed the needs to keep a positive and good mental health during this time. Riley said that each individual is different has probably has their own way of "blowing off steam." For her, it's running, she said, but she added that "whatever it is for you" it's important to try and maintain some form of normalcy, while also practicing their "civic duty."
The full forum is available via Pike TV's social media channels.