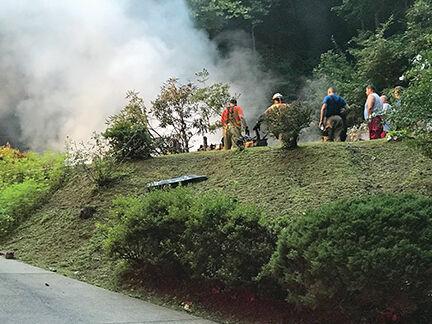 Fire investigators remained on the scene the morning of Aug. 6 trying to determine the cause of house fire that claimed the lives of two people.
Although early in the investigation, Belfry Volunteer Fire Department Chief Nee Jackson said firefighters were toned out to a house, located at Happy Valley in South Williamson, at around 3:30 a.m. and that the home was fully engulfed upon their arrival.
"We don't know exactly what time the fire began, but we were informed that there was possible entrapment," Jackson said. "When we got to scene it appeared as if it had been burning for quite some time because the house was fully involved and part of it was already on the ground."
Jackson said the fire is being investigated by KSP Fire Investigator Nick Endicott.
The bodies of the victims were expected to be sent to the State Coroner's Office in Frankfort for official identification.
No other details were available at presstime.
The BVFD provided nine firefighters and five trucks and received mutual aid from the Turkey Creek Volunteer Fire Department, which provided one firefighter and a tanker truck.