Editor's note: Much of this story is based on an interview conducted in August with Rutherford. More from that interview will be published in a story in a future edition of the News-Express.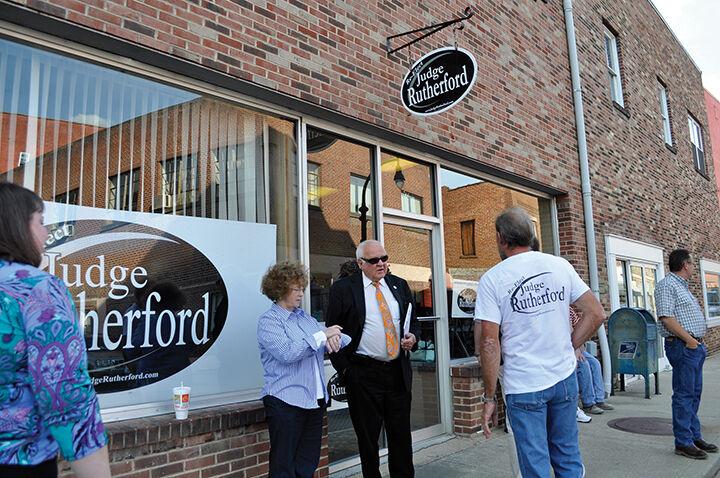 A familiar name and face in Pike County politics has passed.
On. Sept. 15, Wayne T. Rutherford, who served six terms as Pike County judge-executive, died at his residence at 82, leaving behind a legacy of public service.
In early August of this year during an interview at his home with the News-Express, Rutherford reminisced about his time in public service in Pike County.
One of the areas he discussed was the coal severance tax, a tax he said brought in more than a billion dollars into the county.
"I was 17 or 18 years old when I saw a copy of a UMWA Journal at the post office, where my Mom was postmaster, and it had an article in it about a tax in a state, Wyoming I believe," Rutherford explained. "I kept that journal and when I got older, I got a safe deposit box and I put it in the box. That's where I got the idea for the coal severance tax."
As a young, first-term county judge beginning in 1970, Rutherford began working to bring the coal severance tax into being, but it wasn't easy.
"I knew we had to have it (coal severance tax) but we had to get it passed and that was a tremendous thing to do to get a tax passed," Rutherford said. "They tell you, you can't get re-elected if you pass a tax."
Rutherford not only got one passed but also got the library tax passed.
"That's how we got the libraries here," Rutherford said.
"On the coal severance tax, I organized the county judges in the coal-producing counties," Rutherford explained. "I was promised 4 percent, so I went to every coal-producing county and asked the judges to help me get it passed because just look at the money we can get."
Rutherford's efforts didn't garner much support.
"We didn't do much good so we decided to include the state legislators," Rutherford said. "We had five meetings across the state so everyone could come out."
After those five meetings, Rutherford went to Frankfort.
"I testified before the legislature, they didn't know what a severance tax was," Rutherford said. "I had to explain to them that coal was in the mountains, miners had to take it out and it was severed, it's a severance tax."
After the explanation, lawmakers were somewhat impressed.
"I got it out of committee by three votes," Rutherford said. "It was the Joint Committee of the House and Senate Appropriations committee."
Rutherford soon discovered that the journey to finally get a coal severance tax was going to be a long one.
"After it came out of committee, we had to take it to the governor which was Wendell Ford," Rutherford said. "We told him we needed this tax."
Ford was skeptical about the tax.
"Wendell said he didn't know if he could be for this," Rutherford explained. "I told him I was going to convince him.
"I told him that we (coal producing counties) have got nothing," Rutherford said. "I told him the same thing I told the committee, we just want to live like you all do with clean water, good education, good transportation. We want water when you turn it on, pure and clean water."
That, Rutherford said, persuaded Ford.
"Wendell finally said, 'You've convinced me but you've still got a hill to climb,'" Rutherford said.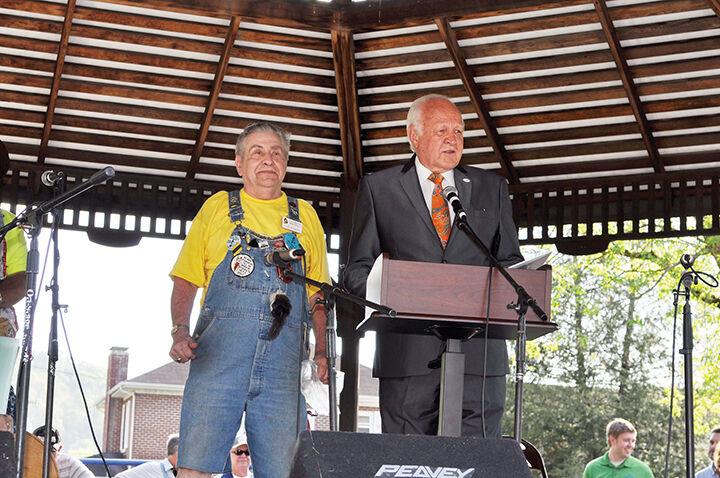 Rutherford started going to Frankfort two or three times a week to lobby legislators and rally support for the bill.
"We got it (the bill) introduced and finally got it to the floor for a vote," Rutherford explained. "Norm Bloom, who was speaker of the house and from Louisville said he wasn't for it because it would keep money from going into the general fund, the budget."
"There was a state representative named Hoover Dawahare from Whitesburg, who was recognized by Bloom, brought the bill to a vote and it passed by two votes," Rutherford remembered.
After getting the bill passed, Rutherford knew what the first money would go toward.
"The money went to buying road equipment," Rutherford said. "We had no road equipment and really no road department to speak of.
"I paid $8 million to get road equipment, it was the biggest check Whayne Supply ever got at that time," Rutherford said.
Because of his dedicated work getting the tax through the state legislature, Rutherford was deemed the "Father of Coal Severance Tax".
Rutherford was a Mason and Shriner and, as judge, he signed the first proclamation in 1977 to establish Hillbilly Days, a three-day festival to raise money for the Shriner's Hospital in Lexington which eventually blossomed into one of the state's largest annual festivals.
Rutherford also established the Pike County Senior Citizens program and was involved with the massive Pikeville Cut-thru project with then Pikeville Mayor William "Doc" Hambley. That became the largest earth moving project in the nation which redirected a railroad, river and highway around the city of Pikeville
Rutherford had some interesting adventures during his terms in office, some were serious at the time they occurred but now, years later, rather humorous.
Rutherford remembered a trip he made to Oak Ridge, Tennessee, on county business during his last term in office.
"Some county employees, myself and my wife Pat went down to Oak ridge to meet with the nuclear people, I'd been down there a couple of times," Rutherford said. "Well, we stopped and ate and then we got back on the road. I got to the end of the road and instead of going left, I went right.
"I drove just a short distance and I realize I was going the wrong way so I turned around, that's when a vehicle was coming at me with two men and one was holding a gun," Rutherford explained.
Rutherford didn't realize that he had driven onto the nuclear power plant property.
"They stopped me and ordered me to follow them and we went through a gate with a guard shack and I was ordered to park," Rutherford said. "They asked what we were doing there and I said we had a meeting and they could call if they wanted but they didn't call.
"They brought in a dog and went over the car," Rutherford remembered. "It was a bomb sniffing dog then they told us we had dynamite residue on the car.
"After many hours, a supervisor came and asked if we had any road work going on in the county and I said sure we do," Rutherford said. "The supervisor said that's where the residue came from because it lasts for months.
"They finally let us go, but they escorted us out of the area," Rutherford said with a smile.
Wayne T. Rutherford, the former railroader, Parole & Probation officer, county judge, deputy secretary of Kentucky Department of Human Service and Pike County judge-executive, went through a lot during his years in office to bring money and jobs to the county and the people he loved so much.
Rutherford closed the interview by expressing what kept him in public service and why he did the work he did.
"I love Kentucky and I'll always love Pike County," he said.
Funeral services for Rutherford will be private due to the COVID-19 pandemic, but will be livestreamed by Pikeville United Methodist Church. A public memorial service, according to the family, will be held at a later date.