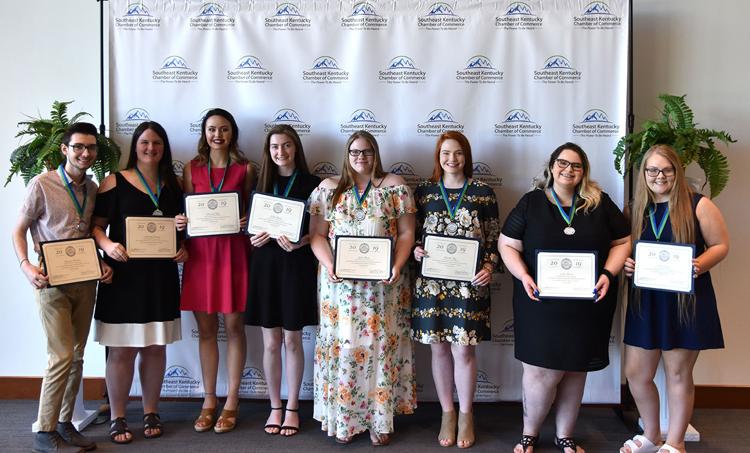 The Southeast Kentucky Chamber honored 56 local high-school seniors during its 2019 Work Ethic Award banquet held at the University of Pikeville Tuesday evening, with four of those students also leaving the banquet with a $500 check.
During Tuesday's banquet, hosted by presenting sponsors US Bank and the University of Pikeville, students from five high schools throughout the region – East Ridge, Phelps, Pike Central, Pikeville, and Sheldon Clark High School – were presented with certificates and medallions by the Chamber's Education Committee Chair Tammy Riley and Chamber President and CEO Jordan Gibson, for their completion of the Chamber's annual Work Ethic Award program.
"It is an honor each year to award those students who have gone above and beyond their daily expectations to complete this program," said Gibson. "The Chamber, its board of directors, and its education committee, know the importance of a strong work ethic, and we are pleased to have sponsors who believe in the Chamber's mission of supporting the students of our region through the Work Ethic Award program."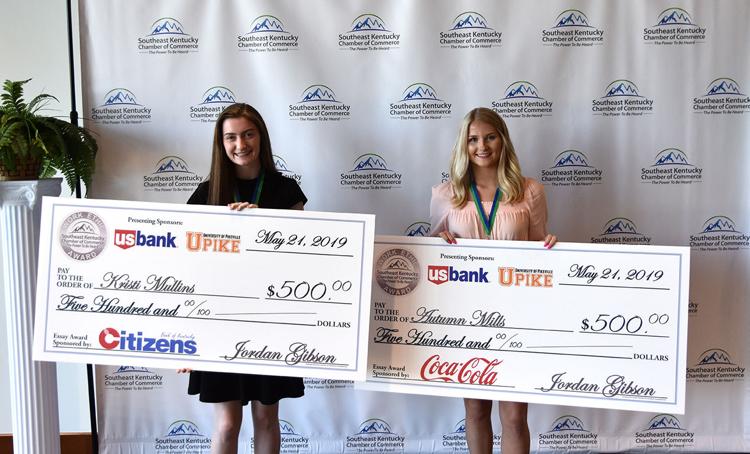 The Work Ethic Award is open to seniors attending high schools located within the eight counties the Chamber serves. To qualify, students must have a 2.5 GPA or higher, and meet certain attendance requirements, among other strong work ethic qualities.
Each September, seniors commit to complete the program, find a sponsoring teacher at their school, and then, throughout a six-month period, are judged on and scored in the following areas by their teacher and guidance counselor: Attendance, excused/unexcused absences, punctuality, discipline, achievement, community service, dependability, respectfulness, cooperation, and work ethic.
Students who complete the program's criteria are awarded a certificate and medallion. Those students then become eligible to enter an optional essay contest for the chance to win a $500 reward. For this year's banquet, Appalachian Wireless, Citizens Bank of Kentucky, Coca Cola Bottling Company, and Gearheart Communications each sponsored a $500 check for essay winners. This year's essay winners were: Lyndsie Bartley (Pikeville High School), Kristi Mullins (East Ridge High School), Brooklyn Cook (Sheldon Clark High School), and Autumn Mills (Sheldon Clark High School).
Kevin Davis, president and COO of Fast Change Lube & Oil, presented the keynote address at Tuesday's banquet, sharing his philosophy with attendees: "Life is a journey of aligning your dreams, charting your course and navigating your way to a purpose-filled life."   
During his presentation, Davis shared with the students his belief of what it means to be successful.
"Success can be defined as finding, and fulfilling, that purpose. What is our purpose? Each one of us has been created. Do you realize that you have been created with a purpose? You were engineered for success," said Davis.
He encouraged the attendees to search for their purpose, which he said can be defined as something that they would be willing to do for free, or without expecting a return.
Following the keynote address, students were honored for completing the 2019 Work Ethic Award program.
This year's Work Ethic Award recipients included: East Ridge High School - Hannah Bevins, Adrianna Deskins, Hannah King, Katie Mavis, Karosta May, Lorrie Moore, Kristi Mullins, Jimmy Chase Rose, Courtney Standifur, Olivia Taylor, and Brandon Thacker; Phelps High School - Emily Davis, Dustin Lewis, Dalton Rife, and Madison Stiltner; Pike Central High School - Emily Adkins, Hailey Boyd, Rebecca Diamond, Summer Marcum, Alicen May, Cassidy Mullins, Kennedy Stallard, and Shelby Thacker; Pikeville High School - Amy Adkins, Fotini Antismisiaris, Lyndsie Bartley, Cami Gaunt, Lindsey Lockhart, Bailey Lovern, Sarah McCoy, and Olivia Whitfield; Sheldon Clark High School - Karli Cline, Brooklyn Cook,
Sheridan Fletcher, Michael Grisco, Madison Haney, Meghan Harless, Savannah Harmon, Allison Horn, Josie Howard, Nicholas Maynard, Shannon Maynard, Whitney Maynard, Jacob McKenzie, Autumn Mills, Emily Mills, Kaitelyn Pope, Cory Preece, McKenzie Preston, Breanna Rice, Jaiden Robinson, Sabrina Sites, Ashley Spaulding, Hannah Ward, Ethan Whitt, and Trinity Wiley.
For more information about the Work Ethic Award program, or the Chamber, visit them online at, www.sekchamber.com, or by phone at, (606) 432-5504.