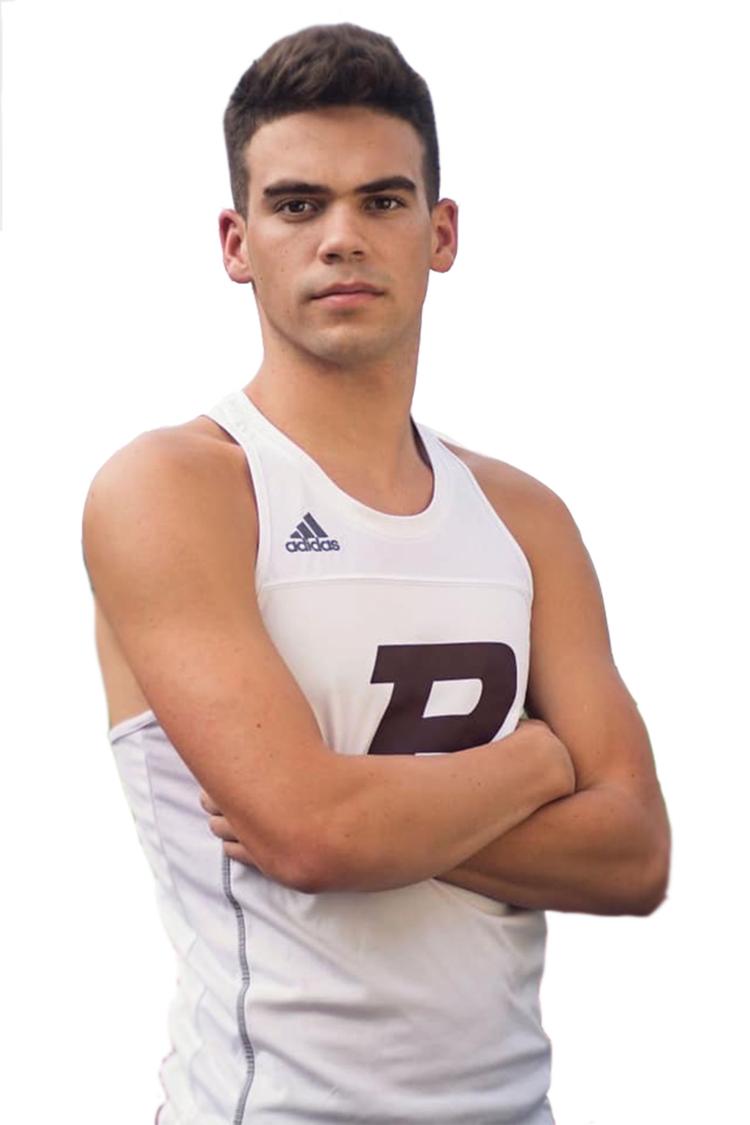 Harrison Booher isn't your typical high school senior.
Instead of sitting back and dreaming about things to come true — he's running down his dreams.
Booher was named the 2019 Midway University/KHSAA Cross Country Male Athlete of the Year.
"When I first saw it, I was in disbelief because I thought, 'a kid from a small town in Eastern Kentucky shouldn't get it because it's so hard to do,' but my hard work is finally starting to pay off," Booher said. "I'm starting to get a few awards and college offers, so it's kind of like a relief and my work is kind of paying off and telling me that I am doing the right thing. I just got to keep working hard and it's just more motivation."
He started running as a way to get ready for basketball season.
But something funny happened.
He started to excel running cross country and long distance track.
Eventually he fell in love with running and left his basketball career behind to focus on running solely.
He's been a standout at Pikeville the last several years, but now, he's starting to earn the respect from around the state.
Booher's first love in sports was basketball.
"My dad, of course, is a basketball coach," Booher said. "Growing up I was always a basketball kid. I started out playing basketball. So before basketball season, I had the idea of well I need to get in shape, so I'll go out for cross country. My first few years of cross country, I was like I'm starting to get better and better at this and I'm actually better at cross country than I am at basketball. That was crazy to me at first, so I ended up sticking with cross country and track because I was better at that. I fell in love with that more than basketball. That's kind of what got me into it. I never thought that would be my big thing. Just to see where I'm at now compared to where I was five years ago is totally not where I expected to be. I expected to be playing basketball now, but now I'm a 'track star' or whatever and so it's pretty cool."
Booher's father Jason is now the principal at Pikeville High School. His father taught him how to be a champion as a kid and now, it's paying off during his senior season.
"Growing up, I have always been able to learn how to be a champion from my dad," Booher said. "He's found a lot of success in basketball.The same kind of things apply to running. If you go out there and put up 1,000 shots a day, you're going to get better. Same thing with running. The more you do, the better you're going to get. The more miles you get the harder work you put into running, just like basketball, is going to apply the same. The more work you put into it, the more results you're going to get out of it. That's kind of the parallel that I see between the two of them that I see."
Even though running is an individual sport, the running community rallies around one of their own. Pikeville has a strong running community and they fully support Booher and the Panthers.
"What is really cool about the running community is that it is always 100 percent positive," Booher said. "So whenever I'm at races and stuff, it's like the whole community kind of gets behind me and supports me. It's pretty cool to see that. It's not just like me myself, there's other people supporting me on the outside of my family supporting me, my teammates and coaches. It's a whole community that comes together."
Once Booher started running, he got his dad into the sport as well. His father recently ran the Berlin Marathon with Joel Thornbury and Fares Khater.
"It's like my dad said the other day, 'Running is something you can do the rest of your life,'" Booher said. "It's pretty popular around the community with people as they get older, unlike basketball and football  which is typically played when you're in high school and college.
"Yeah that's pretty cool because he's always been the person who has mentored me," Booher said. "Early on in my life he taught me a lot about basketball and stuff and how to be a champion as I was growing up. Now, it's kind of cool because he's getting to learn from me a few things about running. I learn from him of course too, but it's pretty cool to have that kind of between us two. I'm an 18 year old kid and he's 40 some years old."
Pikeville has never finished above fourth at the state in cross country.
The Panthers are ranked second and have championship aspirations this year with Booher and a talented cross country roster.
The KHSAA Cross Country State Championship is coming up in just a couple of weeks and Booher and his teammates want to make school history.
"When I first moved here, we were always the team with a lot of potential," Booher said. "We had a good young group and that's what I always tried to establish the first two years I was here. We went out and found us five, six or seven guys that we could grow around. We got them really young, so we were always known as the young team with the bright future. Well now, the future is now. It's time to get with it. This is our year. We've gone from being ranked, I think 60th my seventh-grade year and now we're ranked second in the state. The highest Pikeville's ever finished at the state meet is fourth. We're trying to beat that and we have a shot at winning. That would be awesome. That is the ultimate goal. We set a goal three-years ago to win a state championship and that's what we're going to try to do here in two weeks."
"The goal for the rest of cross country season is to obviously win the region championship as an individual and as a team," Booher said. "Then go down to the state meet and finish no lower than third place. First would be the ultimate goal. That would be great. As far as track goes, I'm going to try to break the school record in the 1600 which is at 4.29 right now and I have the 3200 meter record which is 9.59. I need to try and get that down to around 9.40, then that would be elite. That would be pretty elite level. Of course, try and win state and I might try and jump in a 4X800 meter relay and help them win state in that, we'll just see how that goes. We see how indoor season goes first and then go onto the outdoor."
In just two weeks, the future is now for Booher and the Panthers.
They can make their championship dreams come true.
Whether Booher and his teammates dreams' come alive or not, you can count on that they will be running with everything in them to make school history.