Week 6 of the high school season saw Belfry, Phelps, Pikeville and Pike Central cruise to big wins, while Shelby Valley and East Ridge suffered tough district losses.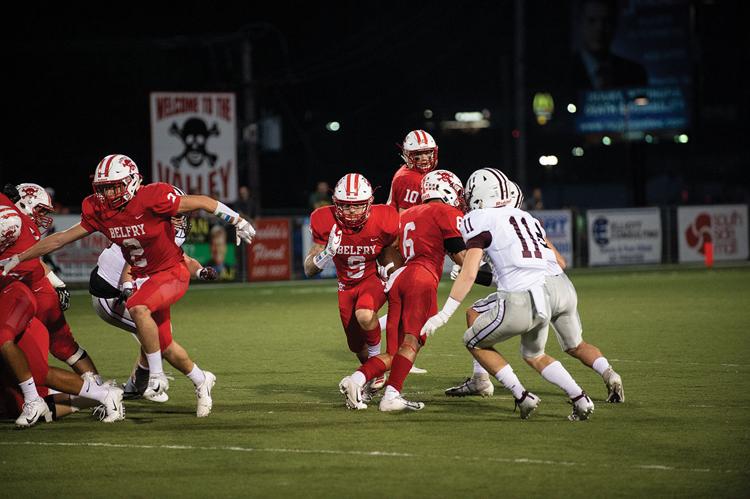 The Pirates jumped out to a 28-0 lead in the first quarter and never looked back as they cruised to the big 59-14 district win.
Running back Ben Bentley led the way for the Pirates. Bentley rushed for 163 yards and two TDs on six carries.
Fullback Peyton Hensley also had a big game for Belfry. Hensley finished the night with 101 yards and a TD on 13 carries.
Belfry quarterback Brett Coleman was two for four passing for 68 yards and two TDs. Coleman added 16 yards and a TD.
Isaiah Birchfield followed with 58 rushing yards and a TD. Neal Copley added 37 rushing yards and a TD as well.
Wide receiver Brendan Rash hauled in a 60-yard TD catch and Birchfield added an eight-yard TD catch for the Pirates.
Coleman and John Ashurst led Belfry's defense with seven tackles each.
Belfry (3-2) is scheduled to visit Floyd Central at 7:30 p.m. Friday night.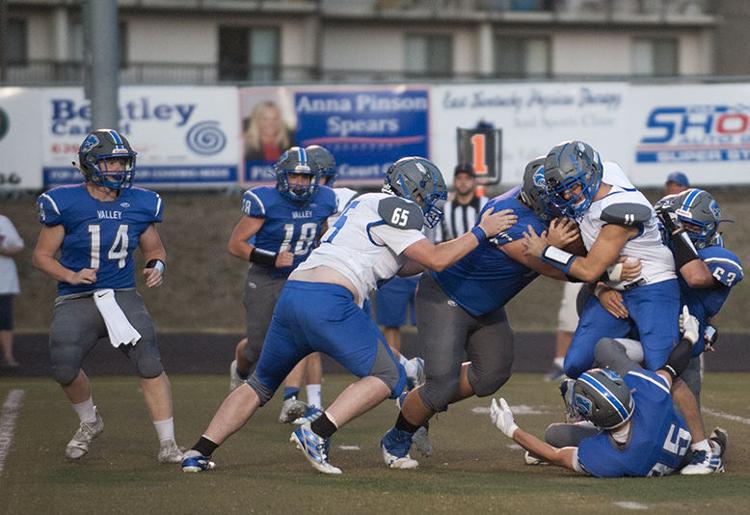 Shelby Valley couldn't get its offense going Friday night against district rival West Carter.
Dalton Meade continued his strong season. Meade finishesd the game with 151 yards and a TD on 25 carries. Meade was one for seven passing for two yards and an interception.
On the season, Meade is closing in on 1,000 yards rushing. He has rushed for 289 yards and 12 TDs on the season to lead Class 2A in rushing.
Freshman Jayden Newsome had a big game for the Wildcats against West Carter. Newsome rushed for 101 yards on 12 carries.
Meade also led the Wildcats in tackles with 14 total tackles; 10 of those were solo tackles. Isaac Hinkle added 12 total tackles for the Wildcats.
Shelby Valley is scheduled to host Prestonsburg at 7:30 p.m. Thursday evening.
The Hornet offense exploded against Betsy Layne Friday night.
Phelps bounced back from a 50-12 loss against Shelby Valley in a big way.
Dominick Francis had a huge game for the Hornets. Francis racked up 129 yards and two TDs rushing on nine carries. He also threw a 66-yard TD pass to quarterback Riley Dotson.
Dotson had a good game for the Hornets as he was three for four passing for 65 yards.
Tyrell Hollis also had a big game for the Hornets running the ball. Hollis rushed for 120 yards on nine carries. Daniel Smith rushed for 93 yards and three TDs.
Seth Mayhorn had two catches for 37 yards and Smith had a 28-yard catch.
Joey Scott led the Phelps  with 10 total tackles. Landon Dotson added eight tackles.
The Hornets will host Eminence at 3:30 p.m. Saturday.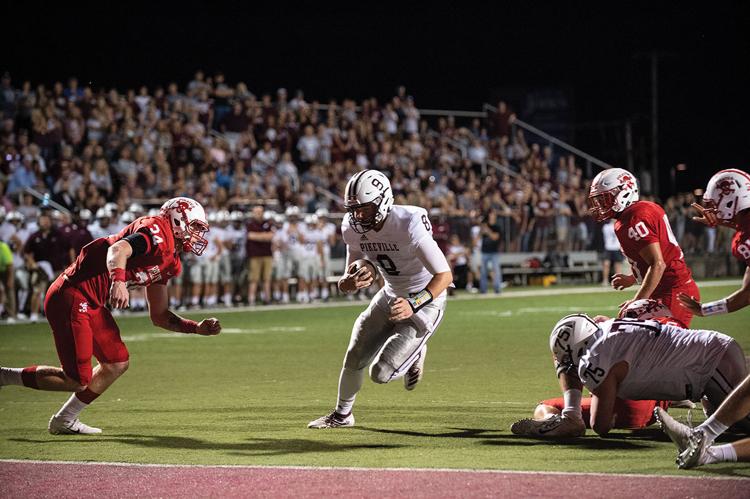 Isaac McNamee continues to improve each game.
The sophomore signal caller was 12 for 14 passing for 197 yards and four TDs in Pikeville's 49-26 win over Class 3A Lawrence County.
Wide Receiver Jackson Hensley led the Pikeville receivers with three catches for 61 yards and two TDs. Zac Lockhart added two catches for 53 yards and a TD. Seth Pugh had a 44-yard catch. Clay Tinsley had five catches for 18 yards.
Cody Raines led the Pikeville running attack with 85 yards and two TDs on four carries. He also caught a 21-yard pass.
Freshman Carson Wright led the Pikeville defense with 14 total tackles on the night.
Brody Birchfield and Matt Compton each followed with 11 total tackles. Landon Hammock added 10 total tackles. Connor Wright added nine tackles and Josh Taylor had eight.
Pikeville is on its Bye Week this week.
Pike Central quarterback Tyler Hunt is having a big year.
He continued his standout senior season last Friday night against district rival Floyd Central. Tyler Hunt led the Hawks with 128 rushing yards and two TDs on 16 carries. He was six for 11 passing for 62 yards.
Matt Anderson added 109 yards and a TD on 16 carries. Noah Iricks added 38 yards on five carries.
Keegan Bentley hauled in all six Pike Central receptions for 62 yards.
Nate Roberts had 19 total tackles to lead the Hawk defense. Adrien Anthony added 10 total tackles and Iricks had nine.
Issac Hunt had an interception for the Hawks.
Pike Central is scheduled to visit Tug Valley Friday night.
East Ridge didn't have its stats listed on the KHSAA website at press time.