Randy Casey has been in Athens, Tennessee the past few years.
The former Belfry head coach and UPike assistant coach helped build the T-N-G Academy and Believe Academy from the ground up.
He's here to improve on a strong foundation that Wesley Christian already has.
Casey recently took the head coaching job for the Circuit Raiders.
"It's great to be back," Casey said. "It's great to be home and I'm excited about getting started here."
In Athens, Casey helped T-N-G transform into the Believe Academy and he was the head coach there when he departed.
"It was great," Casey said. "We were fortunate enough to find some good players, nationally and internationally there. We have also been fortunate to send 29 guys to play at the various college levels. It was good to be able to recruit those guys and watch them being recruited to understand what college coaches are wanting and looking for on a high level and what they want, not just on the court, but off the court and how these kids act and things like that. It's been good to be able to learn all of those things and we're going to bring that to Wesley (Christian)."
Casey knows how to evaluate and develop talent as he has sent 29 players to go play at the collegiate level during his time in Athens. He has even helped some guys who entered the NBA Draft in seasons past.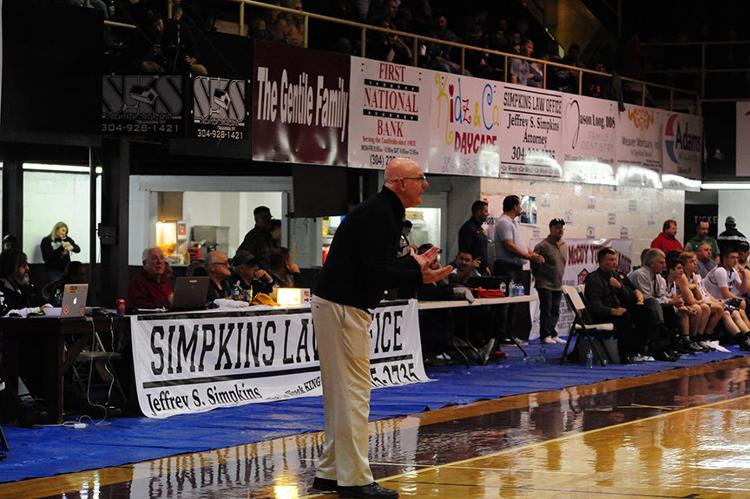 He will bring his experience and expertise to Wesley Christian.
"We know what we are looking for and the kind of kids we want to bring here," Casey said. "It's easier to recruit when we know that we are looking for specific things and we have specific needs and we'll just go from there. It's been really fun to do that. It's been hard at times. There are some good players and everybody wants them. Everybody in the country wants them and everybody internationally wants them. What makes us different, that's the thing that we have to learn and then we have to learn that before we reach our goals."
The national prep school circuit is a little different than 15th Region basketball.
"The speed and athleticism and the length of the players," Casey said. "Everybody is long and everybody is athletic. In our league we play with a shot clock. We use a 30 second shot clock and I got used to that at UPike, so that was fine, but the athleticism and the speed of the game is so much different. Things happen so much differently. The way you attack people offensively is different, the way you prepare for people defensively is different. You're coaching more on a college level and the things you see on TV are the things college coaches are wanting you to prepare those kids to do at the next level."
Wesley Christian is located at Allen. The gym is only a couple of years old.
"First of all, I've always thought Wesley Christian has had a beautiful campus," Casey said. "We have a great facility. This gym is unbelievable. I've always thought this place was a situation were it could be turned into something really special basketball wise. It's a great school and been here a long time. We have great support. All of those things are in place, now we just have to get in here and build on that great foundation that's in place."
Casey recently took the job, but he's already been on the recruiting trail for next season.
"I've already been to work," Casey said. "I've already been on the recruiting level for about eight to 10 days now."
Even though Wesley Christian has had success on the national level, it's still somewhat of a hidden gem locally.
"It's a lot different," Casey said. "The thing that we have got to do is educate people around here to what we do. Wesley Christian is known nationally and internationally, but it's a hidden gem here. People right here don't know what this is or what we do. They don't know the level of talent that comes through this door every year. The things we have to do is again, educate people and promote this thing. We've got to get our kids out in the community with some community service and that nature. We have to develop some relationships with some folks, so people will come and watch some of our games. Hopefully, that way it spreads from there."
Casey will have multiple teams at Wesley Christian. His red team will be his high school team and he will try and get them games against some local schools.
"Our red team, which will be our regional high school team, will play a lot of games against local teams," Casey said. "We want to develop relationships with everybody. I know everybody and that's going to be fun to get back in some of the local gyms again and see some of my old friends. We want those guys in our gym playing and working out. That can only help everybody."
Casey knows how to build a program from the ground up, but he will be much further ahead at Wesley Christian as compared to when he first got to Athens.
"When we got to Athens, we had a warehouse," Casey said. "We sold an empty warehouse to kids and recruited them to a warehouse, then we were fortunate to have a gentleman help us and spend a lot of money and build great facilities for us. You come here and everything is ready. This place is ready to receive players, it's ready to house players and it's ready to educate players. All of the things that you have to have we've got it here. We have teachers in place, a principal in place and a headmaster in place. You have the founder of the school who has a vision of what he wants here. He and I see eye-to-eye and we feel like this place will be something special."
Casey eventually wants to have some local kids at Wesley Christian, but he's not going to raid local schools and try and steal their talent. He is going to do it the right way.
"I don't want to go into somebody's gym and take their players," Casey said. "I'm not going to do that. What we are going to do is build from the middle school level up. We're going to try and get some kids who we think can be a good player on the middle school level who wants to come here as a middle schooler and build from there and grow those players to players who are ready to play on the national level. I'm never going to go into somebody's gym and say, 'I want that guy.' That's something that we're not going to do here. We are going to get some of these kids when they're young and train them properly to get ready to play on the national level."
Casey has a vision for Wesley Christian.
That vision is being on the same level as the national prep school powers like Oak Hill Academy.
"It's all about developing relationships with those folks," Casey said. "Oak Hill is coming here. They'll be here. We've played all of those guys in the last three years at Athens and we're going to play them here. Our league, the Grind Session, is one of the best high school leagues in the country. You got guys in the NBA right now who came out of the Grind Session League. Our vision here is for us and Oak Hill to be playing on ESPN at 7:00 p.m. on a Saturday night. That's what we want to happen and we're not going to rest until that happens. The thing you have got to do is be good enough to be able to play those guys, then you beat them and then, you get their attention."
Casey helped coach at UPike with Kelly Wells after he stepped away as Belfry head coach and before he went to Athens. He has already sent one player to play for Wells at UPike and looks forward to maybe sending him more players in the future.
"We sent Damon Tobler to him this year," Casey said. "I'd love to be able to send a guy or two to him every year. He's one of my best friends in the world and I enjoyed my time working there. It's good to be home. The first thing I did when I thought about taking this job was call him and he said, 'Get your butt home.' It's been great and it's just another situation where we are going to put players on the right level. Every player who comes in here are going to Duke or Kentucky, we know that right? But all of them can't, so we're going to find the right fit for them and place them in the right level for them to be successful, win, get their education and further their careers."
"It's great to be home," Casey said. "I know I'm happy and my granddaughter and grandson are happy. My daughter is happy I'm home. Now when my granddaughter calls me and says, 'Poppa come get me,' I can now go get her."
And it is great to have such a great coach back home where he belongs.