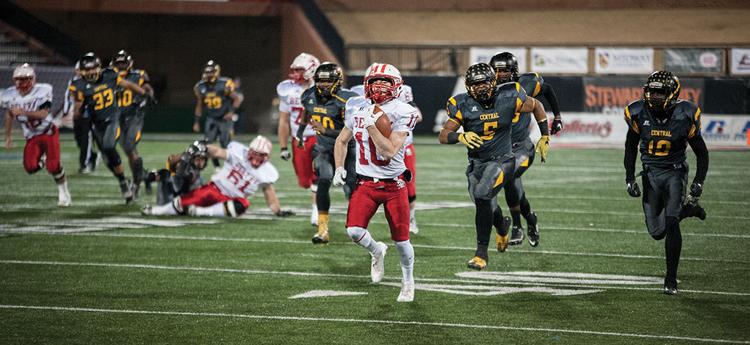 A group stands outside in the street late at night.
On one side, there's three guys and a couple of girls.
On the other side, a group of 10-15 guys.
Cameron: He yells out: Just go home. Go home already. Somebody needs to call the cops.
One of the guys from the other group circles him and pulls out a gun.
Cameron doesn't see him, but then you hear it.
Cameron: Falls to his knees and then he says:
Just one more breath Lord. Please just one more breath.  
Just one more breath Lord.
But there are no opening credits because this didn't happen in a movie.
It's Cameron Catron's story.
Thankful for each breath.
When Cameron Catron saw his life slipping away, he kept asking God for just one more breath.
After being shot, he felt his life slipping away.
That's when he turned to God.
He just asked Him for one more breath. One more breath. One more breath.
He is doing well today, but it was a fight.
Let's rewind to his back story.
He was a part of a special group at of Belfry Pirate football players.
Belfry is known for championships and his class is a big reason why.
Starting his freshman season in 2013, his class won a state championship in all four years at Belfry; that's something no other class has done in school history.
When Cameron was a freshman in 2013, the Pirates won a Class 3A championship.
Then in his sophomore season, Belfry won another Class 3A state championship.
The Pirates repeated that feat in 2015 and 2016 in his junior and senior seasons.
"Actually going into my freshman year, a lot of people know that my class won four straight state championships, we had a few of leaders and I happened to be one of them," Catron said. "Going into my freshman year, I got all of the freshman in on a group text and I said, 'I don't just want to win one, I want to win all four.' I'll never forget that. Everybody kind of bought into that. When we were in the weight room or outside of the weight room, we kind of carried that with us. It was kind of like a chip on our shoulder because Louisville Central had just beaten us the year before. We didn't want to fall short to them again. I tried to carry that same attitude to every sport that I ever played. Football wasn't actually even my favorite sport, baseball was my favorite sport. I always just liked to compete."
Cameron was a part of a talented class that saw two of his teammates go on to sign at the University of Louisville (Cole Bentley) and the University of Kentucky (Austin Dotson).
Cameron, Rayquan Horton and Jordan Scott all signed with Eastern Kentucky University.
"As far as my class, we took things seriously in the weight room," Cameron said. "Obviously, we had some goof-offs, but when it comes down to it and it comes time to strap the pads up and put our chin straps on, we had each other's backs. It wasn't like people were slacking. Even if they goofed off, they were still working because we all had one goal in mind."
Cameron was surrounded by some talented players, but the mixture of the talent and the outstanding coaching staff at Belfry made for something special.
Philip Haywood is the state's all-time winningest coach. Haywood is surrounded by assistant coaches who could be head coaches anywhere in the state, but choose to stick by his side.
The culture of winning and doing things the right way was something that Cameron learned in his high school days.
After he was shot and recovered, he went back and joined the coaching staff that taught him so much as a player.
"I've had the honor to play for those coaches and I helped coach with them last year," Cameron said. "As a player, I was with coach (Todd) Castle every day for defensive back drills and running back drills. He kicked my tail every day. He didn't care if it was mono e-mono or if I was the baddest hombre, he made sure that he got the best out of me. Coach Tackett, he was like my mentor, my second father. He was the O-line coach at Belfry. We were with him in the weight room every day. We had weight training every day Monday through Friday. He made sure he busted us everyday even on game days. It was a tough workout."
Cameron played basketball, baseball and even ran some track at Belfry.
Baseball was his first love.
But the success and work ethic he learned on the football field stuck out to him.
He tried taking that attitude with him during every sport he played.
"Winning a state championship, some people get the big head and I think we did at times get the big head, but we always leveled ourselves back to where we started," Cameron said. "It's all about that framework to win at other sports. Basketball, we weren't very successful. In my freshman year, I think we won four games. Sophomore year, maybe seven. I didn't play sophomore year, I wrestled. My junior year, we won 12 and my senior year, I think we went even, so we gradually got better each year. After I left, we ended up winning a game in the region, so I think we just tried to carry a winning attitude and we wanted it to spread into the next class and the next class and the next class.
"Baseball, we had a couple of successful seasons. We got close to winning district each year. It always seemed we were at the bad end of the deal and drew Lawrence County. They were tough. They'd won back-to-back regions or something crazy like that."
Cameron joins EKU's football team.
He was the low man on the totem pole.
"Within my second day there, I wanted to quit," Cameron said. "As a walk on, you're at the main bottom of the chart. People aren't babying you. You've got to really earn your way. I understood the walk-on life after just being there for a week. I called my dad, I called coach Tackett and I was like, 'Listen I'm just going to quit. I'm just going to come home.' They were both like, 'No. That isn't you. You're not going to be satisfied if you quit.' I just put my nose to the grindstone and I just started grinding. By the end of that year, I was second string defensive back as a corner. It was tough because I'd never played corner in my life. I had to learn how to press and use different techniques that I'd never been accustomed to. Those coaches there, they also cared about us, though. Even if I was a walk-on, they noticed my hard work. That carried on from high school to have coaches that care. Most of the time, they don't care in college."
He developed a work ethic early on in his athletic career.
He lost his starting job as a seventh-grader.
He didn't want to have that feeling ever again.
He knew if he outworked everyone else, coaches would notice and he would not only get to play, he would start and he would shine.
"I think my work ethic developed when I was in the seventh-grade," Catron said. "I used to ride the bench a lot and I was frustrated. My dad always told me if you want to be the best, you have to work at it. I was like, 'What do I need to do?" I never wanted to sit the bench again. I started doing thousands of push ups and running a bunch of hills as a seventh-grader. Then coming out in eighth-grade, I got my starting position back in every sport. In high school, I always carried that chip on my shoulder. Even if you do think you're talented, you've got to work because that's what's got you where you're at today. In college, I tried to spread that cancer to all of my teammates. I didn't care if I was a walk-on and they were on scholarship, I wanted them to work with me. When you have people work with you, it makes you work even harder. I never tried to isolate myself."
Even as a freshman Cameron shined on the football at EKU.
He found his way earning a starting spot on special teams and kick returns.
He just outworked everyone.
He didn't have to just sit and watch everybody else play.
He earned his spot. And he kept thriving after that.
"My redshirt freshman year, I actually started on special teams," Cameron said. "I started on punt return and a couple of games on kick return. I had been making a lot of bad decisions at that point. They should've kicked me off of the team. I missed like five meetings within the first fall camp of my redshirt freshman year and still got to play, so obviously they had saw something in me that I hadn't even saw in myself. I was abusing it. It doesn't mean that I wasn't working hard because my work ethic it was there. My decision making was terrible.
"Coming up til the time I got shot, fast forward to that spring, I ended up working my way up to third on the depth chart. I was behind two scholarship players and in front of two scholarship players. That summer going into the season, the second string guy in front of me pulled his hamstring, so I would've ended up coming into fall camp second string and possibly winning a starting position. Besides that fact, I was into things that I shouldn't have been into. My mental state was deteriorating badly. Like I said, I was making terrible decisions. Leading up to that night, I felt like I was a superhero and I could pretty much do whatever I wanted to and that I was invincible. Nothing would ever happen to me. What's the odds? What's the chances?"
Cameron can remember almost every detail from that morning until that night when his whole life changed.
"My mom was texting me that whole day at work," Cameron said. "I worked as a bartender in Richmond. Obviously, my relationship with Christ wasn't up to par at all. It was subzero if anything. My mom was texting me the whole day like, 'If something ever happens to me and dad, you need to go to Merrill Lynch and get this and open his retirement.' I'm at work like, 'Mom is everything OK because you're worrying me.' Are you sick or is dad sick? If so, tell me.' She was like, 'No nothing is wrong, I'll talk to you when you get off of work.' Where I was a bartender at the pool, I hadn't even swam in the pool I worked at and I had been there like two months. I brought swimming trunks that day to go swimming in and get in the pool. It was like God was telling me something and I hadn't ever even thought about swimming. After work, I run and get my trunks. It was a Saturday night. I was like I think I'm going to go for a little swim and get a workout in. I ended up taking them to the pool house and I was like, 'No that's not what you do on the weekend. You go out and have a good time with your friends.' Well, I changed my mind, went home and got ready to go out. I was calling all of my friends. I was the leader of my friend group. They were like, "Nah, I don't feel like going out tonight.' It'd been raining that day. It wasn't a good day to go out. I ended up calling my mom and I was like, 'I need for you to tell me if everything is alright. I need to hear your voice.' She was like, 'Everything is OK.'
"I was on the recliner and I kept aggravating my friends. None of them wanted to go out. So I go to their house and I'm knocking on their door. I was like, 'We're going out. I don't care what you say.' This is what we always do. I ended up convincing everybody to go out."
After getting his friends out for a night on the town and having fun, Cameron just recalls every little detail that stood out to him.
The whole day was just different.
He didn't know that from when he first got to Lexington on a Saturday night that his whole life would change in just a couple of hours.
"When we went out, it was pretty late," Cameron said. "We left Richmond at like 11:30 p.m. and got to Lexington around 12-ish. I picked up one of my friends from here that I knew and he went with us to the first bar. We stayed there until like 12:30 a.m. We hungout there, we probably should've just stayed there or not even went out at all looking back at it, but we stayed like until like 1:15-ish. Then we decided to go to Two Keys. On our way to Two Keys, everybody said that I was different. Usually, I'm a loudmouth or whatever, but on this night, I was just quiet the whole time and not speaking much. I drank two fifths of liquor that night and I was kind of out of my norm. When we were walking in, it was like 1:25 a.m. in the bar. Two Keys has a way that you can come in the front entrance and a way you can come in the back entrance. I was walking in the back entrance with the friend that I'd picked up from back home. When I was walking in, I saw two of the girls that was with us at Two Keys get pushed down by this guy who ended up shooting me. He pushed them down and there was a big altercation that happened because two of my other friends that had rode with me were there. One of the girls who had got pushed down was his girlfriend and the other girl was my best friend. So he ended up getting in a fight with one of the guys' who shot me crew. A fight broke out. My friends jumped in this guy had like 15 people there. It was him and 15 people, so we were outnumbered. I jumped in and tried to rescue the girls and help my friends. I've always had my friends' back. Me and Jayontai had an altercation. The cops said I ended up slamming him into the mulch. We got into a fight. A fight broke out. When it was all said and done, I was getting jumped by however many guys and I ended up helping myself get rid of them. After the fight, we came back onto the street near the back of Two Keys and him and his crew were standing in the street. There was 10 to 15 of them and there was only three of us and those two girls. I kept trying to tell them to just leave. They would not just leave. Apparently he had his gun out waving it in the crowd. I was so drunk and belligerent that I couldn't even tell that he had a gun. I had no clue. I'm telling him to leave and that it's time to go home. I even said, 'Somebody needs to call the cops because they're not leaving and the fight is over.' I thought that it was like any other fight that I've been in my life, that when it's over, it's over.
"He ended up easing up on me and the way it seemed to me was that I was walking over to my friend Kinsey and when I was walking over, the dude kind of circled me because I was speaking directly at him, 'You all need to leave.' I guess he was trying to show his friends, 'Hey I'm not afraid to pull the trigger.' And he ended up pulling his gun out and shooting me."
The funny thing is, Cameron and his shooter were linked. They had never met each other and didn't know each other before the incident, but they were linked together.
"There was a girl that I used to talk to in high school when I was a freshman," Catron said. "Me and this guy have a connection. Well, I used to aggravate this girl all of the time and we were young kids or whatever and she would say, 'You keep running her mouth and I'll get my boyfriend to shoot you.' I was like, 'Yeah, whatever.'  That girl's boyfriend was that guy who shot me. We didn't know of each other at all, but there was a connection there."
He just wanted to breathe.
"Post shooting, I hit my knees and it was the first time that I thought about God in probably a year," Catron said. "I went to Easter, but I had no relationship with God. I hit my knees and I cried out, 'Lord please just give me another breath.' Where the bullet hit me, it hit me here (pointing to his right side ribcage/liver area)  in my liver, my large intestine, my gallbladder, it shredded my gallbladder and went all the way through and got lodged all the way over here on my left side. When I hit my knees, I tried to make another step and I tired to get myself to continue moving and I couldn't. My breath was rapidly leaving me body. I was praying out to God just to give me one more breath. One more breath. One more breath and I think I can make it. One more breath and I can make it.
"I kept trusting in the Lord that I was going to continue to give me another breath and he wasn't going to let me die."
Cameron has a whole new perspective of life now.
He doesn't take anything for granted.
Especially to anybody who thinks that they may want to die or that life is too hard.
That's why he wants to share his story with others and spread his message of life.
Cameron found a new outlook on life and he wants to share that.
"This is what I tell everybody, anybody who says they've ever wanted to die or wanted to kill themselves, you don't want to do that because you want to live as long as you can," Cameron said. "When you're knocking at death's door, all you want is more life. I've been there. I knew I was dying. I felt death come up on me. The only thing that I could think about was my soul and how I didn't want to die and go to Hell. I'd always feared that. I'd been in church when I was younger and calling out to God was the only thing I knew that could save me. I'm tougher than nails, people might say that, but when you're dying, nobody is tough enough. You've got to call out to a higher power and I called on the Lord."
Cameron's fight had just started when he got shot.
He almost died several times and the EMTs and his friends didn't know he'd if he'd live.
"Like I said, I continued crying out to God," Cameron said. "The thing is, my body was losing so much blood. I was losing so much blood, that they said by the time I got into the ambulance that I was basically dead. I was unconscious. The last thing I remembered because I tried to keep myself awake, I was asking the Lord to be through me because I had to fight a little bit. When I was in the ambulance, they were cutting my clothes off and the last thing I remember is them panicking. They didn't think that I was going to make it, pretty much counting me out. Talking to my friends, they all thought that I was dead. I got in the ambulance because they saw me dying and laying at death's door and I remember their faces when I'd kind of glance around trying to keep me awake because it I had went out, I would've died. Calling out to the Lord and trusting in Him, I knew that I was going to make it. When I got to the hospital, I had lost, I want to say, 22 pints of blood within that night. The thing is, your body carries like 14 (pints of blood), but as soon as it was coming into me, it was leaving my body. I lost enough blood for almost two people. When I got there, they took my liver out of my body because it was basically shredded as well. They were packing it and trying to get it to quit bleeding too. I bled out in my whole stomach. It was all crazy. I was on life support for like the first 36 hours to like 48 hours. I ended up waking up that Sunday evening. That was the first time I became conscious and I don't remember that state. There was a video and I kept telling my brother who had drove 20 hours straight from North Dakota. He is in the military and he took emergency leave and I told him that I'm going to make it. The Lord has got me, I'm going to make it. At that point, the odds were against me. I'm sure people were praying for me, but I'm sure they probably thought, 'This is over.' I didn't think so and my faith had already increased just because I made it off the street and in a hospital bed, so I know I'm going to be able to live. Give me a chance. Let the Lord do his work. I'm going to live."
He had survived, but he wasn't out of the waters.
He still had a long fight ahead of him.
He was alive, but his life was still in danger.
"The first 12 days after the shooting, I couldn't eat or drink," Catron said. "I was in an unconscious state. All I had was a machine pumping electrolytes through me. I couldn't eat or drink. I think that made me a lot stronger than I ever thought I was capable of because my body was dying to eat, dying to drink. Then you look and see people going on with their lives and it can make you bitter, but I tried to use that suffering as a crutch to get stronger in my faith. I remember I would pray for Him to allow me to suffer so that I wouldn't forget where I just came from. Within six days in, I had a temperature of 104 and I was this close (holding his pointing finger just centimeters away from his thumb). My lungs had completely collapsed. My blood count had rose by like 20,000 and I was running a fever. With all of that stuff in mind, I was knocking on death's door again. But I kept trusting (in the Lord)."
He credits his faith and his youth and physical prowess to surviving the horrible shooting.
"That's what all of the doctor's said that because I was young and physically in shape, that if I hadn't been X amount of weight or X amount of fitness that my body would've ate too much of itself," Catron said. "I had lost 50 some pounds in like a two week span. My body was just trying to stay alive and it'll eat all of the fat from your body to do so. I think that definitely played a big part. I was in the hospital like 37 days or something like that. Maybe 40 days. It was something like that."
After his life was no longer in danger, he still faced the physical and mental anguish of the shooting.
He wouldn't sit still when he became bored.
He found ways to stay busy.
"Every time I'd get bored, I would go and walk," Catron said. "I'd walk so much a day, X amount of times a day until I couldn't walk anymore. Then I'd ask my parents or my brother to wheel me downstairs so that I could look outside and just take in life at its fullest because I was standing on one leg at the time."
Have you ever cried over a meal?
Just getting to eat was one of the biggest days of Cameron's recovery.
That day he cried tears of joy just to be able to eat.
Something that most of us take from granted every day.
"I remember the first time that I got to eat, I cried," Cameron said. "When I got my food there, you talk about something surreal. I haven't ate a meal without saying Grace since. I'm not perfect and I'm still not perfect, but I try to live to the best of my ability every day and cherish life and keep my trust and faith in the Lord no matter how bad things are or how good things are, He's there to the end."
Cameron believes in the power of prayer.
He believes the efforts of everybody praying for him throughout the world is why he is still her.
He believes in the power of prayer.
He felt the support of his friends, family and community and everybody who prayed for him.
"Because of their prayers, I believe that's why I'm here," Catron said. "If there wasn't so many people across the world praying for me even in like the Middle East, Canada and even out in California, they were all praying. If there wasn't as many people praying with the same faith, then I wouldn't be here. There's a verse in the Bible that says two or more gathered together and ask in my name, they will receive and I believe that is true."
After he was released from his long hospital stay, his first thought was playing football.
Cameron started to work hard to get back to where he was.
Even though he is fully recovered now, he never would recover his playing career.
"When I got out of the hospital, I was trying to get back on track to playing," Cameron said. "I still can play, but I'll give you the rundown. So August 3rd, I get cleared to come home. I was 133 pounds at the time before I was like 185. I had kind of plateaued in the 130s for around a month. I was wondering what was going wrong because my body wasn't absorbing any food. I still wasn't cleared to lift any weights yet, I was just allowed to walk. I walked so much a day just trying to get back on my feet. August 26th, it's crazy that I can remember these dates, but I got released to start working out again with whatever amount of weight that I wanted. I was prone to develop a hernia where it (the bullet) went into my stomach and they were worried that I wouldn't get my bowels and everything back to normal. I ended up developing a hernia pretty quick and I remember that I had got back up to 180 in around a month or a month and 1/2 after. Well, when I developed that hernia, it set me back even further. I had to schedule an appointment with a different doctor and plan for a hernia surgery. I ended up getting the hernia surgery on January 16th. I was allowed to workout and everything up until that point. When I got my hernia surgery, the doctor said that there was a 15 percent chance that this could happen again or if you get hit there, in football this could happen again. We had a coaching change too that next semester. None of these new coaches knew who I was and at this point in my life, football wasn't my main priority, it was being as healthy as I possibly can be. I have no limitations now. I got cleared to lift and do whatever I want just last Wednesday. Since then, I've been preparing for this marathon."
Now Cameron is training again.
He is training to run in the Hatfield/McCoy Marathon.
He also helped coach Belfry this past season.
Talking to players and kids has been an important role in his recovery.
"I always tell kids that if they ever need anything or need to talk to anyone, talk to me because I've probably been through (the equivalent) of what a 50-year old has been through," Cameron said. "My body and all of the taxing and all of that. When I do mess up, I always pull my shirt up because that's where I came from. To help them, I tell them if you want this, you can make stupid decisions. If you don't want this, be wise. Even the Bible tells you to, 'be wise like a serpent or as innocent as a dove,' I tell people that's how we should all live our lives because you're never promised tomorrow. I always tell kids, 'You're never promised tomorrow and you are who you hang around.' If you hang around a bad group of guys, you're going to be a bad guy. If you hang around Christians, chances are you're going to be a Christian one day. That's just how it is. I'm not saying that people who aren't Christians are bad guys, I'm just drawing a metaphor."
Cameron is planning on going back to EKU.
Not as a football player, but to join the ROTC program.
He wants to go into the Army and make an impact for his country.
"I never want to be in a hospital bed again, so I'm going to get my body as healthy as it possibly can be," Cameron said. "I want to run this marathon. At the pace I'm running now, I want to win it. I want to give people a hope that no matter where you're at in your life or what you've been through, there is a hope to hold onto. Things are always brighter than what they may seem. You can callous your mind and make it tougher than you ever thought was possible. I used to hate running and I still kind of hate it, but my mind is callousing more to the physical aspect and physical toll that your body goes through with that. With that being said, I'm waiting to be cleared to for the Army. That's what I want to do. The ROTC program at EKU is where I kind of want to go back to kind of like the apostle Paul going back to Rome. I know that I have to hang with people who show the same interests as me and beliefs that I do. I can't be going out like I used to."
Cameron also is open to sharing his story with kids across the area. If they want to reach out to him, he will gladly talk to anybody thinking about suicide or hurting themselves.
He also wants to share his story about decision making and how it's important to make the right decisions in college.
He thinks if he can help a young person from going what he has went through or change their mind about life, then he's more than happy to share his story and his experience if it will help someone else.
"If anybody ever needs that or wants me to come and speak and share what wisdom that I've learned, then I wouldn't care one bit," Cameron said. "If you're ever going through anything tough and you think there is no end to it, just keep going," Catron said. "Pain doesn't last forever. Even if it did, there's a better place, so hold onto that hope that's in Christ. With suffering, it creates perseverance and it builds character. Never leave that hope because that's all we have to stand on at the end of the day."  
Those things have helped Cameron Catron recover from an almost deadly shooting.
He has endured pain and hardships that most people can't imagine.
Instead of letting it get the best of him, Cameron just kept breathing.
He asked, and he's still thankful for each breath he receives.