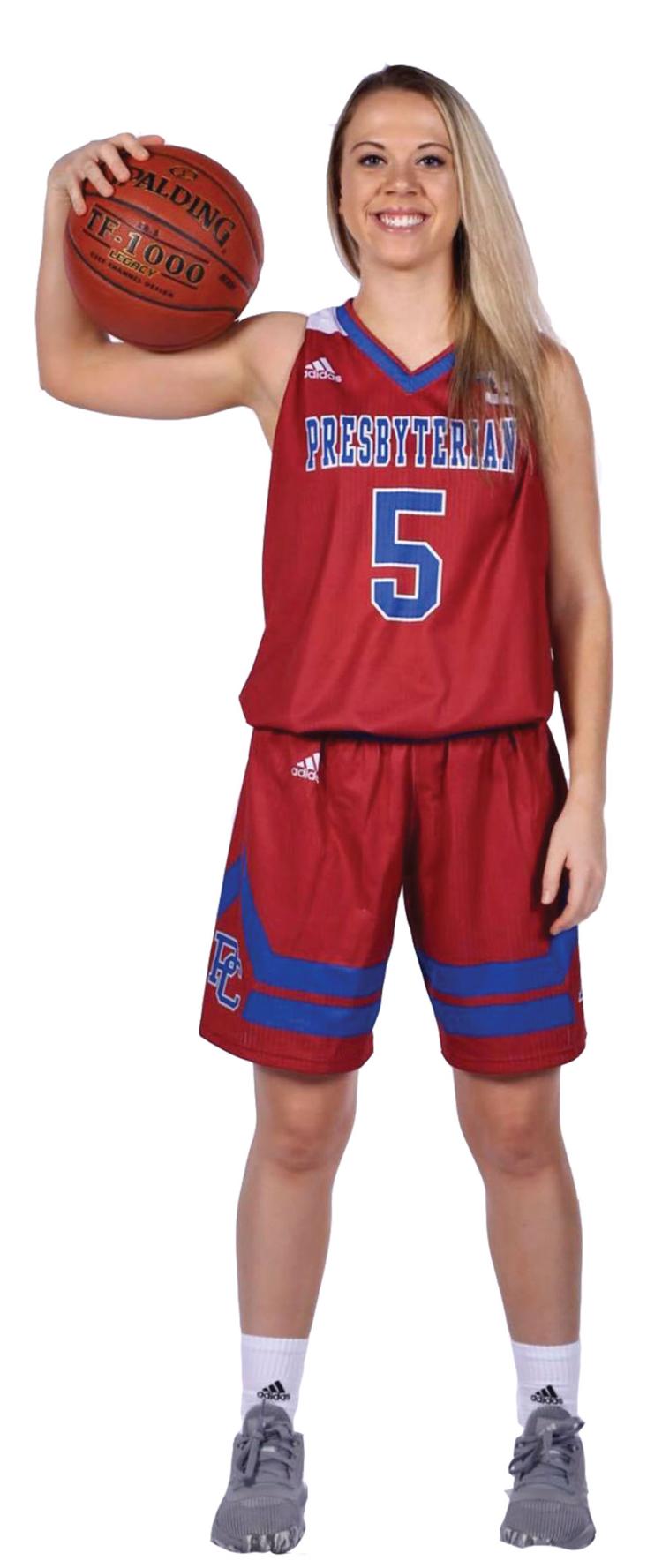 Not the case because of COVID-19.
One local athlete knows that better than most.
One second Kaitlyn Keathley and her teammates are preparing to take on No. 1 seed Campbell in the Big South Conference Tournament and the next, she is back home in Eastern Kentucky.
Instead of sitting around and feeling sorry for herself, she was right back to work as soon as she got home preparing for next season.
Kaitlyn Keathley was a freshman for Presbyterian this season.
Presbyterian was 12-18 on the season and had just knocked off Longwood in the opening round of the Big South Tournament.
Presbyterian also knocked off Winthrop in the regular season finale.
"Going in into my freshman year, I was very nervous obviously," Kaitlyn Keathley said. "I had a lot of different offers. I could've went JUCO, I could've went NAIA, I could've went DII or DIII, but at the end of the day, it was about going somewhere I could get pushed and playing against the best every day, so I can get better. Coach (Alaura) Sharp and all of the other coaches really welcomed me. It was a really great freshman season overall. Our defense, we always had great defense, but in our last two games of the season, our offense came together. We scored 80 plus both games. Going into the tournament, we won our first conference game which is a big deal for us. The next two games were about prepping for the next game, we woke up and we ate breakfast, we go to the shoot around and then our coaches call us down and tell us that it's over. The Big South cancelled the whole tournament. So obviously, I was very hurt because I thought we could've made it into the NCAA Tournament, which would've been a big deal my freshman year. So really I felt bad for our two seniors Kacie (Hall) and Riley (Hemm) who have put everything they'd had into it the past four years and they'd both been playing really well the past few games. So to come to a sudden end, that's who I really felt bad for."
"I really felt like Presbyterian was playing as well as anyone in the Big South Conference as the season came to a close," Kevin Keathley, Kaitlyn's father and professional basketball coach said. Kevin Keathley has coached all across the country and Canada at the professional level. "They had just won their first conference tournament game and had already traveled to Campbell College for their next round matchup. Kaitlyn and I had just the morning of the game and they had their usual breakfast as a team and had a walk-thru at the arena.They had gotten back to their hotel and within the hour the coaches let them know their season was ending because of the NCAA decision to cancel the rest of the year. It's obviously disappointing and such an abrupt end to a year long journey. I feel really bad for a Kaitlyn and her teammates because they worked so hard. But you understand the decision and you move on and try to figure out ways to make the most of the situation."
The COVID-19 virus had been cancelling events around the country, but Kaitlyn Keathley and her teammates didn't dream it would've cancelled the Big South Tournament, until it did.
"We all knew about the virus, but we didn't know that it was that big of a deal," Kaitlyn Keathley said. "We were still ready to play. So it just ending all of a sudden, especially for our coaches, they were all devoted. We really had a shot to get into the tournament and that's what really hurt us all."
Instead of putting her head down.
She picked up a basketball and went back to work.
She has used this as extra motivation heading into next season.
"The very next day that we got back (home), I got back in the gym working to get ready for next year," Keathley said. "We get in here for two-a-days. We lift weights, we run and we play basketball. It's just about getting better. It's about staying in shape. It's about preparing for next season. It's not just about me, it's about being ready for my team for the next season."
"Her goal from the very beginning when she signed to play at Presbyterian was to challenge herself and to compete against the very best in the country," Kevin Keathley said. "When you get a chance to practice and compete against some of the very best players everyday in practice and individual workouts it's only going to raise your level of focus and work ethic."
Kaitlyn Keathley had an outstanding high school career.
She played at Pike Central, Pikeville and helped lead Prestonsburg to its first-ever 20 win season during her senior campaign.
She thought she knew a lot about the game because of her experience in high school and because her father was a professional coach.
She learned that college was a different type of game early on.
"So going in, you think you know everything about basketball," Kaitlyn Keathley said. "Especially with my dad being a coach, I thought I knew it all, but there were so many things that I didn't know. It surprised me. Every day, it was learning something new or learning a different screen or learning everything new. At the end of the season, I can look back and say that my IQ of the game grew so much. That's what really helped me a lot. My defense obviously improved. I was guarding one of the best point guards in our league every day in practice. Trinity (Johnson) is a really good sophomore point guard. I think my confidence grew a lot. I was confident in high school, but coming into a DI team and practicing with the best every day, it really brings you up."
Kaitlyn Keathley knew that college was going to be a lot of work and that she would have to start all over.
The hard work doesn't bother her.
She went in with an open mind and was prepared to get to work.
"Going in as a freshman, you have to start completely over," Kaitlyn Keathley said. They're sophomores, juniors and seniors and they're not just going to let you come in and take their spots, but all of my teammates were very welcoming. They were all very helping. We all worked out together even when we didn't have too, we still got in the gym together. It is hard going in and having to start completely over, especially with new coaches. They have to learn you and you have to learn them. You have to learn a new offense, but it was just a great experience overall."
Her relationship with her father Kevin changed somewhat once she started college.
He was still there to give her advice about her game, but the way the two started to communicate was different.
"So in high school, my dad was very hard on me when it came to basketball, but it was because he was pushing me to be better," Kaitlyn Keathley said. "It's kind of a me and him thing. Basketball is something that we've always kind of done together. Going in as a freshman, I wouldn't necessarily say that he changed, but the way he talked to me had to change. I'm not necessarily the best player on the team, I had to sit back and lean from everyone else. He's just trying to guide me in the right direction of what to do. He just tries to teach me how to do things the right way, so I know how to handle situations. He's always been there for me."
"Her coaching staff led by coach Sharp is as good as you will find in the country," Kevin Keathley said.  "They are passionate, hungry and caring. Everything they do with their team is all about making them the best individuals they can be on and off the court and then meshing all that individual development together to put the best possible product on the floor."
As soon as she got home and hit the gym, she had a partner in crime to work with her.
Her younger brother Braxton also plays and was there right by her side working out with her.
It has helped create a strong bond with her and her younger brother.
"I think I started basketball in fifth-grade," Keathley said. "I told my dad, 'Dad I want to play basketball.' I was a cheerleader, I was a dancer, I played softball and just one day I was like, 'Dad I want to play basketball.' Dad brought me into the Y and we started working out. Then one day, Braxton was like, "Dad I want to play basketball.' So it became a me and him type of thing. We rebound for each other, we work out together. I love having him in here, I can tell he's going to be a really good player because I've never saw a kid his age be so committed. He loves what he does. Dad loves coming in here and doing it with us and it is just  a really great family thing to do together."
Her freshman season ended abruptly, but that doesn't change her mind set.
It doesn't change her work ethic.
In fact, it may have triggered her to work harder.
""We have already started work for next season," Keathley said. "We're in the gym every day. Going into next season, I just have to keep my confidence up. I have to keep working. I have to keep pushing. The team has to keep pushing and hopefully, it all comes together and it all works out."
"With Kaitlyn being back home for the time being she has the opportunity to begin preparations for next season," Kevin Keathley said. "She's been in the gym everyday since she's been back with her little brother Braxton twice a day working hard. It's like I tell them. What are you going to do with this extra time you have? Are you going to waste this opportunity or are you going to take a step forward in some way? We all have challenges ahead of us adjusting to these difficult times, but this is a time when you can turn an adverse situation into a positive. That's what she's doing. She's using this time to be ready for next season and to embrace whatever role her coaches give her."