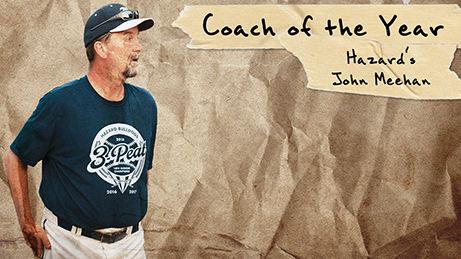 Meehan led Hazard to four straight 14th Region championships. The Bulldogs advanced to the Elite 8 round of this season's state tournament. Hazard finished the season with a 29-8 record. The Bulldogs won the 14th Region All "A" Classic, the 54th District Tournament and the 14th Region championship.
Hall helped the Golden Eagles advance to the 15th Region championship game. Johnson Central fell short to Lawrence County 12-7 in the region title game. The Golden Eagles finished the season with a 32-6 record. Johnson Central claimed the 57th District title.
Compton and the Wildcats won their first 59th District championship in 19 years. The Wildcats used a good mix of experience and youth this season. Shelby Valley kept improving throughout the season. Shelby Valley finished with a 16-16 record.
Gangs back together for the Baseball portion of the All Mountain selection to go over the Player of the year and Coach of the year as well as the first, second, and third team selections.https://t.co/UKwGvs5wgs

— Bank on It (@Bankonitpodcast) June 26, 2019