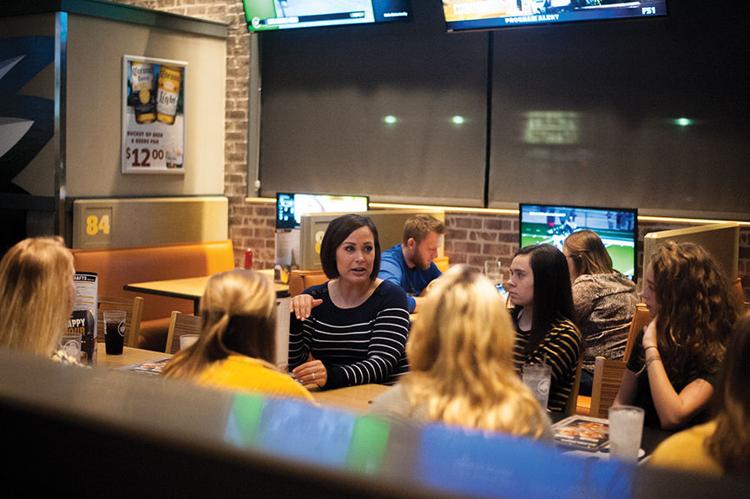 Once the air starts to turn cool and the leave changes colors, that only means one thing in the Bluegrass State — basketball season is near.
The season officially got to get going on October 15th. That day meant that all the teams in the state could start practice for the upcoming season.
Jaqueline Coleman, who would be lieutenant governor if Andy Beshear becomes governor, knows exactly what that excitement means.
"It's great (talking with players). I've played high school basketball and college basketball in Kentucky
and I've coached girls high school basketball as a teacher, even as a lieutenant governor candidate, people would rather talk to me about basketball than running for office, which is fine with me and I'm happy to do that," Coleman said. "I just told them that high school girls basketball players are some of my favorites and that they are going to be the leaders of the next generation off the court. I tried to impart some of that on them and help them understand what an important role that is."
Coleman sat down and had a conversation with several high school girls basketball players in the county from just about every school.
"I shared with them that in some cases that some of the things that happen to you with injuries, there was one young lady who has an ACL tear, and I just said that, 'You're going to look back one day and realize the things that were the hardest are the things that made you the strongest. When I was given my Coach of the Year award in 2015, that was not my best year as a coach. My best year as a coach was four years before that when went 3-26 when I had to build that program. Those hard times are what make the good times sweet. That has nothing to do with Xs and Os. That has to do with work, that has to do with leadership, that has to do with the future of your family and all of those things that you go through will always make you stronger if you handle it the right way."
Coleman played her high school career at Mercer County and her college career at Centre College.
She went on to coach at East Jessamine High School from 2009 to 2015; she was named 12th Region Coach of the Year in 2015 by Kentucky High School Basketball Association.
Monday evening, Coleman was in Eastern Kentucky and met with several local players at Buffalo Wild Wings in Pikeville to talk leadership skills and basketball. Girls from five local high schools in Pike County and Letcher County met to have a conversation with Coleman.
Before you step onto the hardwood as player, you have to take care of business in the classroom. Coleman talked to the student athletes about the importance of being just that — a student athlete.
"Education is the singular most way a kid can change their life," Coleman said. They're young and probably don't think a whole lot about down the road too far, but the reality is that they're making some of the biggest decisions of their lives. They're going to pick their college. College is going to shape who they become. Once they're in college, they're going to pick their major and put them on a professional trajectory. It's really important that we have conversations with them. We ask them, 'What are you thinking? What do you want to do with your life? Where do you see yourself doing one day?' Because they have to start thinking about that right now and grow into the people that they're supposed to be. Education is the single best way to create opportunities for themselves, to break the cycle that they may be in, but I will tell you that any young lady who has had the opportunity to be an athlete increases their success because of leadership skills. They learn how to work through adversity, they learn how to be successful even staring down the face of hard times. That makes you so much more successful as a professional."
Sometimes athletes have to sit and wait for their time to play or have to deal with not getting the amount of playing time they want to see.
Those kind of lessons, Coleman tried to share with the girls she was talking to and how you have to make the most of opportunities when they arise.
"That's what I talked to them about is to open doors for yourself," Coleman said. "But you have to understand, and that's what I told them, that basketball as a player and a coach has done more to prepare me for this run as lieutenant governor than anything else that I've ever done. Think about it, you have to be quick on your feet, you have to learn to work with others, you have to learn how to anticipate your opponent and be prepared to respond. You have to be quick on your feet. All of those skills you learn as a basketball player. They translate perfectly into the political arena. They help you in the long run if you've been an athlete or a coach with that competitive mentality and that competitive mentality that you have to have, it's going to put you over the top. Honestly as a basketball player in Kentucky and and a coach, that has prepared me for this than anything else I've ever done. Some people might not believe that or they may think it sounds odd, but if you've played a sport in your life you get it."
Even though, she's no longer coaching basketball, she still tries to share those lessons with as many kids as she can.
"Yes I am a candidate for lieutenant governor, but I am who I have always been," Coleman said. "I'm a former basketball coach. I am a teacher. I am a mom. So running for a position or becoming a leader should never change who you are it should just magnify it. It was great to be able to have a chance to talk to them as someone who has walked in their shoes and let them know that there is so much more ahead for them. They need to seize every opportunity that they have to practice leadership. It is a practice. Every opportunity that they have and they step up to whether it goes away or not, it is still leading them down a path that eventually they'll experience that kind of success."
She talked to the players about her family as well and the importance her dad and grandfather played in her life.
"It's funny, I'm the granddaughter of a former NBA player," Coleman said. "My grandfather played nine seasons in the NBA. He was an East-West All-Star. He won two NBA championships. My father was an elected official. I thought that I was going to be a government teacher and a basketball coach and kind of teach other people these things. Then I ended up finding myself in this position running for office. It's been a kind of interesting process to go through, but my whole life I thought I'd teach. Working with kids and families, especially on the court and in the classroom has opened my eyes to so many things that I'm not sure I would've know otherwise. It makes the challenges that we face in Kentucky real. It's not just statistics, it's not just some arbitrary number about economic development or healthcare numbers. It is about kids and families. When you look those kids and families in the eyes every day, it makes you fight with more of a sense of urgency and I'm very grateful for that. I have been a fighter and it's because of my athletic career that I learned to fight whether I was down or not. I just can't say enough about the lessons that we learn as athletes and coaches, especially at such a young age like these girls are learning and the impact it will have on their life forever."
Coleman wanted to just sit and have a conversation with high school basketball players and that's what she did Monday evening. She talked about the importance of engaging young people and having conservations while they're young.
"I like to say the next generation of our economy and our leadership is in the classrooms right now," Coleman said. "That's how important those kids are. If we're not doing this for them, then we probably need to step back and question why we're actually doing this because that's who we should be fighting for. That's who we are creating opportunities for and building a future for because they're the ones that we have to eventually pass the baton to. The earlier that we have conversations with them about what's important and get them engaged and involved and educated in the process, the more likely they're going to become involved.To take ownership of your community and to be an active participant is one of the most important things that you'll do in terms of being civically engaged. Yeah we fight for our kids, but we also fight for our communities and that's what that's all about."