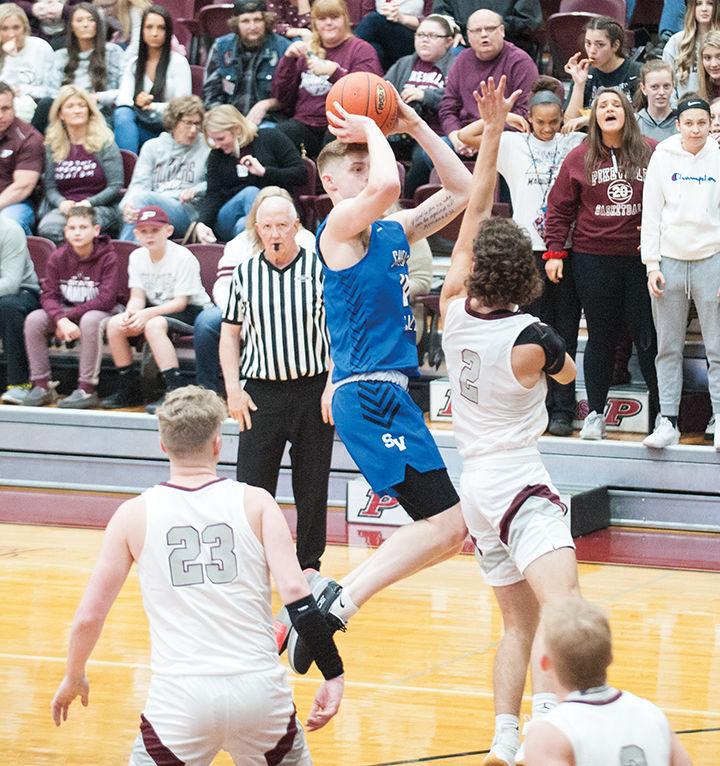 Shelby Valley's Cody Potter is having a season.
He recently broke the school's all-time scoring record and Saturday night, he helped the Wildcats pick up a 53-49 over Pikeville.
Pikeville coach Elisha Justice is the former all-time scoring leader at Shelby Valley.
And Saturday, Potter scored 27 points and pulled nine rebounds in the win, but it was his passing that really helped the Wildcats pick up the win.
Pikeville's Grayson Harris opened the fourth quarter with five straight points to cut Shelby Valley's lead to 39-36.
Harris led the way for the Panthers with a team-high 23 points.
Then Potter knocked home a three to push the Wildcat lead to 42-36 with 7:13 left in the game.
Harris knocked down a jumper and then Peyton Boyd-Blair pulled down an offensive rebound, took the ball to the top of the key, then found his way in the corner and he knocked down a three to cut the lead to 42-41 with 6:04 left to play.
Shelby Valley's Kaden Robinson answered with a three of his own, set up by Potter. Then on the next possession, Potter drove baseline and passed the ball into the corner to Robinson for another wide open three. Robinson's back-to-back threes gave Shelby Valley a 48-41 lead with 4:23 left to play.
With 3:50 left to play, Pikeville sophomore guard Laithan Hall knocked down a three of his own to cut the lead to 48-46.
Hall finished the night with 16 points and he knocked down four of his six three-point attempts.
Potter responded with a three of his own. Then Potter found Robinson for an easy basket with 2:14 left to push the Wildcat lead to 53-48.
Robinson followed Potter's 27 points with 23 points of his own.
Hall answered with another three for Pikeville with 1:54 left to play to cut the lead to 53-51.
That's when Potter knocked down his seventh three of the night to push the lead to 56-51. Potter finished the night seven for 17 from the field; he was seven of 13 from the three-point stripe.
Shelby Valley made its free throws from that point on to hold off Pikeville for the 63-59 win.
Besides Potter's 27 and Robinson's 23, Keian Worrix scored 12 points for the Wildcats. Eli Sykes finished with one point and eight rebounds.
Pikeville's Rylee Sammons added seven points and Boyd-Blair added five. Seth Pugh scored four points. Connor Byers and John Flanery each scored two points.
Shelby Valley out rebounded Pikeville 28-13.
Shelby Valley (10-3) is scheduled to host Betsy Layne at 7:30 p.m. tonight.
Pikeville (6-5) is scheduled to visit Johnson Central on Monday and then visit Jenkins Tuesday night.
Shelby Valley    11    14    14    24    — 63
Pikeville    9    15    7    28    — 59
Shelby Valley — Cody Potter 27, Kaden Robinson 23, Keian Worrix 12, Eli Sykes 1.
Pikeville — Grayson Harris 23, Laithan Hall 16, Rylee Sammons 7, Peyton Boyd-Blair 5, Seth Pugh 4, John Flanery 2.