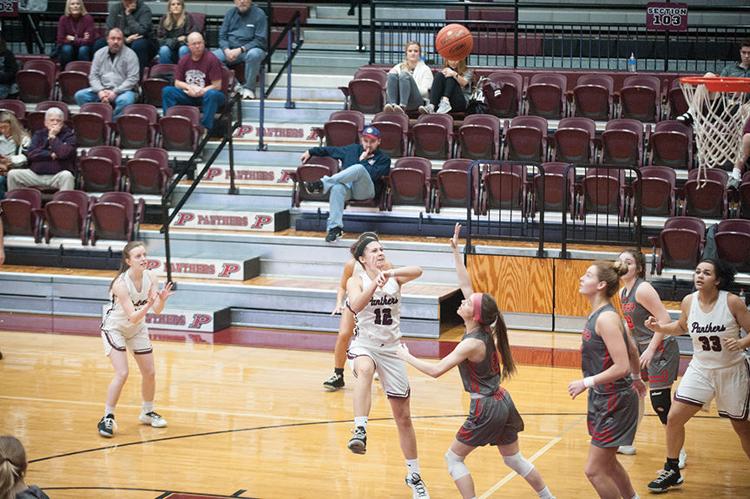 Pikeville just wouldn't quit. 
The Lady Panthers fell down by eight to open overtime, but fought back to pick up a 62-58 overtime win over Belfry Thursday night. 
Belfry's Cushi Fletcher scored with just two seconds left in regulation to tie the game up at 47-47 and send the game into an extra session.
Once in overtime, Belfry scored the first eight points. Kyra Justice opened overtime with a three and Fletcher was fouled after the basket went in. She knocked down one of two free throws as the Lady Pirates held a 51-47 lead. Fletcher followed with back-to-back baskets as the lead grew to 55-49. 
Pikeville didn't quit, though. Alivia Gearheart knocked down a three with 57 seconds to go to cut the lead to 56-55. After a basket by Fletcher, Gearheart knocked down another three in almost the exact same spot to tie the game up at 58-58. 
The scoreboard showed that Pikeville held a 58-57 lead, so Belfry fouled with 20 seconds left. The scoreboard was incorrect, though. 
Pikeville's Kelsey Jo Tackett stepped to the line and knocked down both free throws to take a 60-58 lead.  
After Belfry couldn't convert on offense, Tackett was fouled again. She made both free throws to ice the win for the Lady Panthers. 
Tackett led the way for Pikeville with a team-high 17 points and eight rebounds. Trinity Rowe followed with 16 points and six rebounds. Kirsten Cole-Williamson added 15 points and eight rebounds. Gearheart scored eight points. Emma Ratliff and Alexia Wilkerson each added three for the Lady Panthers. 
Belfry held a 35-34 lead heading into the fourth quarter. In the fourth quarter, Rowe scored 10 of Pikeville's 13 points in the quarter. 
The Lady Panthers held a 47-42 lead late. Katie Ball knocked down a three and Fletcher hit a shot right before the buzzer to send the game into overtime. 
Ball had another big night as she scored a game-high 19 points and pulled down a game-high 21 rebounds. Fletcher followed with 17 points. Kyrea Thornsbury added 10 points and five rebounds. Linzee Phillips just missed double figure scoring with nine. Justice added three. 
Belfry jumped out to a 14-10 lead at the end of the first quarter. 
The Lady Pirates held a 29-22 lead at halftime. 
Ball opened the third with a three to give Belfry a double figure lead. 
Wilkerson hit a three late in the third as Pikeville cut the Belfry lead to 35-34 heading into the fourth quarter of play.
Pikeville 10 12 12 13 15—62
Pikeville — Kelsey Jo Tackett 17, Trinity Rowe 16, Kirsten Cole-Williamson 15, Alivia Gearheart 8, Alexia Wilkerson 3, Emma Ratliff 3.
Belfry — Katie Ball 19, Cushi Fletcher 17, Kyrea Thornsbury 10, Linzee Phillips 9, Kyra Justice 3.